Fashion
Fashion Beyond Abercrombie & Fitch (or How to Develop Your Own Style) Photo by MegElizabeth_ Today I want to talk about something that I see in girls who are just out of high school all the time – thinking that they love "fashion" when really the mass-market retail world has blinded them to what real style is all about.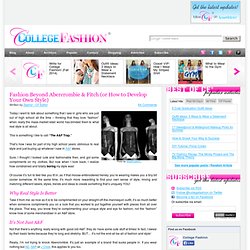 This is something I like to call "The A&F Trap." How to Find Your Celebrity Fashion Muse. Today I want to talk about fashion inspiration.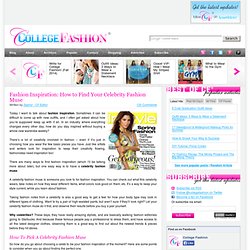 Sometimes it can be difficult to come up with new outfits, and I often get asked about how you're supposed keep up with it all. In an industry where everything changes every other day, how do you stay inspired without buying a whole new wardrobe weekly? There's a lot of creativity involved in fashion – even if it's just in choosing how you wear the few basic pieces you have. Just like artists and writers look for inspiration to keep their creativity flowing, fashionistas need inspiration too! There are many ways to find fashion inspiration (which I'll be talking more about later), but one easy way is to have a celebrity fashion muse.
Wardrobe Essentials for College Girls. I received the following email recently: "Hey i love your site and find it really helpful.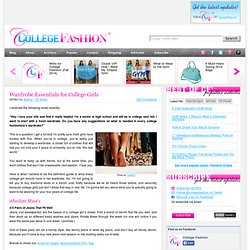 I'm a senior in high school and will be in college next fall. Gossip Girl Fashion. How to Dress Like Jess from New Girl. Of all the new TV shows that premiered this fall, I have to say my favorite is Fox's New Girl.
In case you haven't seen it yet, the show follows Jess Day (Zooey Deschanel), a 20-something teacher who finds herself living with three male roommates after answering an ad on Craigslist. Jess' quirky, bubbly and somewhat over-the-top personality sends the guys for a loop, while Jess deals with adjusting to life as the new girl. Not only is the show hilarious, the characters lovable and the theme song ridiculously catchy (I dare you to listen to it and not have it stuck in your head for the next two days!) Cold, Colder, Coldest: 4 Layered Looks for Winter. Photo Credit Autumn is quickly turning into winter, which means that it's time to start dressing for colder weather!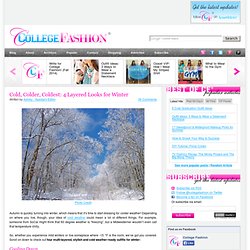 Depending on where you live, though, your idea of cold weather could mean a lot of different things. For example, someone from SoCal might think that 60 degree weather is "freezing", but a Midwesterner wouldn't even call that temperature chilly.
---