Play Framework!
Instant YAML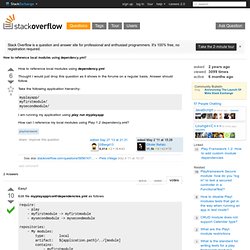 current community your communities Sign up or log in to customize your list.
playframework - How to reference local modules using dependency.yml
Play is based on a lightweight, stateless, web-friendly architecture. Built on Akka, Play provides predictable and minimal resource consumption (CPU, memory, threads) for highly-scalable applications. Developer friendly. Make your changes and simply hit refresh! All you need is a browser and a text editor.