Entertainment
Superman in Cincinnati | cincinnati.com | Cincinnati.Com. In DC Comics' Superman issue No. 703, in stores Wednesday, Superman and Batman have a rooftop conversation in Cincinnati, and the city's skyline is depicted (top left).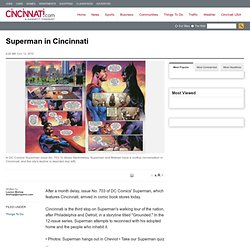 Written by Lauren Bishop lbishop@enquirer.com Filed Under Things To Do. Annoying Orange - Annoying Orange Wazzup. Sammy Winchester #JaredPadalecki takes a break from shooting. Clif Kosterman: We need more ducks. Please... Home - QRANK.
TV. Josh Groban Sings Kanye West Tweets. Alec Baldwin: The One Unfulfilled Wish of My Career. All of my career, I have had one great insecurity.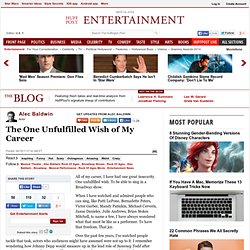 One unfulfilled wish. To be able to sing in a Broadway show. When I have watched and admired people who can sing, like Patti LuPone, Bernadette Peters, Victor Garber, Mandy Patinkin, Michael Cerveris, Jason Danieley, Julie Andrews, Brian Stokes Mitchell, to name a few, I have always wondered what that must be like as a performer. To have that freedom. That joy. On the death of book publishers and other middlemen. Hot on the heels of Amazon signing publishing deals with authors, and thus doing an end-run around their publisher partners, another major e-reader company says it plans to do the same: Kobo is launching its own publishing arm and looking to sign deals with authors directly.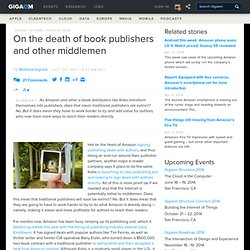 All of this is more proof (as if we needed any) that the Internet is potentially lethal to middlemen. Does this mean that traditional publishers will soon be extinct? No. But it does mean that they are going to have to work harder to try to do what Amazon is already doing — namely, making it easier and more profitable for authors to reach their readers. For months now, Amazon has been busy ramping up its publishing unit, which it beefed up earlier this year with the hiring of publishing-industry veteran Larry Kirshbaum.
---