Tesis
Learn the Value. Baldrige applicants know that the journey is not about receiving a Presidential Award, although that's a nice goal.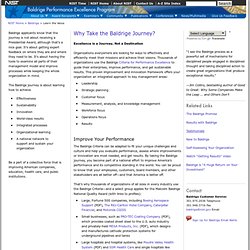 It's about getting expert feedback on where they are and where they need to be. It's about having the tools to examine all parts of their management model and improve processes while keeping the whole organization in mind. Results with Baldrige in Education. (links are to organization profiles) Montgomery County Public Schools (PDF) Half of Montgomery County Public Schools (MCPS) 2010 graduates received a college-ready score of 3 or higher on at least one Advanced Placement (AP) exam while in high school—twice the state rate and three times the national rate.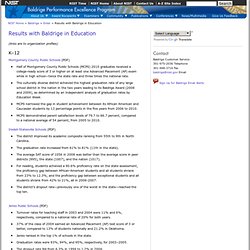 The culturally diverse district achieved the highest graduation rate of any large school district in the nation in the two years leading to its Baldrige Award (2008 and 2009), as determined by an independent analysis of graduation rates by Education Week. MCPS narrowed the gap in student achievement between its African American and Caucasian students by 13 percentage points in the five years from 2006 to 2010. MCPS demonstrated parent satisfaction levels of 79.7 to 86.7 percent, compared to a national average of 54 percent, from 2005 to 2010. Baldrige Award Recipients' Contacts and Profiles. Baldrige Award Recipients' Contacts and Profiles Learn from organizations that have achieved world-class performance levels: You need to have Acrobat Reader installed on your computer to view the PDF file.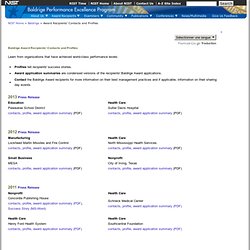 If you do not have Acrobat Reader installed on your computer, download the program at. E-BALDRIGE SELF-ASSESSMENT AND ACTION PLANNING: USING THE BALDRIGE ORGANIZATIONAL PROFILE FOR EDUCATION. Self-Assessing. A Proven Approach to Performance Improvement A self-assessment using the Baldrige Criteria for Performance Excellence can help your organization achieve high performance and move toward performance excellence.
Even if your organization isn't ready to apply for the Malcolm Baldrige National Quality Award, the Baldrige Criteria are a framework for evaluating your organization's processes, their impact on results, and your progress toward your goals and objectives. Education Criteria for Performance Excellence. About the Baldrige Education Criteria: Introduction to the CriteriaSample pages from the Education Criteria booklet (PDF) (including the Organizational Profile and Item 3.2 Customer Engagement)Organizational Profile: A snapshot of your organization, the key influences on how it operates, and the key challenges it facesEducation Criteria Category and Item Commentary: Additional guidance on the CriteriaSelf-Analysis Worksheet: A self-assessment tool to use with the Criteria (MS-Word).From Fighting Fires to Innovation: An Analogy for Learning: See how organizational learning—a Baldrige core value—moves your organization from reacting to problems to preventing them.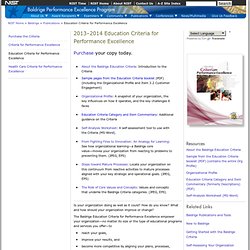 (JPEG, EPS)Steps toward Mature Processes: Locate your organization on this continuum from reactive activities to mature processes aligned with your key strategic and operational goals. (JPEG, EPS)The Role of Core Values and Concepts: Values and concepts that underlie the Baldrige Criteria categories. Baldrige FAQs: Using the Criteria for Performance Excellance. Why are the Baldrige Criteria good for running my organization?
You cannot know the complexities of my work. No one can tell you how to run your organization. The value in applying the Baldrige Criteria for Performance Excellence is in using a validated framework to assess your organization's performance. The Criteria-based assessment is tailored to your organization and its success and is driven by your Organizational Profile, your strategic and action plans, and your customer focus. Studies by NIST, universities, business organizations, and the U.S. Baldrige by Sector: Education. Why do so many education organizations around the country use the Education Criteria for Performance Excellence?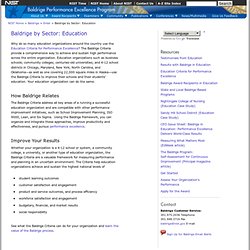 The Baldrige Criteria provide a comprehensive way to achieve and sustain high performance across the entire organization. Education organizations such as business schools; community colleges; centuries-old universities; and K-12 school districts in Chicago, Maryland, New York, North Carolina, and Oklahoma—as well as one covering 22,000 square miles in Alaska—use the Baldrige Criteria to improve their schools and their students' education.
Your education organization can do the same. How Baldrige Relates The Baldrige Criteria address all key areas of a running a successful education organization and are compatible with other performance improvement initiatives, such as School Improvement Planning, ISO 9000, Lean, and Six Sigma. Baldrige Impacts. Www.nist.gov/baldrige/publications/upload/2011_2012_Education_Criteria.pdf. The Global Voice of Quality. Applying for the Award. Improve Performance and Get World-Class Results Applicants for the Malcolm Baldrige National Quality Award (MBNQA)—those that have received the award and those that haven't—say the Baldrige evaluation process is one of the best, most cost-effective, most comprehensive performance assessments your organization can find.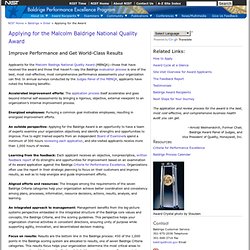 In annual surveys conducted by the Judges Panel of the MBNQA, applicants have noted the following benefits: Accelerated improvement efforts: The application process itself accelerates and goes beyond internal self-assessments by bringing a rigorous, objective, external viewpoint to an organization's internal improvement process. Energized employees: Pursuing a common goal motivates employees, resulting in energized improvement efforts. New Study Finds that Baldrige Award Recipient Hospitals Significantly Outperform Their Peers. A new report has found that health care organizations that have won Baldrige National Quality Awards for performance excellence or been considered for a Baldrige Award site visit outperform other hospitals in nearly every metric used to determine the 100 Top Hospitals, a national recognition given by Thomson Reuters.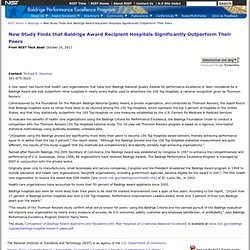 Commissioned by the Foundation for the Malcolm Baldrige National Quality Award, a private organization, and conducted by Thomson Reuters, the report found that Baldrige hospitals were six times more likely to be counted among the 100 Top Hospitals, which represent the top 3 percent of hospitals in the United States, and that they statistically outperform the 100 Top Hospitals on core measures established by the U.S. Centers for Medicare & Medicaid Services.
Calidad educativa. Información de México. Marco teórico. Blackboard Learn. RELIEVE.
---