G+
How to Use Google Plus for Marketing. Essential Google+ Marketing Resource: A Complete Guide. Do you want to learn how to market yourself and your business on Google+?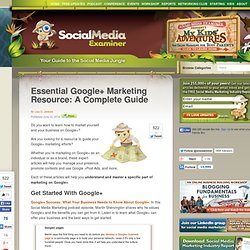 Are you looking for a resource to guide your Google+ marketing efforts? Whether you're marketing on Google+ as an individual or as a brand, these expert articles will help you manage your presence, promote contests and use Google +Post Ads, and more. Each of these articles will help you understand and master a specific part of marketing on Google+. Get Started With Google+ 6 Ways to Maximize Your Google+ Engagement. Is Google+ working for your business?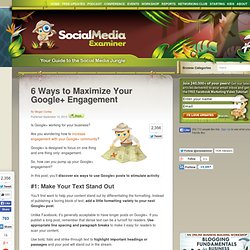 Are you wondering how to increase engagement with your Google+ community? Google+ is designed to focus on one thing and one thing only: engagement. So, how can you pump up your Google+ engagement? In this post, you'll discover six ways to use Google+ posts to stimulate activity. #1: Make Your Text Stand Out. Google+ Hangouts On Air: What Marketers Need to Know. What if your business could do live video broadcasts to unlimited viewers–instantly and for free?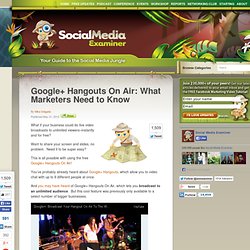 Want to share your screen and slides, no problem. Need it to be super easy? This is all possible with using the free Google+ Hangouts On Air! Google+ Hangouts On Air: What Marketers Need to Know. Google Hangouts, What Marketers Need to Know to Get Started. Do you use Google+ hangouts for your marketing?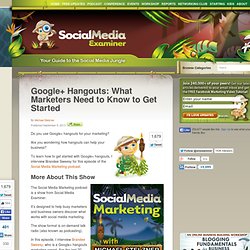 Are you wondering how hangouts can help your business? To learn how to get started with Google+ hangouts, I interview Brandee Sweesy for this episode of the Social Media Marketing podcast. More About This Show The Social Media Marketing podcast is a show from Social Media Examiner. It's designed to help busy marketers and business owners discover what works with social media marketing. Google Analytics Event Tracking - Measure Calls to Action. Learn the 7 biggest conversion mistakes that people make (and how to avoid them, so you can get more subscribers and sales).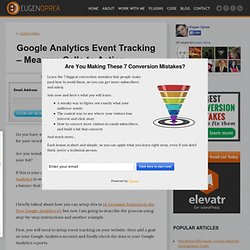 Join now and here's what you will learn: A sneaky way to figure out exactly what your audience wantsThe easiest way to see where your visitors lose interest and click awayHow to convert more visitors to email subscribers, and build a list that converts And much more... Each lesson is short and simple, so you can apply what you learn right away, even if you don't think you're a technical person. 10 Dead Simple Tips to Take Advantage of Google+ for SEO. It's no secret.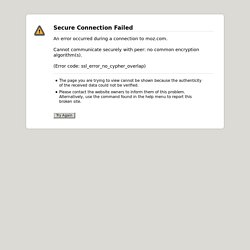 When engineers built Google+, they constructed an SEO juggernaut to dominate search results above all other social platforms. Although Facebook and Twitter are essential to marketing efforts, both restrict Google from accessing much of their data. This limits their SEO effectiveness. Not so with Google+. How to Use Google+ as an Author Platform. Do you use Google Plus?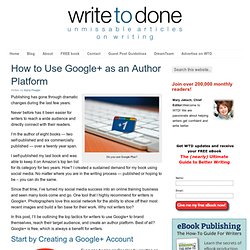 Publishing has gone through dramatic changes during the last few years. Never before has it been easier for writers to reach a wide audience and directly connect with their readers. I'm the author of eight books — two self-published and six commercially published — over a twenty year span. I self-published my last book and was able to keep it on Amazon's top ten list for its category for two years. How? 5 Tips for Using Google+ to Boost Your Marketing. Are you wondering how to best use Google+ to enhance your marketing?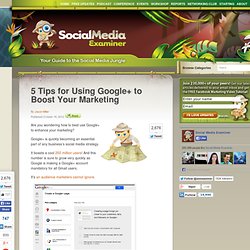 Google+ is quickly becoming an essential part of any business's social media strategy. It boasts a cool 250 million users! And this number is sure to grow very quickly as Google is making a Google+ account mandatory for all Gmail users. 40 Tips & Tricks To Help Improve Your Google+ Experience. Despite having rubbed many of the tech press up the wrong way when it first came out, Google+ has developed a passionate fan base.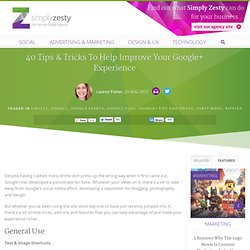 Whatever your views on it, there's a lot to take away from Google's social media effort, developing a reputation for blogging, photography and design. But whether you've been using the site since day one or have just recently jumped into it, there's a lot of little tricks, add-ons and features that you can take advantage of and make your experience richer. General Use. Building Traffic Through The Rel=Author Tag. Question: If you were searching on Google, and saw these three results, which result would you be most likely to click?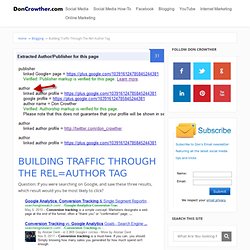 It's highly likely that you chose the middle one. That extra picture draws the eye and unconsciously adds credibility. Google+ Tools for Business: This Week in Social Media. Welcome to our weekly edition of what's hot in social media news . To help you stay up-to-date with social media , here are some of the news items that caught our attention. What's New This Week? Google+ Launches Tools for Business : Google is launching an initial set of Google+ features designed specifically for business . These new tools work through the Google Apps feature. 5 Ways to Use Google+ Events for Your Business. Google+ Events is yet another way Google+ is competing with Facebook, representing a new opportunity for marketers.
Most marketers and businesses have been using Facebook Events to promote everything from webinars to company fundraising events within their Facebook community. Now, Google+ has a competing service with new bells and whistles. Google's Benefits for Better Business Events Your ever-expanding Google+ community will benefit from these cool new features that make scheduling, sharing and finding your company's events easier than ever before. Has your G+ account been suspended? Don't seek shelter from Google. August 02, 2012, 12:39 PM — I first noticed the problems about a month ago.
I tried to promote a TY4NS blog post on Google Plus but nothing happened when I clicked the G+1 button. I figured it was probably a glitch in the plug-in code. I have an attention span of about 4.2 seconds for this sort of thing, so I just moved on. How to Host a Google+ Hangout on Air. While some critics have called Google+ a social networking fail, one of its features has emerged as a clear winner: Hangouts. The video chats not only connect small groups, but have also become an important broadcast platform with Hangouts on Air.
Household names from Barack Obama and the Dalai Lama to Tyra Banks and the Muppets have connected with fans via Hangouts on Air. Automating Your Google Plus Feed to Twitter with Feedburner. How to Optimize Your Google+ Content for Lead Gen, From the Experts at Google. Pause for a moment to think. Are you really making the most of your Google+ presence? As in, are you leveraging Google+ for all its lead gen potential? G+ Blogs. G+ Blogs. GooglePlus News on paper.li. GooglePlus News on paper.li. Google+ Insider's Guide » Pro-Tips, Feature Updates, & Who to Circle. Alltop - Top Pluserati News. How to Use YouTube Live Streaming to Boost Your Exposure.
How to Add Google Author Tags to Your Blog for Improved Search Results. Google Plus SEO: The Ultimate Google+ SEO Guide. Google Plus marketing. How Do I Make the Most of Google+? Google+: The Complete Guide. Free Google Plus Icon Vector.
---