Gsyncit
Get flash to fully experience Pearltrees
: Added support for syncing recurring task events between Outlook and Toodledo.
Before proceeding it is highly recommended that you make a backup of your Outlook data AND confirm that your Outlook data does not contain any duplicate calendar events, contacts, notes or tasks depending on the information you plan to sync.
Thanks for visiting the home of one of the top productivity tools on the Internet - time and project management application inspired by Getting Things Done (R) methodology.
I recently came across a "getting things done" service called Nozbe that allows you to manage projects and your time with an online interface. As well as being able to work with the service online, there's also a handy iPhone and iPad app that can sync up to the web service allowing you to keep a task list whilst on the move. When I was looking in to subscribing to the service * I couldn't find any mention of integrating the scheduled task list with a standard Outlook calendar.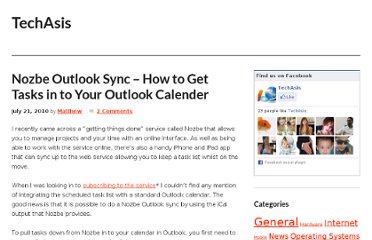 August 22, 2010 Everyone knows how much I depend on my calendar, and that it was one of the big disappointments moving to the iPhone.
ONE and TWO WAY syncing of Outlook calendars, contacts, notes and tasks.
gSyncit for Microsoft Outlook is a small and easy-to-use software that will rapidly sync Microsoft Outlook and Google Calendar.