Pop culture
PopCult Magazine: It's Cool!
Bad book covers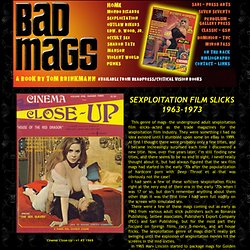 BAD MAGS :: The Flip-Side of Popular Culture As Seen Through Magazines and Tabloids!
This genre of mags––the underground adult sexploitation film slicks––acted as the trade magazines for the sexploitation film industry. They were something I had no idea existed until I stumbled upon some on eBay in 1999. At first I thought there were probably only a few titles, and I became increasingly surprised each time I discovered a new title. Now, over five years later, I'm still finding new titles, and there seems to be no end in sight. I never really thought about it, but had always figured that the sex film mags had started in the early '70s after the popularization of hardcore porn with Deep Throat et al––that was obviously not the case!
Eerie Publications Cover Gallery
Return To The Empire Of The Claw Visit the Eerie Publications Cover Gallery See some Inside and Back Cover Art Visit our shrine to Eerie Pubs' publisher, Myron Fass Read "House Of Monsters" Read "Witches Revenge"