Comunidades de emprendimiento
PartnerWorld - IBM Global Entrepreneur - IBM SmartCamp
IBM SmartCamps are exclusive events aimed at identifying early stage entrepreneurs who are developing business ventures that align with our IBM Smarter Planet vision. SmartCamps enable startups to take advantage of mentoring opportunities, learn from thought leaders, and network with serial entrepreneurs, investment firms, academic institutions, and industry and technology experts. SmartCamps give selected startups the opportunity to connect with the venture community. Types of SmartCamp events Local: Selected startups have an opportunity to pitch their company's value propositions at local SmartCamp events in cities around the world.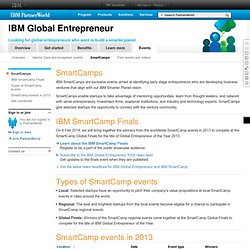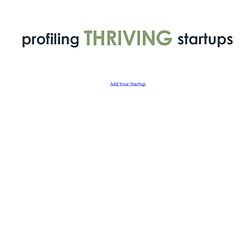 Sprouting Startups » Betas
Ubooq is a new online appointment scheduling tool for individuals and companies that provide services on appointment basis such as beauty salons, lawyers, therapists, accountants, coaches, photographers, etc. If you are among them, you should try it. It will enable your clients to book appointments with you online in a quickest and easiest way 24/7. Your appointment book and clients data will auto update each time someone books with you [...]
Red de Emprendedores Bavaria - Boletín 36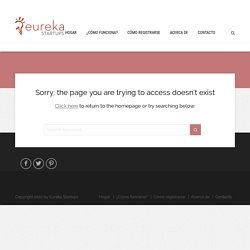 En el artículo anterior de la serie, Lanza tu startup, describíamos cuales eran los 5 pilares del plan de marketing del lanzamiento de una startup. #37886043 © arahan – Fotolia.com En este post, listaremos 12 acciones o puntos que, como uno de los fundadores, tienes que ir realizando en paralelo, mientras, el resto del equipo, desarrolla y prepara la plataforma para su puesta en marcha. Estas acciones se deberían llevar a cabo durante los tres meses previos al lanzamiento.
Lanza tu startup: 12 acciones indispensables
Red de Intercambio de Emprendimiento
Contacte con nosotros | Ashoka - Emprendedores Sociales
financiación Noticias
#Emprendedores de #Colombia,¿Queréis colaborar en TodoStartups .com Colombia?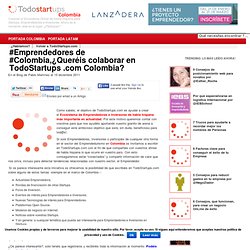 Si te gusta, ¡ Dale 1 Up ! (Nadie lo ha impulsado todavía) Como sabéis, el objetivo de TodoStartups.com es ayudar a crear el Ecosistema de Emprendedores e Inversores de habla hispana más importante en actualidad . Por este motivo queremos contar con vosotros para que nos ayudéis aportando vuestro granito de arena a conseguir este ambicioso objetivo que será, sin duda, beneficioso para tod@s!. Si sois Emprendedores, Inversores o participáis de cualquier otra forma en el sector del Emprendedurismo en Colombia os invitamos a escribir en TodoStartups.com con el fin de que compartáis con vuestros afines de habla hispana lo que ocurre en vuestro país. Con esto conseguiremos estar "conectados" y compartir información de valor que nos sirva, incluso para detectar tendencias relacionadas con nuestro sector, el Emprendedor.