Webdesign
Pricing and Signup - Litmus
Yes Virginia, you can move your navbar above your banner! (What's a navbar?)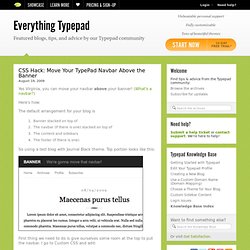 CSS Hack: Move Your TypePad Navbar Above the Banner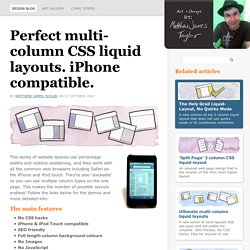 by Matthew James Taylor on 27 October 2007 This series of website layouts use percentage widths and relative positioning, and they work with all the common web browsers including Safari on the iPhone and iPod touch. They're also 'stackable' so you can use multiple column types on the one page. This makes the number of possible layouts endless! Follow the links below for the demos and more detailed info:
Free iPad CSS layout with landscape/portrait orientation modes
by Matthew James Taylor on 27 May 2010 The iPad has finally launched in Australia today, hooray! I will probably get one soon so I can continue to optimise my CSS layouts for as many devices as possible.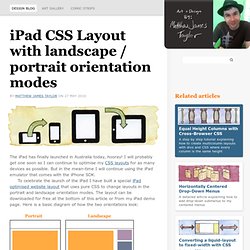 by Matthew James Taylor on 16 June 2007 An alternative to the standard 'fixed width' or 'liquid layout' designs
The Floating Boxes CSS Layout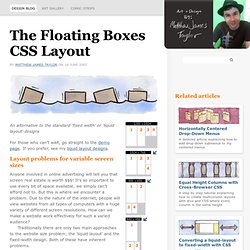 by Matthew James Taylor on 2 July 2008 A lot of people have emailed me asking how they can convert my liquid layouts into fixed-width designs - this post will explain how that's done. The process is very simple and it will work with all of my liquid layouts (percentage and em/pixel versions).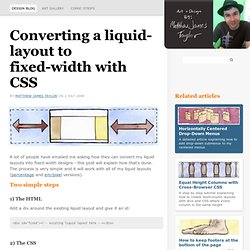 How to convert a liquid-layout to a fixed-width design with simple CSS
by Matthew James Taylor on 17 October 2008 Creating equal height columns with CSS is not as easy as it may first seem. This tutorial highlights the display problems that occur with multiple column layouts, and then shows a simple solution that works in all common web browsers. The method shown here is 100% CSS hack-free, image-free and JavaScript-free so it can even be used on the most strictly coded websites. For those who want some action immediately check out my demo pages: 2 column, 3 column, 4 column and 5 column.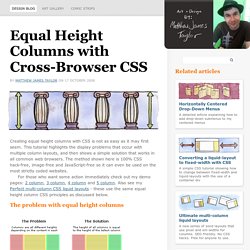 HTML/XHTML / Universalattribute / Event-Handler für Scripts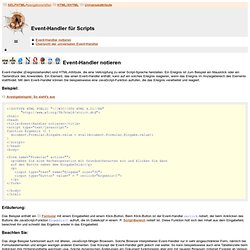 Event-Handler notieren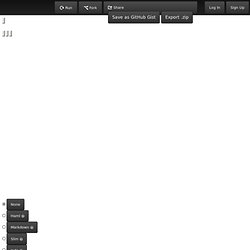 Pen Actions Create New Pen
Pen
How To Create a Pure CSS Polaroid Photo Gallery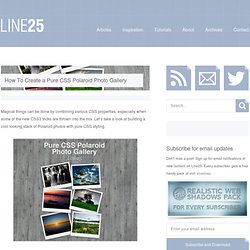 Magical things can be done by combining various CSS properties, especially when some of the new CSS3 tricks are thrown into the mix. Let's take a look at building a cool looking stack of Polaroid photos with pure CSS styling. View the Demo
30th November 2009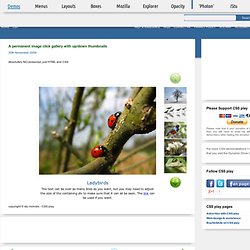 A CSS permanent click gallery with vertical slide thumbnails
Pure CSS Sliding Image Gallery « tobypitman.com
So, another random CSS3 experiment!
A Photograph Gallery
Updated 24th September 2009 copyright ©stu nicholls - CSS play Information
I thought of writing a series of tutorials for various link techniques.
4 Uber Cool Css Techniques For Links
stu nicholls dot com | gallery - simple photo click
Simple photo click gallery 2nd November 2007 Caption #1Some pretend to see a difference between the Greenland whale of the English and the right whale of the Americans. Caption #2But they precisely agree in all their grand features; nor has there yet been presented a single determinate fact upon which to ground. Caption #3It is by endless subdivisions based upon the most inconclusive differences, that some departments of natural history. Caption #4The right whale will be elsewhere treated of at some length.
Did you like my previous CSS tutorial on how to create gradient text effects? I'm using the same trick to show you how to decorate your images and photo galleries without editing the source images. The trick is very simple.
Suckerfish HoverLightbox Redux
A Scrolling Photograph Gallery
Hoverbox Image Gallery
Pink Paislee + Glue Arts - Say Chez!
S.britt.com - Some Sort of Website
on mouse over
CSS Borders: The Basics And Rounded Corners
CSS Transitions: A Simple Way To Delight Your Visitors
CSS Background: There's More To Know Than You Think
Understanding CSS's vertical-align Property
Numbering In Style
How Clean is Your Web Design?
Source Code Comment Styling: Tips and Best Practices
Is your website secure?
Is your website secure?
A Look at Responsive Web Design | Web development blog, news and reviews - Developer Drive
Adaptive Images for Responsive Designs… Again