Blogger tipps
RewardStyle. CALLIHOO Writing Helps--Feelings Table. Your Blog Post Promotion Checklist - An Infographic from @DivvyHQ. One of our mantras at Divvy is to help people work smarter, not harder.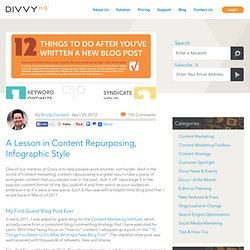 And in the world of content marketing, content repurposing is a great way to take a piece of evergreen content that you slaved over in the past, dust it off, repackage it in the popular content format of the day, publish it and then watch as your audiences embrace it as if it were a new piece. Such is the case with a helpful little blog post that I wrote back in March of 2011.
The Ultimate Guide to Writing Better Than You Normally Do. Writing is a muscle.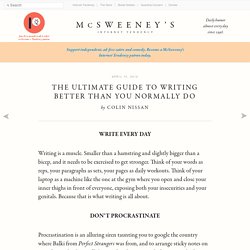 Smaller than a hamstring and slightly bigger than a bicep, and it needs to be exercised to get stronger. Think of your words as reps, your paragraphs as sets, your pages as daily workouts. Think of your laptop as a machine like the one at the gym where you open and close your inner thighs in front of everyone, exposing both your insecurities and your genitals. Tips for Laying out Blog Posts. Today Katrina of Pugly Pixel is going to share six content style tips for bloggers: In 10 Blog Layout Tips, we shared ten ideas you can use to optimize your blog's overall layout.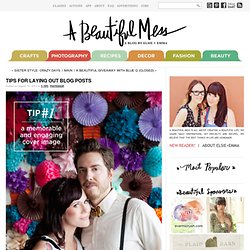 In this article, we're going to share six tips for presenting the images in your blog posts. Although our point of reference will be smaller (a single post versus the entire blog page), many of the concepts in 10 Blog Layout Tips can be applied to your blog posts. Blogging Resource: Blogger Communities. Blogging is fun, but if you don't have a huge following, it can be a little isolating, no?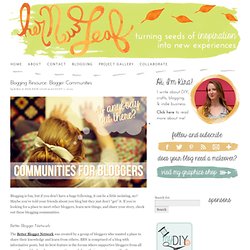 Maybe you've told your friends about you blog but they just don't "get" it. If you're looking for a place to meet other bloggers, learn new things, and share your story, check out these blogging communities. Better Blogger Network. Blog Inspiration. Writing a Good Blog. Blogs, or Web logs, are online journals that are updated frequently, sometimes even daily.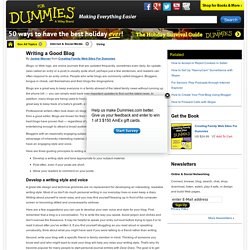 An update, (also called an entry or a post) is usually quite short, perhaps just a few sentences, and readers can often respond to an entry online. People who write blogs are commonly called bloggers. Fuel Your Blogging. 4 things you should track on your blog or website. If you are serious about your website or blog, you should definitly take the analytics part seriously.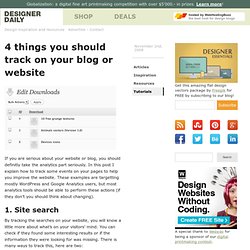 In this post I explain how to track some events on your pages to help you improve the website. These examples are targetting mostly WordPress and Google Analytics users, but most analytics tools should be able to perform these actions (if they don't you should think about changing). The secret of "A" List Bloggers. By Jarret Morrow For most of us, there's no question that starting a blog is a daunting task.
If you're not very technically savvy, WordPress is pretty simple to use, but there's still plenty of information to digest. New bloggers make common mistakes such as not setting up their blog with "pretty permalinks" which can hurt their traffic and require changes later on. Some learn a little bit about search engine optimization and incorrectly assuming that Meta Tags actually do anything while negating the importance of things that do matter such as Title Tags or internal linking.
Even meta descriptions which are commonly discussed, do not factor into Google's algorithm. Code it Pretty: A Pinterest Gadget for Blogger. Update, November 19, 2012: Pinterest has released an official blog widget!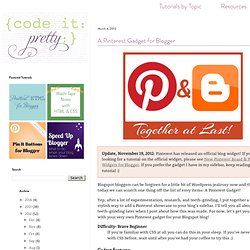 If you're looking for a tutorial on the official widget, please see New Pinterest Board & Profile Widgets for Blogger. If you prefer the gadget I have in my sidebar, keep reading this tutorial :) Blogspot bloggers can be forgiven for a little bit of Wordpress jealousy now and then, but today we can scratch one thing off the list of envy items: A Pinterest Gadget! Yep, after a lot of experimentation, research, and teeth-grinding, I put together a rather stylish way to add a Pinterest showcase to your blog's sidebar. Display Pinterest images in a "gadget" for Blogspot/Blogger blogs. * Plugin: jquery.zRSSFeed * Version: 1.0.1 * (c) Copyright 2010, Zazar Ltd * Description: jQuery plugin for display of RSS feeds via Google Feed API * (Based on original plugin jGFeed by jQuery HowTo) * Modified by Richard Mackney (originally for Instagram images, see.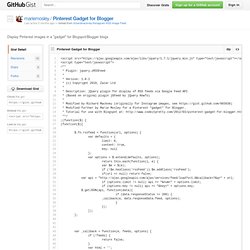 TopRank Best List of RSS Blog Directories to Submit Your Blog and Feed. Home About Resources Archives Subscribe Consulting Contact Online Marketing Blog Home Optimize Subscribe Content Marketing Social Media SEO Interviews More »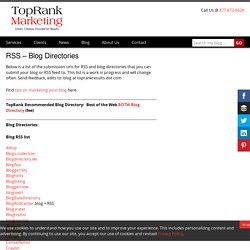 Signup - Blogarama. How to Market Your Blog on Reddit. Reddit is one of the most popular social news sites out there, and it has been around for a long time now. The website can help you drive relevant traffic to your blog, if you know what you're doing. The best part about Reddit is that its community is really welcoming. If you can deliver real value with your blog post then they will be happy to bring it to the Reddit homepage. How To Market Your Blog Internationally. Your blog can have worldwide appeal and attract readers from around the globe. As a result, there are numerous considerations and strategies that a blog author should consider when marketing their posts. However, the majority of bloggers do not to take into account the various factors that are involved with marketing internationally.
56 Ways to Market Your Business on Pinterest. How To Market Your Blog From Scratch ? The process of marketing your blog from scratch is highly coupled to your blogging aim and you should market your blog through out the life cycle of blogging. Its one of the most toughest part of blogging too. Blogging doesn't stops with producing useful content and making money. How to make money blogging. Have you met Problogger? One of the most popular bloggers who blogs about blogging? When I first launched my blog (three years ago this month) I used to read Problogger's posts religiously, combing them for tips on how to "do it right".
Proven Ways to Write Killer Blog Content and Get More Readers. How to Find Readers For Your Blog. How I'd Promote My Blog If I Were Starting Out Again. Using Social Media to Grow Your Blog's Readership. Blog-Zug.com - Mehr Besucher, mehr Leser für Deinen Blog! Chronicle Books Blog » Blog Archive » From Blog to Book – How to Turn Your Ideas Into Reality. 3 Tips for Blogging Organization. Maximize Your Blogging: Set & Work Toward Goals. How to Deal With Copycats and Idea Thieves. Debbie Weil on Corporate Blogging and Social Media. Blog Tips to Help You Make Money Blogging - ProBlogger.
Tipps und News für neue und professionelle Blogger. Blogtipps, Hilfe beim Blog Start, Blog-Check und mehr. » Blogprojekt. Content marketing software for WordPress.
---