Développement Google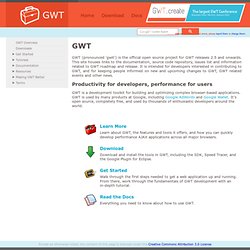 GWT (pronounced 'gwit') is the official open source project for GWT releases 2.5 and onwards. This site houses links to the documentation, source code repository, issues list and information related to GWT roadmap and release. It is intended for developers interested in contributing to GWT, and for keeping people informed on new and upcoming changes to GWT, GWT related events and other news. Productivity for developers, performance for users GWT is a development toolkit for building and optimizing complex browser-based applications. GWT is used by many products at Google, including Google AdWords and Google Wallet.
Best Practices for Architecting GWT App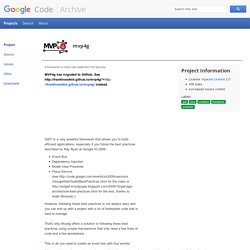 GWT is a very powerful framework that allows you to build efficient applications, especially if you follow the best practices described by Ray Ryan at Google IO 2009: Event Bus Dependency Injection Model View Presenter Place Service (see http://code.google.com/events/io/2009/sessions/GoogleWebToolkitBestPractices.html for the video or http://extgwt-mvp4g-gae.blogspot.com/2009/10/gwt-app-architecture-best-practices.html for the text, thanks to Araik Minosian.) However, following these best practices is not always easy and you can end up with a project with a lot of boilerplate code that is hard to manage. That's why Mvp4g offers a solution to following these best practices using simple mechanisms that only need a few lines of code and a few annotations.
mvp4g - Project Hosting on Google Code
gwt-presenter - Project Hosting on Google Code
Oracle Oracle Oracle Technology Network Java Code Conventions for the Java TM Programming Language Revised April 20, 1999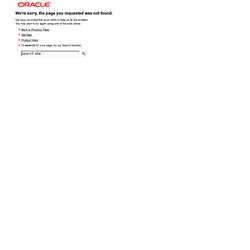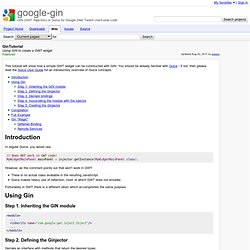 GinTutorial - google-gin - Using GIN to create a GWT widget - Pr
This tutorial will show how a simple GWT widget can be constructed with GIN. You should be already familiar with Guice - if not, then please read the Guice User Guide for an introductory overview of Guice concepts. In regular Guice, you would use: // Does NOT work in GWT code!