Art, Science, Technology and Language
(by Katherine Frey/The Washington Post) You don't find school reformers talking much about how we need to train more teachers in the arts, given the current obsession with science, math, technology and engineering (STEM), but here's a list of skills that young people learn from studying the arts. They serve as a reminder that the arts — while important to study for their intrinsic value — also promote skills seen as important in academic and life success. (That's why some people talk about changing the current national emphasis on STEM to STEAM.)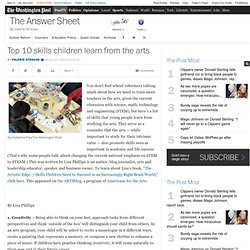 Gallery | Aviva Fibers | Ami Davis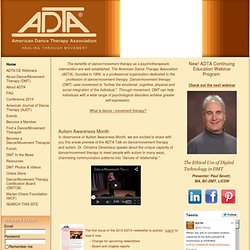 ADTA - Home
New! ADTA Continuing Education Webinar Program The Ethical Use of Digital Technology in DMT Presenter: Paul Sevett,
artsinsociety.com
Lois Greenfield Photography : Galleries : BodyScapes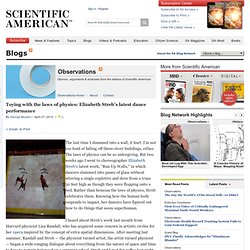 The last time I slammed into a wall, it hurt. I'm not too fond of falling off three-story buildings, either. The laws of physics can be so unforgiving. But two weeks ago I went to choreographer Elizabeth Streb's latest work, "Run Up Walls," in which dancers slammed into panes of glass without uttering a single expletive and dove from a truss 30 feet high as though they were flopping onto a bed. Rather than bemoan the laws of physics, Streb celebrates them. Knowing how the human body responds to impact, her dancers have figured out how to do things that seem superhuman.
Toying with the laws of physics: Elizabeth Streb's latest dance performance
Center for Learning through the Arts and Technology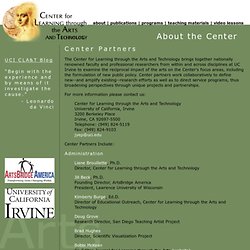 Center Partners The Center for Learning through the Arts and Technology brings together nationally renowned faculty and professional researchers from within and across disciplines at UC Irvine to examine the reciprocal impact of the arts on the Center's focus areas, including the formulation of new public policy. Center partners work collaboratively to define new--and amplify existing--research efforts as well as to direct service programs, thus broadening perspectives through unique projects and partnerships. For more information please contact us:
Synchronous Objects
Dance Films Association | Blog | Dance Films Association
OFF JAZZ - DANCE LINKS DANSE
Thank You for all the great support. Check Out Music Video Search for all genres of Music Videos Below is a new look with a search engine to help source all your jazz videos Site Is current under renovation please be patient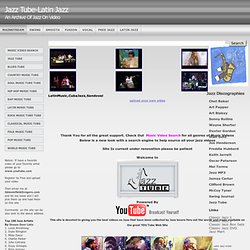 Jazz Tube-An Archive Of Jazz On Video
-:: Sheron Wray - Performance Architect ::-
Hi all! Come support Hip Hop, as an academic study, in the Claire Trevor School of the Arts! Here's the schedule of events: UC Irvine Claire Trevor School of the Arts Presents: October 26th -27th 2011 Visiting scholars Raphael "Viazeen" Xavier and Professor Halifu Osumare.
(INSIGHT)
Welcome LivingstonDance shares information about Los Angeles-based contemporary choreographer and dance educator, Loretta Livingston, and her projects, research, collaborations and artist partners. This site also holds the archive for Loretta Livingston & Dancers - a downtown Los Angeles-based performance ensemble that Livingston directed from 1984 to 2009.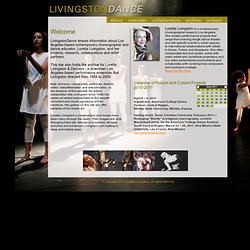 Livingston Dance
Shantala Pepe's Articles