Pro-photographers
Richard Avedon, Herb Ritts, and countless other great photographers have rocked the white background for decades. I recently went to a huge bookstore here in Atlanta and counted the number of magazine covers shot with a simple white background like we are going to investigate here. 87 COVERS SHOT ON WHITE OR A VARIATION OF A WHITE BACKGROUND. Eighty-seven magazine covers at one book store. Its everywhere and it is everywhere because it is simple and effective and makes your subjects pop. It beats the bloody hell out of any wrinkled up grey/blue/brown muslin any day of the week. Walk into a Target store this week and look at the in-store signage.
Zack Arias – Atlanta based editorial music photographer » White
Craig Cutler photographs rare blues record for The New York Times Magazine Last week's New York Times Magazine cover story focused on the mysterious Elvie Thomas and Geeshie Wiley, two early-20th-century musicians who, in the words of the magazine, "changed American music and then vanished without a trace." For the cover image, the magazine asked Craig Cutler to photograph a rare copy of Wiley's record "Last Kind Word Blues," which is owned by music collector Chris King.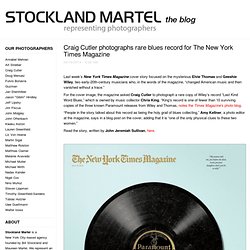 Stockland Martel
Michael Muller - Krop Creative Database