Pro-photographers
Richard Avedon, Herb Ritts, and countless other great photographers have rocked the white background for decades. I recently went to a huge bookstore here in Atlanta and counted the number of magazine covers shot with a simple white background like we are going to investigate here. 87 COVERS SHOT ON WHITE OR A VARIATION OF A WHITE BACKGROUND. Eighty-seven magazine covers at one book store. Its everywhere and it is everywhere because it is simple and effective and makes your subjects pop. It beats the bloody hell out of any wrinkled up grey/blue/brown muslin any day of the week. Walk into a Target store this week and look at the in-store signage.
Zack Arias – Atlanta based editorial music photographer » White
Photos by Tobias Hutzler for Titan. Titan's new Titan Edge—said to be light as a feather and the "slimmest watch in the universe"— is the result of a decade's worth of design evolutions. So for the global campaign showcasing this innovative titanium timepiece, Ogilvy & Mather, Bangalore, asked photographer and director Tobias Hutzler to produce imagery and a commercial that encapsulated mastery in all its aspects.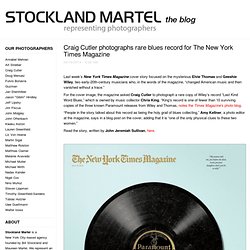 Stockland Martel