Drinks
Sweet (Literally) Party Watermelon Shooter Trick! - The Wall of Champions. Receita de Amarula Caseira | Receitas Supreme. Bebidas. Vodka Cherry Pokeballs. Drunken Gummies (Vodka-Infused Gummi Bears) : Finally, our lovely mutants! 50 Drinking Games Guaranteed to Get You Hammered. What's more fun than hanging out with your friends, getting plastered, and making an ass of yourself?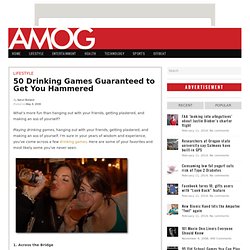 Playing drinking games, hanging out with your friends, getting plastered, and making an ass of yourself. I'm sure in your years of wisdom and experience, you've come across a few drinking games. Here are some of your favorites and most likely some you've never seen. 1. Peach Cherry Sangria - My Invisible Crown.
It's still SUMMER!!!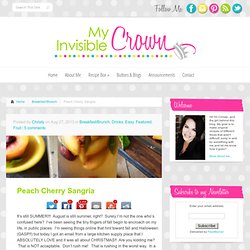 August is still summer, right? Surely I'm not the one who's confused here? I've been seeing the tiny fingers of fall begin to encroach on my life, in public places. Drinks | foodgawker - page 8. These Exist!? Zipzicles Are Ziploc Bags Designed For Popsicles. We're getting a bit nostalgic here today.
What did you call the ice pops that came in a sealed plastic tube and that you generally bought in a box of at least 50? At Brit HQ some of us knew them as Otter Pops, others as Flav-or-Ice, and still others as freeze pops. Whatever you called them, we can all agree that they were delicious, especially when eaten poolside or at a backyard BBQ. Enjoy. Jello Shots! This Post is ALL Mandi.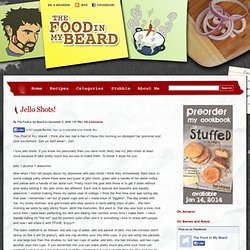 I think she has had a few of these this morning so disregard her grammar and over excitement. See ya next week! 1898646_460s.jpg (Imagem JPEG, 460x9230 pixéis) Naughty Shirley Temple Jello Shots. Ingredients: Cherry jelly powder Orange jelly powder Maraschino cherries with stems* Lemon lime pop Vodka Grenadine (optional) Mix 1 cup of boiling water with the cherry jelly powder.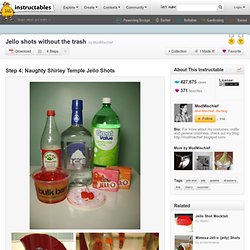 Stir until completely dissolved. 50 Drinking Games Guaranteed to Get You Hammered. Strawberry Margarita Jell-O Shooters. Strawberry Margarita Jell-O Shooters Margarita Jell-O Shooters ~ A fun farewell to summer and a festive edition to your Sunday football tailgate party or gatherings.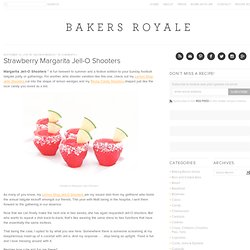 For another Jello shooter variation like this one, check out my Lemon Drop Jello Shooters cut into the shape of lemon wedges and my Rocky Candy Shooters shaped just like the rock candy you loved as a kid. Winter Sangria Recipe. Got any plans this weekend?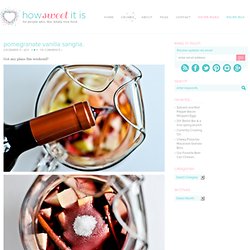 Print Save. Pink Panty Droppers Recipe at Epicurious. This makes a great fizzy pink lemonade.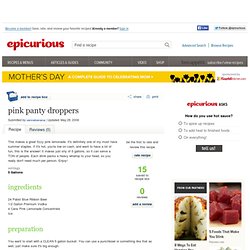 It's definitely one of my must have summer staples. If it's hot, you're low on cash, and want to have a lot of fun, this is the answer! It makes just shy of 5 gallons, so it can serve a TON of people. Each drink packs a heavy whallop to your head, so you really don't need much per person. Enjoy! ERROR: Backend server did not respond in time. There are oodles of haircare products available.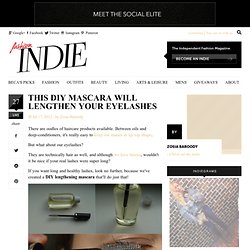 Between oils and deep-conditioners, it's really easy to keep our manes in tip top shape. But what about our eyelashes? They are technically hair as well, and although we love falsies, wouldn't it be nice if your real lashes were super long? Drinking Game: Scrubs. Cocktails Inspired by Evolutionary Stages of Pokémon. The sophisticated Pokémon trainer demands a beverage that will meet the needs of his or her discerning palate.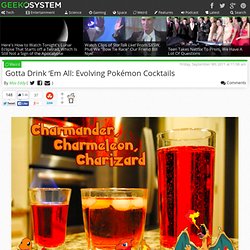 The Pokémon cocktails developed by the author(s) of the Drunken Moogle blog do just that, with a series that include three separate drinks inspired by each of the evolutionary stages of various pocket monsters. Each series begins with a shot, moves on to a midsize drink served in a tumbler, and then a highball-sized cocktail. It's notable that each drink builds on the previous, so the Charmeleon contains the ingredients from the Charizard, and so on.
The Charmander series looks particularly interesting, partly because it uses the truly excellent Fireball cinnamon whiskey, but also because you can light them on fire. See that weird blue haze above the shot glass? Healthy Protein Breakfast Smoothie Recipe. Smooth, creamy and bursting with nutrition, protein smoothies are easy to make for a healthy breakfast option. Another nice thing about smoothies, you can customize them for your nutritional and taste preference. Whirl ingredients together in a blender at high speed and enjoy. If you are in a rush, smoothies are easily transportable. Get-drunk-not-fat2.jpg (Imagem JPEG, 594x9896 pixéis) Web's Best: Whiskey Drinks. Unlike The Most Interesting Man in the World, we almost always drink beer. When we don't, however, our go to liquor is whiskey. What can we say, bourbon is neat (little whiskey humor).
While we usually just pour a few fingers and relax, sometimes we like to get a tad more creative. Here are The Web's Best Whiskey Drinks: Recipes | Ministry of Alcohol. BarMeister.com: the online guide to drinking. Skittles Vodka Tutorial. Cocktail Guide. 50 Smoothies : Recipes and Cooking. Jolly Rancher Vodka Tutorial. Just Peachy Sangria. Rainbow RDA. Popsicles! Spiced Lemonade – A Retro Recipe Test | The Mid-Century Menu.
---