Twitter Issues
Twitter Sues Five Spamming Sites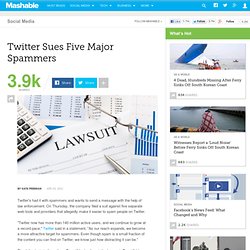 Twitter's had it with spammers and wants to send a message with the help of law enforcement. On Thursday, the company filed a suit against five separate web tools and providers that allegedly make it easier to spam people on Twitter. "Twitter now has more than 140 million active users, and we continue to grow at a record pace," Twitter said in a statement.
Biz Stone, a cofounder of Twitter , told an audience in Montreal this week that spending up to 12 hours a day on the platform is not necessarily a great idea. "To me, that sounds unhealthy," he said on Wednesday at the Board of Trade of Metropolitan Montreal business conference, according to a report in The Guardian . Stone told the audience that users should leave the site after they found the information they were looking for. "I like the kind of engagement where you go to the website and you leave because you've found what you are looking for or you found something very interesting and you learned something," Stone said, according to the report."I think that's a much healthier engagement. Obviously, we want you to come frequently."
Twitter Co-Founder: Spending Too Much Time On the Site is 'Unhealthy'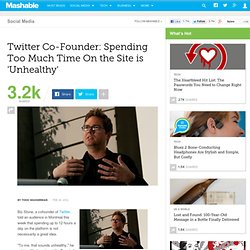 Twitter Ordered To Turn Over I.D. Of User Who Threatened Bachmann
Twitter Turns Over User Information In Criminal Probe Of Occupy Boston
Twitter Is Selling Your Old Tweets [REPORT]
Twitter is the latest social network to turn a buck with content you created.
For Sale: Your Old Tweets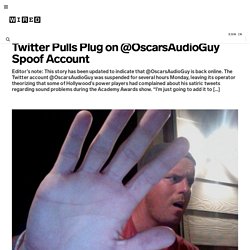 Editor's note: This story has been updated to indicate that @OscarsAudioGuy is back online. The Twitter account @OscarsAudioGuy was suspended for several hours Monday, leaving its operator theorizing that some of Hollywood's power players had complained about his satiric tweets regarding sound problems during the Academy Awards show. "I'm just going to add it to my resume that I was banned by the Academy," said Barrett Tryon ( @barretttryon ) in a phone interview with Wired.com. In reality, the suspension resulted from the account being mistaken for a spambot, according to an e-mail from Twitter that Tryon forwarded to Wired.com.
Twitter Pulls Plug on @OscarsAudioGuy Spoof Account | Underwire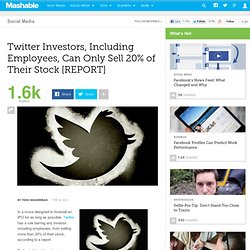 Twitter Investors, Including Employees, Can Only Sell 20% of Their Stock [REPORT]
In a move designed to forestall an IPO for as long as possible, Twitter has a rule barring any investor, including employees, from selling more than 20% of their stock, according to a report. Twitter initiated the rule about a year ago, but it hadn't been made public, according to CNNMoney . The guideline is somewhat controversial within the company and allegedly prompted Senior Technical Engineer Evan Weaver to resign last August. According to the article, Weaver's departure prompted an explanatory email to staffers from CEO Dick Costolo. The email outlined Twitter's reason behind the policy: To keep to the SEC-dictated limit of under 500 investors.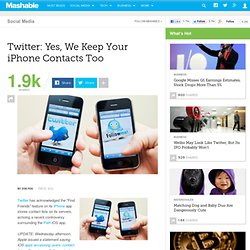 Twitter has acknowledged the "Find Friends" feature on its iPhone app stores contact lists on its servers, echoing a recent controversy surrounding the Path iOS app. UPDATE: Wednesday afternoon, Apple issued a statement saying iOS apps accessing users' contact lists will require explicit permission. After users opt to have the Twitter app search their phones, the company stores their address book's names, emails addresses and phone numbers on its servers for 18 months. Like many other iOS apps, Twitter allows users to have the app "scan your contacts for people you already know on Twitter." Until now, the storage aspect had not been explicitly stated in Twitter's privacy policy nor did the Find Friends function specify it would be transmitting and storing data. Twitter's policy stated that "Log Data" could include IP addresses, browser types, referring domains, pages visited, mobile carriers, device and application IDs, and search terms, among other activities.
Twitter: Yes, We Keep Your iPhone Contacts Too
Twitter Admits Verifying @Wendi_Deng Was a Mistake
What Are Your Twitter Followers Worth, and Who Owns Them?
It wasn't too long ago when hastily departing employees were denied the chance to grab Rolodexes from atop their desks. Goodbyes were brief. Doors were held open.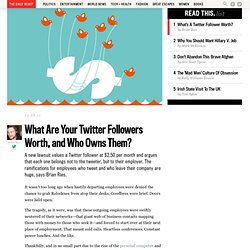 Company Sues Former Employee for Value of 17,000 Twitter Followers [VIDEO]
Noah Kravitz left his former employer PhoneDog in October 2010 on good terms. Now the company is suing him for $340,000 for the 17,000 followers he kept after he left the the position, valuing each follower at $2.50 per month over a period of eight months. by pattychanman Jan 7
Meet the Writer Being Sued For His 17,000 Twitter Followers
At any conference, product launch or other event where the top tier of tech reporters gather, Noah Kravitz is easy to pick out of a crowd. He's the affable guy with glasses, earring and a cue-ball head; a supersmart cellphone-loving thirtysomething with a finely tuned sense of the absurd. Online, Kravitz often goes by the handle "Kravy Krav," an homage to hip-hop legend Flavor Flav. KravyKrav was also the name of his very first (and now inactive) Twitter account.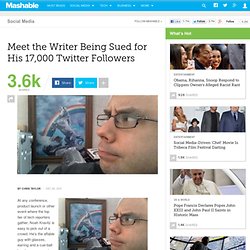 Time To Revise You Social Media Policy on Who Owns Your Followers
Lawsuit Over Twitter Followers May Not Set Precedent For Similar Cases
An Update on PhoneDog v. Kravitz, the Employee Twitter Account Case
Technology & Marketing Law Blog « TheDirty Denied 47 USC 230 Immunity--Jones v. Dirty World | Main | Some Thoughts About Google Search Plus Your World (SPYW) »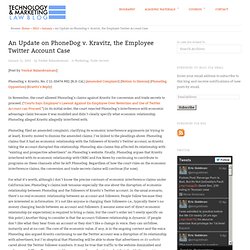 Twitter Ordered To Turn Over Data On WikiLeaks Backers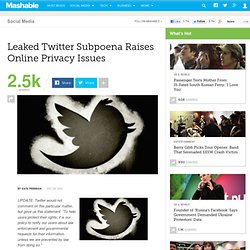 Leaked Twitter Subpoena Raises Online Privacy Issues
UPDATE: Twitter would not comment on this particular matter, but gave us this statement: "To help users protect their rights, it is our policy to notify our users about law enforcement and governmental requests for their information, unless we are prevented by law from doing so." The leaked subpoena sent to Twitter this month by the Suffolk District Attorney's Office in Boston is causing some hoopla on the web and raising the issue of law enforcement's access to online personal data. On Dec. 14, the D.A.'s Office issued a subpoena to Twitter in order to access the account information of two users who tweeted a list of personal information they allegedly obtained by hacking into the Boston Police Patrolmen's Association.
Occupy Protestor's Twitter Account Subpoenaed
Smacked with yet another subpoena, Twitter must submit an Occupy protestor's account information to the Manhattan District Attorney's Office — unless the account holder can stop the order before Feb. 8. The District Attorney's Office issued a subpoena for Malcolm Harris (at the Twitter handle @destructuremal ) on Jan. 26. Harris is the managing editor for the blog The New Inquiry, which seeks to explore ideas through criticism and examination. He alleges via Twitter that the District Attorney's Office is only requesting three-and-a-half months of his account information because of a disorderly conduct violation he was slapped with during the Brooklyn Bridge protest and subsequent arrests "I'm not sure why they've singled me out, but I'm not too worried," Harris told Mashable .
The protestor believes its a subpoena for the violation of blocking a car on the bridge. Judging by his comments, He seems very optimistic that nothing bad will result from this. by pattychanman Feb 2
Twitter Stands Up to Court Order for Occupier's Data
Twitter , which has a history of complying with court requests for users' data, appears to be drawing a line in the sand. The company filed a motion in a New York State court on Monday to quash a court order that would force it to hand over data pertaining to a user involved with the Occupy Wall Street movement, according to a blog post from the American Civil Liberties Union. Malcom Harris, the user in question, is being prosecuted by the District Attorney's office in Manhattan for disorderly conduct during the Occupy movement's march across the Brooklyn Bridge last year.
Twitter's Censorship Policy: Three Unanswered Questions
Brazil Sues Twitter Over Speed Trap, Roadblock Tweets