Trends in Social Media
So Which Social Networking Sites Can Sex Offenders Actually Use?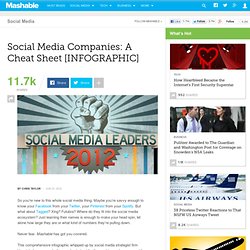 So you're new to this whole social media thing. Maybe you're savvy enough to know your Facebook from your Twitter, your Pinterest from your Spotify. But what about Tagged?
What Men and Women Really Want, According to Social Media [INFOGRAPHIC]
As a fully-licensed and accredited man, I am wholly unqualified to discuss what women want or care about.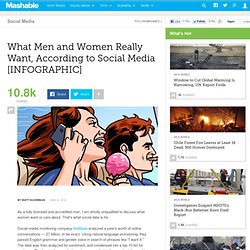 Who needs an expensive social media consultant when you can train your employees in Twitter, Facebook and LinkedIn best practices yourself? This Mindflash infographic breaks down the types of social media users you'll find in your company — the digital native, savvy technologist, reluctant user, digital newby and digital contrarian — and how to approach training each of them. This guide also highlights an important fact: 76% of companies do not have a clearly defined social media policy.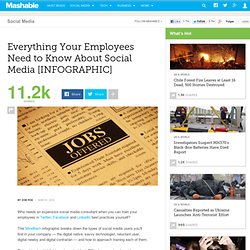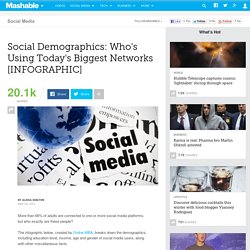 More than 66% of adults are connected to one or more social media platforms, but who exactly are these people? The infographic below, created by Online MBA, breaks down the demographics, including education level, income, age and gender of social media users, along with other miscellaneous facts.
Social Demographics: Who's Using Today's Biggest Networks [INFOGRAPHIC]
How Social Networks are Killing the Internet
Share this on Facebook! Tweet this to your followers! Pin it to Pinterest! Submit the link to StumbleUpon and drive tons of traffic to your site! Digg it and hopefully more eyeballs will see it (and then it will end up on Facebook through the Digg Social Reader).
How to Prepare for the Social Networked Afterlife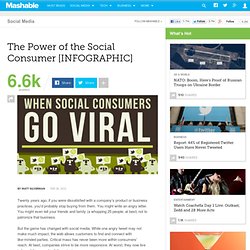 The Power of the Social Consumer [INFOGRAPHIC]
Twenty years ago, if you were dissatisfied with a company's product or business practices, you'd probably stop buying from them. You might write an angry letter.
Is Justin Timberlake really bringing MySpace back? Could be, according to data released by the company on Monday.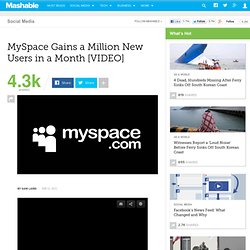 MySpace Gains a Million New Users in a Month [VIDEO]
Todd Piett is the chief product officer at Rave Mobile Safety / Smart911.com.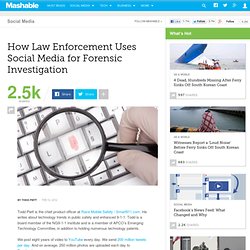 How Law Enforcement Uses Social Media for Forensic Investigation
Zachary Rodgers | February 9, 2012 | 0 Comments inShare172 Social platforms are still in their Precambrian era, with new services emerging and consolidating large audiences almost faster than they can be tracked.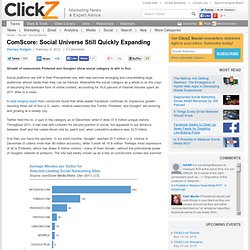 ComScore: Social Universe Still Quickly Expanding [STUDY]
Social Media Week is upon us, so we thought it would be appropriate to delve into the social media industry and see how its salaries stack up.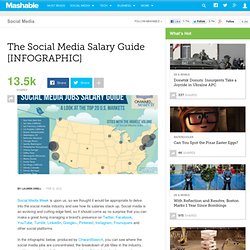 U.S. Adults: Most People Are Kind on Social Media [STUDY]
Adults know how to play nice online, according to a recent survey that asked U.S. adults who use social networking sites how many of their interactions were positive.
Ann Smarty is a search marketer and full-time web entrepreneur. Ann blogs on search and social media tools. Her newest project, My Blog Guest, is a free platform for guest bloggers and blog owners.
Should universities be allowed to force student athletes to have their Facebook and Twitter accounts monitored by coaches and administrators? No, says a bill recently introduced into the Maryland state legislature. The bill would prohibit institutions "from requiring a student or an applicant for admission to provide access to a personal account or service through an electronic communications device" — by sharing usernames, passwords or unblocking private accounts, for example.
Bill Aims to Give Athletes More Social Media Privacy
The Socially Aware blog has put together a nice infographic that highlights several key decisions in social media case law, starting with the Sony v. Universal Supreme Court Betamax recording decision of 1984 and continuing to the more recent past. In light of the SOPA and PIPA protests and discussions of this week, I found the review enlightening and interesting to see how far we have gone in terms of legislating copyright violations and other digital misdeeds. Remember Facebook suing and ultimately crushing Power.com? How about Courtney Love's Tweet that supposedly defamed a fashion designer?
Infographic: Key Moments in Social Media Law
'Unwitting' criminals of the Facebook and Twitter generation
Dead? Social Media's Explosive Growth is Only Beginning
Social media, types of media where everyday people can publish and subscribe to what one another publishes, have changed the world. At least in the United States, though, their rapid expansion through acquisition of new users may be over. Facebook specialist Eric Eldon published a compilation of statistics from around the web this week on TechCrunch that pointed towards US and Canadian market saturation this past year for Facebook. Surely Facebook represents the forward line of all social media. Academic and tech industry analyst Vivek Wadhwa posted a set of predictions for 2012 in the Washington Post last night, starting with a prediction that the period of rapid growth for social media is over.
Was the White House's #40dollars Campaign Successful?
Why Real-World Socializing Is the Next Big Thing for Social Media