Microsoft
Microsoft Invests $300M in Nook. Steven Sinofsky Is The Heir Apparent of Microsoft. What Google+ Should Have Been: Bing's Linked Pages. Bing launched Bing+ last week, it just skipped all the unnecessary stuff.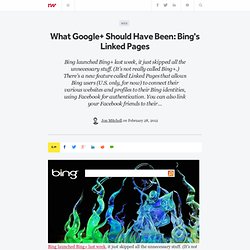 (It's not really called Bing+.) There's a new feature called Linked Pages that allows Bing users (U.S. only, for now) to connect their various websites and profiles to their Bing identities, using Facebook for authentication. You can also link your Facebook friends to their pages. Thanks to its relationship with Facebook, Microsoft has the advantage of not needing to build its own identity provider or social network. Microsoft Surface 2.0: From 'Minority Report' to Reality. The Designer Tech Series is supported by the exquisitely crafted, new 2013 Lincoln MKS with Lincoln Drive Control.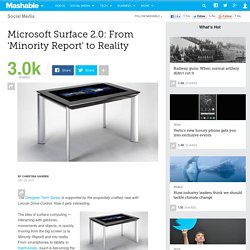 Now it gets interesting. The idea of surface computing — interacting with gestures, movements and objects, is quickly moving from the big screen (a la Minority Report) and into reality. From smartphones to tablets to thermostats, touch is becoming the computing input mechanism of choice. With Surface 2.0, Microsoft is actively taking surface computing to the next level. How Picture Password Works in Windows 8. Microsoft is talking a lot about passwords lately.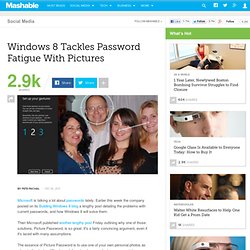 Earlier this week the company posted on its Building Windows 8 blog a lengthy post detailing the problems with current passwords, and how Windows 8 will solve them. Then Microsoft published another lengthy post Friday outlining why one of those solutions, Picture Password, is so great. It's a fairly convincing argument, even if it's laced with many assumptions. The essence of Picture Password is to use one of your own personal photos as a key to the device. Windows Azure Adds Node.js Support, Hadoop Preview - ReadWriteCloud. When Windows Azure was launched in 2008, it was with the intention, Microsoft said, of running .NET Framework applications from the cloud.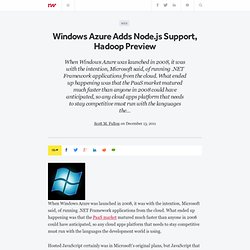 What ended up happening was that the PaaS market matured much faster than anyone in 2008 could have anticipated, so any cloud apps platform that needs to stay competitive must run with the languages the development world is using. Hosted JavaScript certainly was in Microsoft's original plans, but JavaScript that runs as a host, was not. For a company that has historically been incapable of turning on a dime, though, it's executing a pretty impressive course change with Azure. Last June, the company helped the Joyent open source team to port its Node.js stand-alone JavaScript server to Windows.
Windows 8 Will Bring Personal Cloud to Billions, Says Microsoft. The next version of Microsoft's still dominant PC operating system, Windows 8, "represents an incredible opportunity to bring the benefits of the personal cloud to billions of PC users.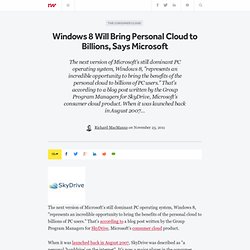 " That's according to a blog post written by the Group Program Managers for SkyDrive, Microsoft's consumer cloud product. When it was launched back in August 2007, SkyDrive was described as "a personal 'harddrive' on the internet". It's now a major player in the consumer cloud market, competing with other big guns like Apple's iCloud and Amazon Cloud Drive. Also SkyDrive competes with innovative startups like Dropbox and SugarSync. Windows 8: The Top 4 Things You Should Know. Microsoft says it is "reinventing the OS" with Windows 8, the company's next-generation operating system.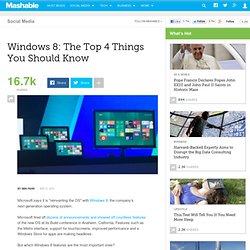 Microsoft fired off dozens of announcements and showed off countless features of the new OS at its Build conference in Anaheim, California. Features such as the Metro interface, support for touchscreens, improved performance and a Windows Store for apps are making headlines. But which Windows 8 features are the most important ones? We've scoured the Windows 8 feature list, played with Windows 8 devices (our first impressions coming soon), and come up with a list of features that we believe define Microsoft's next-generation OS.
What a Windows 7 User Needs to Know About Windows 8. Windows 8 Consumer Preview: The Good, the Bad and the Ugly [REVIEW] I'm writing this article on a Windows 8 tablet.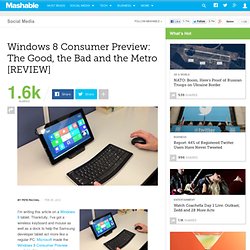 Thankfully, I've got a wireless keyboard and mouse as well as a dock to help the Samsung developer tablet act more like a regular PC. Microsoft made the Windows 8 Consumer Preview available this morning to everyone who wants to check it out. It was also kind enough to give Mashable a sneak peek. What exactly is a consumer preview? I can tell you this: It definitely means it's not ready for general release. 5 Ways Windows 8 Is Better Than iOS and Android | Gadget Lab. When Microsoft revealed the "consumer preview" of Windows 8 on Wednesday, it didn't just give the world a glimpse at a new OS — it also showed us that it can be a leader in touch-based user interface design.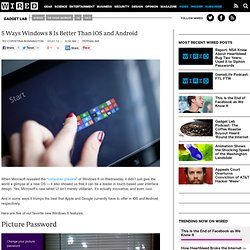 Yes, Microsoft's new tablet UI isn't merely utilitarian. It's actually innovative, and even cool.
---