Microsoft
Microsoft Invests $300M in Nook
Steven Sinofsky Is The Heir Apparent of Microsoft
Bing launched Bing+ last week, it just skipped all the unnecessary stuff. (It's not really called Bing+.)
What Google+ Should Have Been: Bing's Linked Pages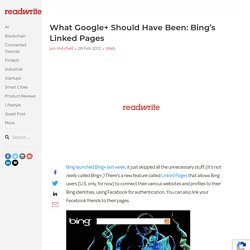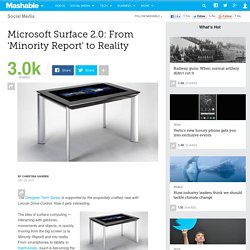 Microsoft Surface 2.0: From 'Minority Report' to Reality
The Designer Tech Series is supported by the exquisitely crafted, new 2013 Lincoln MKS with Lincoln Drive Control.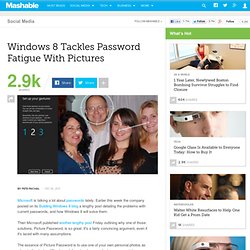 How Picture Password Works in Windows 8
Microsoft is talking a lot about passwords lately.
"The essence of Picture Password is to use one of your own personal photos as a key to the device. It'll only work for a touchscreen device — a smartphone, tablet or touchscreen PC — since it involves tracking finger gestures on the screen.

Once you pick a photo to use, Picture Password records three gestures that you "draw" on the screen. Each gesture must be either a tap, a drawn line between two points, or a circle. Once you've entered them, the device will call up the photo at login, prompting you to duplicate them. If you get them all correct, in the right order AND in the right direction (for lines and circles), you have access.

Why just the three gestures instead of free-form movements, which would probably be more secure? Time. Microsoft found in its testing that people took much longer to duplicate free-from gestures than simple shapes, making the tool a chore.

It turns out that taps, circles and lines are secure enough, and Microsoft presents the math to prove it." by pattychanman Dec 17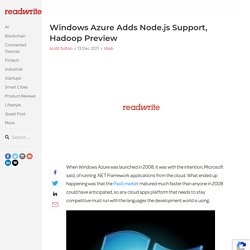 Windows Azure Adds Node.js Support, Hadoop Preview - ReadWriteCloud
When Windows Azure was launched in 2008, it was with the intention, Microsoft said, of running .NET Framework applications from the cloud.
Windows 8 Will Bring Personal Cloud to Billions, Says Microsoft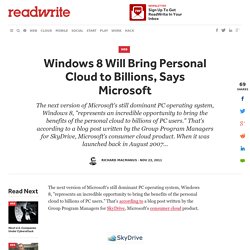 The next version of Microsoft's still dominant PC operating system, Windows 8, "represents an incredible opportunity to bring the benefits of the personal cloud to billions of PC users." That's according to a blog post written by the Group Program Managers for SkyDrive, Microsoft's consumer cloud product. When it was launched back in August 2007, SkyDrive was described as "a personal 'harddrive' on the internet".
Microsoft says it is "reinventing the OS" with Windows 8, the company's next-generation operating system.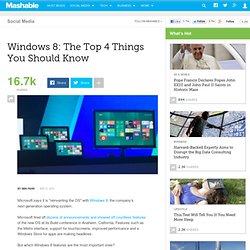 Windows 8: The Top 4 Things You Should Know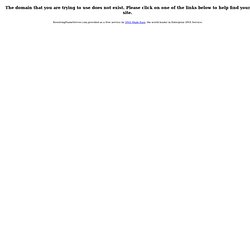 What a Windows 7 User Needs to Know About Windows 8
With Windows 8 hovering on the not-so-distant horizon, there's been plenty of curiosity about Microsoft's newest operating system. After previewing an early version of Windows 8, we've now had a chance to use Microsoft's Consumer Preview and have a few initial impressions to share.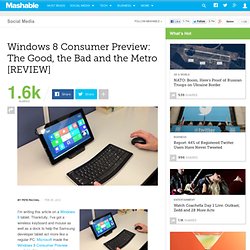 I'm writing this article on a Windows 8 tablet. Thankfully, I've got a wireless keyboard and mouse as well as a dock to help the Samsung developer tablet act more like a regular PC.
Windows 8 Consumer Preview: The Good, the Bad and the Ugly [REVIEW]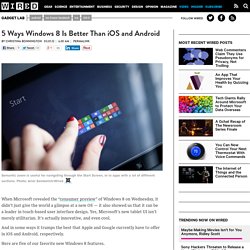 5 Ways Windows 8 Is Better Than iOS and Android | Gadget Lab
When Microsoft revealed the "consumer preview" of Windows 8 on Wednesday, it didn't just give the world a glimpse at a new OS — it also showed us that it can be a leader in touch-based user interface design.