Corporate Tax Reform
Why Not Just Ditch The Corporate Income Tax?
After I wrote about the corporate income tax , readers of various political persuasions wrote in to ask why I don't think we should just get rid of the thing altogether. The answer is pretty simple—it raises around two percent of GDP! It's the same as the reason why we don't just get rid of all kinds of taxes that are sitting on state, federal, or municipal tax codes. Now a different question is whether I think an ideal tax code would feature a corporate income tax.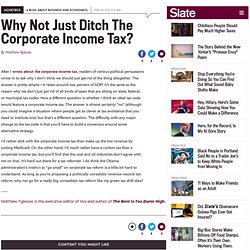 Obama corporate taxes: He would slash 'dozens' of tax breaks - Feb. 22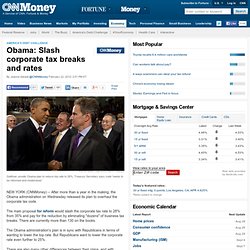 Geithner unveils Obama plan to reduce top rate to 28%; Treasury Secretary says code 'needs to be reformed and modernized.' NEW YORK (CNNMoney) -- After more than a year in the making, the Obama administration on Wednesday released its plan to overhaul the corporate tax code. The main proposal for reform would slash the corporate tax rate to 28% from 35% and pay for the reduction by eliminating "dozens" of business tax breaks. There are currently more than 130 on the books. The Obama administration's plan is in sync with Republicans in terms of wanting to lower the top rate. But Republicans want to lower the corporate rate even further to 25%.
The White House has unveiled its framework for overhauling the corporate tax code. They propose bringing the corporate rate down to 28 percent, establishing a global minimum tax, and expanding the credits for R&D and manufacturing. But they won't say exactly how to do all that.
Wonkbook: Tax reform is really, really hard