Comparisons
Facebook, Google under fire in Maryland. Gus G.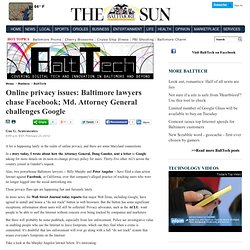 Sentementes 9:55 a.m. EST, February 23, 2012 A lot is happening lately in the realm of online privacy, and there are some Maryland connections. In a story today, I wrote about how the Attorney General, Doug Gansler, sent a letter to Google asking for more details on its soon-to-change privacy policy for users. What Facebook Marketers Need To Know About Pinners.
How do you market to pinners?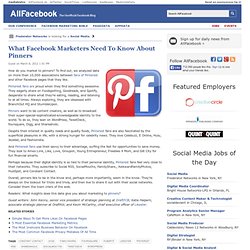 To find out, we analyzed data on more than 10,000 associations between fans of Pinterest and other Facebook pages that they like. Pinterest fans are proud when they find something awesome. They eagerly share on Foodspotting, Goodreads, and Spotify, desperate to share what they're eating, reading, and listening to at all times. Facebook has one-tenth the employees of Google, one-hundredth the employees of Toyota. Culture Connoisseur Badge Culture Connoisseurs consistently offer thought-provoking, timely comments on the arts, lifestyle and entertainment.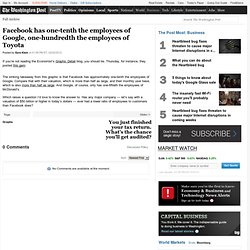 More about badges | Request a badge Washingtologist Badge Washingtologists consistently post thought-provoking, timely comments on events, communities, and trends in the Washington area. Post Writer Badge. Pinterest Drives More Traffic to Blogs Than Twitter [STUDY] Pinterest drove more traffic to online publishers in February than Twitter, according to third-party measurement data.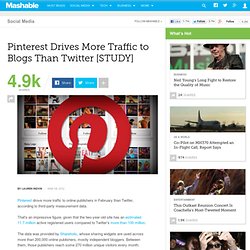 That's an impressive figure, given that the two-year-old site has an estimated 11.7 million active registered users compared to Twitter's more than 100 million. The data was provided by Shareholic, whose sharing widgets are used across more than 200,000 online publishers, mostly independent bloggers. Between them, those publishers reach some 270 million unique visitors every month. In February, the company found that a little less than half (48.81%) of all traffic came from Google, followed by Facebook (6.38%), Yahoo (1.61%), StumbleUpon (1.29%) and Bing (1.21%). Yelp, Twitter & Apple's Anti-Google Coalition. Om Malik wrote a post today called What do Yelp and Twitter have in common?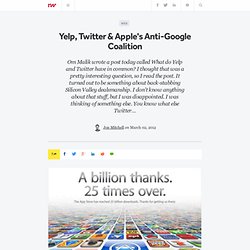 I thought that was a pretty interesting question, so I read the post. It turned out to be something about back-stabbing Silicon Valley dealsmanship. I don't know anything about that stuff, but I was disappointed. I was thinking of something else. You know what else Twitter and Yelp have in common? [STUDY] How Hyperconnectivity Affects Young People. Would you mind putting down your smartphone for a moment to read this?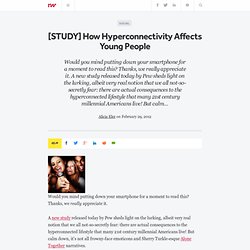 Thanks, we really appreciate it. A new study released today by Pew sheds light on the lurking, albeit very real notion that we all not-so-secretly fear: there are actual consequences to the hyperconnected lifestyle that many 21st century millennial Americans live! The Most Viral News Sources on Twitter and Facebook [INFOGRAPHIC] The BBC, The Huffington Post and The Guardian are the three most viral news sources on Facebook and Twitter, according to a new report.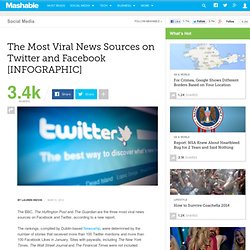 The rankings, compiled by Dublin-based Newswhip, were determined by the number of stories that received more than 100 Twitter mentions and more than 100 Facebook Likes in January. Sites with paywalls, including The New York Times, The Wall Street Journal and The Financial Times were not included. The BBC led the pack on Twitter, publishing 2,621 stories that received more than 100 mentions. The Guardian ranked second with 1,149 mentions, followed by Mashable (1,098), the Huffington Post (895) and TechCrunch (716). Microsoft, Google Argue Over Browser Privacy Issue. Following the revelation that Google bypasses built-in privacy protections on the iPhone's web browser, Microsoft has come forward to declare that Google similarly exploits vulnerabilities in Internet Explorer.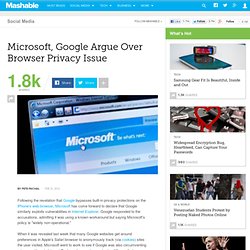 Google responded to the accusations, admitting it was using a known workaround but saying Microsoft's policy is "widely non-operational. " When it was revealed last week that many Google websites get around preferences in Apple's Safari browser to anonymously track (via cookies) sites the user visited, Microsoft went to work to see if Google was also circumventing privacy settings in Internet Explorer. In a posting yesterday, Microsoft vice president of Internet Explorer Dean Hachamovitch said this was indeed the case.
Although the technique is different, what Google is doing has the same effect of getting the browser to accept cookies when it typically wouldn't. 10 Reasons Twitter Is Sexier Than Facebook [INFOGRAPHIC] It's no secret people behave differently, depending on the social network.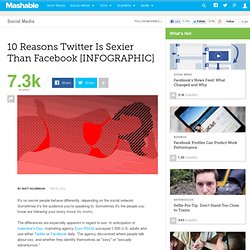 Sometimes it's the audience you're speaking to. Sometimes it's the people you know are following your every move (hi, mom). The Future of Sharing on Facebook, Twitter and Google+ Users of social networks are getting tired of sharing — but that doesn't mean sharing is on the decline.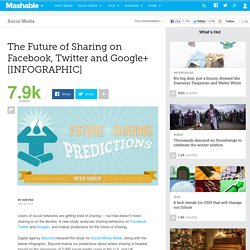 A new study analyzes sharing behaviors on Facebook, Twitter and Google+ and makes predictions for the future of sharing. Digital agency Beyond released the study for Social Media Week, along with the below infographic. Apple vs. Google: Who Owns Slide-to-Unlock on Phones? Both iPhones and Android devices unlock in the same way: with the user sliding his or her finger along part of the screen. That simple function has prompted a huge amount of legal wrangling, with both Apple and Google (by proxy of its recent acquisition, Motorola ) scoring victories over the ownership of "slide-to-unlock" on phones in the past week. A German court ruled in Apple's favor on Thursday — twice — on separate allegations that Motorola Mobility had infringed on Apple's patents on slide-to-unlock. A Munich regional court said certain Motorola phones infringed on the German part of a broader European patent. It's Apple's first patent victory over Motorola ever. Want to Avoid Getting Banned on Social Media? Learn the Rules.
Ann Smarty is a search marketer and full-time web entrepreneur. Ann blogs on search and social media tools. Her newest project, My Blog Guest, is a free platform for guest bloggers and blog owners. Infographic: The SMB Social Media Cheat Sheet. The folks at Flowtown have put together a quick reference guide to six different social media services. Called the SMB Social Media Cheat Sheet, it contains basic stats on Twitter, Facebook, YouTube, Google+, Tumblr and Digg. What, no LinkedIn? That is perhaps the biggest missing service, but otherwise the infographic, reproduced below, is worth bookmarking for those noobs in your company that are looking to learn more about each service.
I particularly liked the how to begin for each service. [REPORT] Twitter, LinkedIn Will See Slower Revenue Growth. Twitter and LinkedIn will continue to see strong advertising growth, with Twitter's revenue expected to nearly double between 2012 and 2014, according to a report by eMarketer Digital Intelligence. The report comes against the backdrop of Facebook's pending, initial public offering and illustrates that advertising models for social networks seem to be working. Twitter gets 90% of its revenue from U.S. advertisers, while LinkedIn depends more on foreign advertisers, with just 68% of its 2012 ad revenue expected to come from the U.S.
The report did note, however, that both companies can expect growth rates to slow from their current levels. eMarketer is projecting 83% revenue growth for Twitter this year, down from 233% in 2011, and 46.1% revenue growth for LinkedIn, down from 95% in 2011. Tech's Doomsday Plots: How Your Favorite Tech Giants Could Lose Their Edge. When Steve Jobs unveiled the iPhone five years ago, it was a happy day for the Apple faithful. Less so for the folks at Palm, whose employer became a ticking time bomb. In one move, Apple leapfrogged its rivals in hardware and software and changed the mobile industry forever. And Palm -- a touch computing pioneer that lost its way -- was toast. Hot Tips For Landing Jobs at Google, Apple and Facebook [INFOGRAPHIC] Tech Hiring Trends 2012: What You Need to Know [INFOGRAPHIC] Two Schools of Thought: The Key Difference Between Apple and Google. How Much Do Tech Companies Make Per Employee?
The new four horsemen of tech: Apple, Amazon, Google & IBM - Jan. 5.
---