Business: Entrepreneurship
OPEN Forum Mobile :: Idea Hub : Article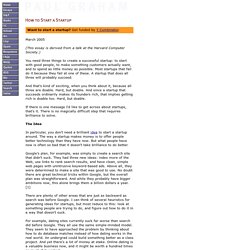 March 2005 (This essay is derived from a talk at the Harvard Computer Society.) You need three things to create a successful startup: to start with good people, to make something customers actually want, and to spend as little money as possible.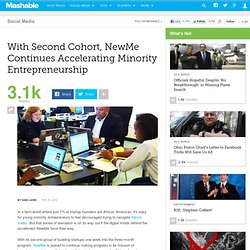 In a tech world where just 1% of startup founders are African American, it's easy for young minority entrepreneurs to feel discouraged trying to navigate Silicon Valley . But that sense of alienation is on its way out if the digital minds behind the accelerator NewMe have their way. With its second group of budding startups one week into the three-month program, NewMe is poised to continue making progress in its mission of broadening and demystifying the path to startup success for African American, Hispanic and female founders. "A lot of them can't go to their parents or immediate network and say, 'Hey, I want to start this app or this website, how do I get started?'" NewMe founder and CEO Angela Benton said in an interview. When NewMe's first group of startups finished the program's inaugural session last summer, 60% were able to secure an average of $92,000 in investment money from outside funders, Benton said.
With 2nd Cohort, NewMe Continues Accelerating Minority Entrepreneurs
The Other 99% of Entrepreneurs
How to Start A New Business in Less Than 50 Hours
An entrepreneur's life can be a real roller coaster. Having started a few businesses in my career, I thought it would be useful to highlight some of the hard-won experience I've learned throughout the process—the kind of advice I wish I'd known when I started my first, or even second, business. If you're not seeking outside funding at the start, it's tempting to forgo writing out a formal business plan. However, taking the time to write out your business plan, forecasts and marketing strategy is a particularly effective way to hone your vision. All planning should center around two essential questions: How is my business serving a particular need or pain point, and does this represent a major market opportunity? In addition, don't overlook the exit strategy at the beginning.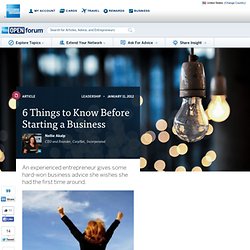 6 Things to Know Before Starting a Business : Managing
5 Proven Ways to Generate Revenue From Facebook
Brian Carter is author of The Like Economy: How Businesses Make Money With Facebook and co-author of Facebook Marketing: Leveraging Facebook's Features For Your Marketing Campaigns . He is a keynote speaker , trainer and consultant . Facebook , with its 800+ million users, presents a huge opportunity for business.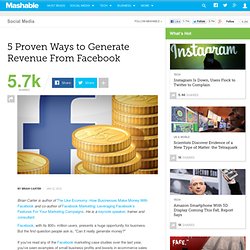 Editor's note: James Altucher is an investor, programmer, author, and entrepreneur. He is Managing Director of Formula Capital and has written 6 books on investing. His latest book is I Was Blind But Now I See . You can follow him @jaltucher .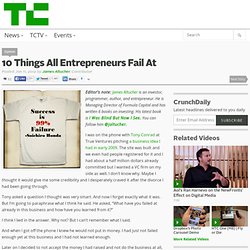 10 Things All Entrepreneurs Fail At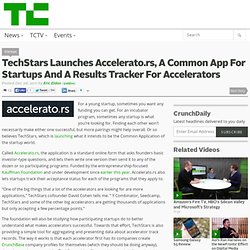 TechStars Launches Accelerato.rs, A Common App For Startups And A Results Tracker For Accelerators
For a young startup, sometimes you want any funding you can get. For an incubator program, sometimes any startup is what you're looking for. Finding each other won't necessarily make either one successful, but more pairings might help overall. Or so believes TechStars, which is launching what it intends to be the Common Application of the startup world. Called Accelerato.rs , the application is a standard online form that asks founders basic investor-type questions, and lets them write one version then send it to any of the dozen or so participating programs. Funded by the entrepreneurship-focused Kauffman Foundation and under development since earlier this year , Accelerato.rs also lets startups track their acceptance status for each of the programs that they apply to.
Much ado has been made about Instagram over the course of its short 9-month lifespan. Now with 7 million registered users, professional and amateur iPhoneographers attached to the mobile photo platform, and celebrities like Justin Bieber , Ryan Seacrest and Selena Gomez signing on, the startup is on its way to becoming a social network of significance — transforming photography into a form of communication. On Instagram, a photo is more than a record of something past, co-founder and CEO Kevin Systrom believes. A photo shared through Instagram carries with it a message of what someone's doing, watching, thinking, feeling or viewing; the time stamp is right here, right now. "In the past, people have looked at photos as a record of memory.
Snapshot of Success: Instagram's Kevin Systrom Shares His Startup Secrets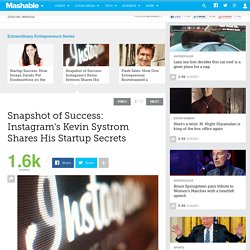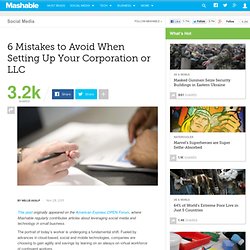 6 Mistakes To Avoid When Setting Up Your Corporation or LLC
This post originally appeared on the American Express OPEN Forum , where Mashable regularly contributes articles about leveraging social media and technology in small business. The portrait of today's worker is undergoing a fundamental shift. Fueled by advances in cloud-based, social and mobile technologies, companies are choosing to gain agility and savings by leaning on an always-on virtual workforce of contingent workers.
Entrepreneurship Sucks
By Wendy Bounds The best entrepreneur blogs – and often the most successful ones — do more than just promote the entrepreneurs or their projects. Star power can draw attention, but it won't sustain it if the blog doesn''t "give." Give is a broad term. You can give tangible tools and information to help build a business. Or a motivational story that inspires someone to try an idea.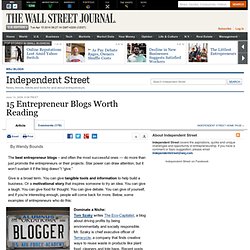 15 Entrepreneur Blogs Worth Reading - Independent Street