Banks
Whistleblower Lawsuits Against Banks Extinguished in Foreclosure Fraud Settlement
I think my disgust over federal housing policy is just about complete. As you know, we're still waiting for the actual terms of the foreclosure fraud settlement, more than one month after the announcement. But more information has dribbled out, not much of it to the good. Michael Hiltzik rounded up some of the more troubling issues. He mentions that OCC penalties will get folded into the settlement , basically charging $0 for their violations.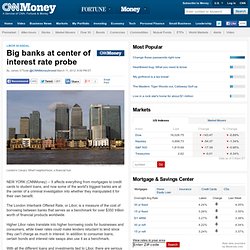 Big banks accused of interest rate manipulation - Mar. 11
London's Canary Wharf neighborhood, a financial hub. NEW YORK (CNNMoney) -- It affects everything from mortgages to credit cards to student loans, and now some of the world's biggest banks are at the center of a criminal investigation into whether they manipulated it for their own benefit. The London Interbank Offered Rate, or Libor, is a measure of the cost of borrowing between banks that serves as a benchmark for over $350 trillion worth of financial products worldwide. Higher Libor rates translate into higher borrowing costs for businesses and consumers, while lower rates could make lenders reluctant to lend since they can't charge as much in interest. In addition to consumer loans, certain bonds and interest rate swaps also use it as a benchmark. With all the different loans and investments tied to Libor, there are serious consequences if the process is tampered with.
With Banks As Landlords, Some Tenants Neglected
Luz Escamilla's bedroom walls are stained with the blood of bedbugs. She says she doesn't want to bleach them until reps from CW Capital, her landlord, pay an in-person visit to her Maryland home. Aarti Shahani / NPR Across the country, big banks and other large investors are buying up tens of thousands of foreclosed rental properties. They're not always model landlords, according to tenants and regulators. Some banks are failing to follow local and state housing codes, leaving tenants to live in squalor — without even a number to call in the most dire situations.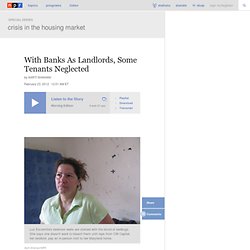 GAO: Almost Half of Bailed Banks Repaid the Government With Money "From Other Federal Programs"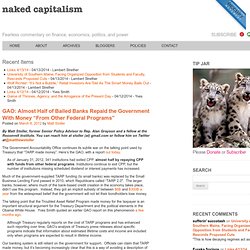 GAO: Almost Half of Bailed Banks Repaid the Government With Money "From Other Federal Programs" By Matt Stoller, former Senior Policy Advisor to Rep. Alan Grayson and a fellow at the Roosevelt Institute. You can reach him at stoller (at) gmail.com or follow him on Twitter at @matthewstoller
By DAN FITZPATRICK and DAVID ENRICH Bloomberg News Bank of America has looked for new sources of income as revenue declined. It is testing new fees for customers. Bank of America Corp.
Bank of America Weighs New Set of Fees