Apple Conflicts
iPod Owners: You're Suing Apple [VIDEO]
If you're one of the millions who purchased an iPod between Sept. 12, 2006, and March 31, 2009, you might be in for a surprising email. It states that you're being enlisted in a class-action lawsuit against Apple — though you do have the right to recuse yourself. The class-action lawsuit was originally filed by a customer in January 2005 and was ignited by the creation of the music service Harmony.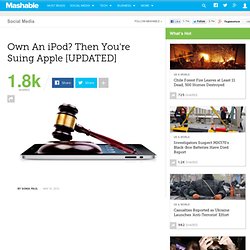 * DOJ has warned Apple, five e-book publishers - source * Parties have started settlement talks - source * Enforcers probing whether colluded to raise prices * Class action lawyer saw sudden, broad, price surge
UPDATE 1-US Justice Dept may sue Apple on e-book pricing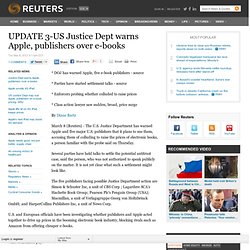 Apple's Next Privacy Scandal: Apps That Steal Your Photos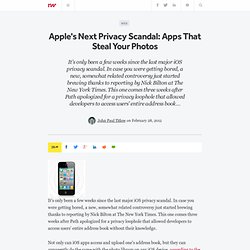 It's only been a few weeks since the last major iOS privacy scandal. In case you were getting bored, a new, somewhat related controversy just started brewing thanks to reporting by Nick Bilton at The New York Times. This one comes three weeks after Path apologized for a privacy loophole that allowed developers to access users' entire address book without their knowledge. Not only can iOS apps access and upload one's address book, but they can apparently do the same with the photo library on any iOS device, according to the Times. That's right.
iPhone Security Flaw Gives Developers Access to Photos [REPORT]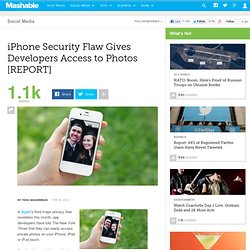 In Apple's third major privacy flaw revelation this month, app developers have told The New York Times that they can easily access private photos on your iPhone, iPad or iPod touch. App developers told the publication that after you download an app, it can easily copy your entire photo library without telling you. Apple doesn't block app developers from copying photos, but the company screens all the apps that appear in its App Store.
Apple said Wednesday that iOS apps accessing users' contact lists will require explicit permission, following a week of accusations that a number of iPhone apps were storing data on their servers. "Apps that collect or transmit a user's contact data without their prior permission are in violation of our guidelines," Apple spokesman Tom Neumayr told AllThingsD. "We're working to make this even better for our customers, and as we have done with location services, any app wishing to access contact data will require explicit user approval in a future software release." The recent controversy began after an OS X developer discovered Path had been storing users' contact lists. While Path CEO Dave Morin quickly apologized, other apps such as Twitter, Foursquare and Yelp came forward to state they planned to change their mobile permission settings.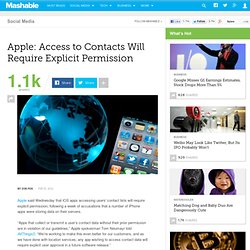 Apple: Access to Contacts Will Require Explicit Permission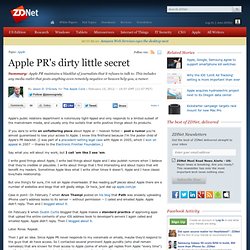 Apple's public relations department is notoriously tight-lipped and only responds to a limited subset of the mainstream media, and usually only the outlets that write positive things about its products. If you dare to write an unflattering piece about Apple or -- heaven forbid -- post a rumor you're almost guaranteed to lose your access to Apple. I know this firsthand because I'm the poster child of Apple's PR blacklist. (I was part of a precedent-setting legal case with Apple in 2005, which I won on appeal in 2007 -- thanks to the Electronic Frontier Foundation.) Say what you will about my work, but I call 'em like I see 'em. I write good things about Apple, I write bad things about Apple and I also publish rumors when I believe that they're credible or plausible.
Apple PR's dirty little secret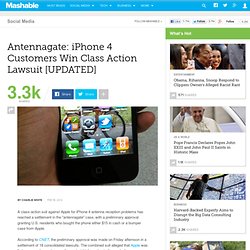 Antennagate: iPhone 4 Customers Win Class Action Lawsuit
A class-action suit against Apple for iPhone 4 antenna reception problems has reached a settlement in the "antennagate" case, with a preliminary approval granting U.S. residents who bought the phone either $15 in cash or a bumper case from Apple. According to CNET, the preliminary approval was made on Friday afternoon in a settlement of 18 consolidated lawsuits. The combined suit alleged that Apple was "misrepresenting and concealing material information in the marketing, advertising, sale and servicing of its iPhone 4 — particularly as it relates to the quality of the mobile phone antenna and reception and related software."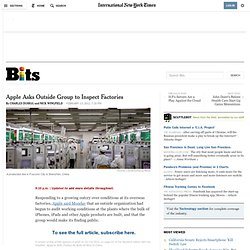 Apple Asks Outside Group to Inspect Factories
Thomas Lee/Bloomberg NewsA production line in Foxconn City in Shenzhen, China. 9:10 p.m. | Updated to add more details throughout. Responding to a growing outcry over conditions at its overseas factories, Apple said Monday that an outside organization had begun to audit working conditions at the plants where the bulk of iPhones, iPads and other Apple products are built, and that the group would make its finding public. For years, Apple has resisted calls for independent scrutiny of the suppliers that make its electronics.
Fair Labor Auditor Says Apple Factories In China Better Than Most
Hey, at least it's not a garment factory. The head of the nonprofit Fair Labor Association — which Apple hired to do audits of the company's factories in China — said the tech factories are better than garment and other manufacturing facilities in the area. President of the FLA Auret van Heerden said he was impressed by the conditions at Foxconn after several visits, Reuters reported. Audits of the eight factories Apple uses in China began on Monday starting with Foxconn Technology Group. Apple expedited the FLA's audit after mounting criticism of working conditions at its factories. The results of the audit will be made public in March on the FLA's website.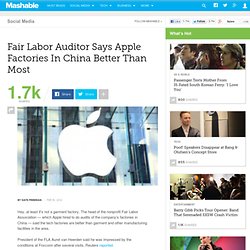 Apple Supplier to Raise Salaries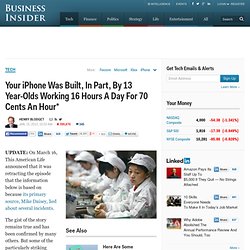 INCONVENIENT TRUTH: Your iPhone Was Built, In Part, By 13 Year-Olds Working 16 Hours A Day For $75 A Week
UPDATE: On March 16, This American Life announced that it was retracting the episode that the information below is based on because its primary source, Mike Daisey, lied about several incidents. The gist of the story remains true and has been confirmed by many others. But some of the particularly striking details were apparently fabricated. EARLIER: We love our iPhones and iPads. We love the prices of our iPhones and iPads.
"Out of the crooked timber of humanity, no straight thing was ever made." - Immanuel Kant Ours is an imperfect society. The nature of our reality, our desires and our need to possess, while maintaining a façade of moral righteousness, puts us at odds with the reality that exists within the systems we have created.
The Cost of Doing Business: Foxconn, Apple, and the Fate of the Modern Worker
Foxconn and Apple Respond to ABC Report
Although it didn't unearth any atrocities in the factories of Foxconn - the Chinese company that manufactures goods for several electronic giants, including Apple - ABC's recent report did raise a lot of questions about the conditions there. The report suggested that many workers complain they're underpaid, while others work very long hours. Now, Foxconn, Apple and the Fair Labor Association have responded to the report, shedding new light on some important details about the working conditions at Foxconn.
Apple CEO Tim Cook has sent an email to employees that addresses allegations surrounding work conditions at its supplies factories, noting that the company "never turns a blind eye to problems in our supply chain." According to a report by 9to5mac.com, Cook sent an email to Apple employees following an article the New York Times published on Wednesday that detailed how factory employees in China work grueling hours, live in unsuitable and crowded living conditions and have even died in facility explosions. "Unfortunately, some people are questioning Apple's values today, and I'd like to address this with you directly," Cook wrote. "We care about every worker in our worldwide supply chain.
Apple CEO Tim Cook Responds to Factory Condition Mistreatment
Apple Stock's Lofty Heights, in Context
5:26 p.m. | Updated to reflect Thursday's closing stock prices. My colleague Peter Lattman wrote on Twitter that the rise in Apple's stock on Thursday meant that its market value was higher than Microsoft and Google combined. For more details, check out an Apple Insider post this morning.
After Labor Criticism, Apple Releases List of Suppliers for First Time
Apple released an extensive list of its suppliers for the first time ever on Friday along with its annual report on labor conditions at contract manufacturers around the world. The move reflects an apparent sensitivity to increased public criticism of the company's level of accountability and transparency regarding where and how its gadgets are manufactured. The data depicts a company that is moving toward better working conditions, but that still makes many of its high-cost products in environments that would likely be untenable in many of the places where those gadgets are used. For example, the portion of suppliers in compliance with Apple's regulations on working hours climbed to 38% in 2011 from 32% the year before. But a success rate of less than 40% would be considered a failure in, say, Cupertino — especially with the maximum manufacturing workweek set by Apple at 60 hours.
Chinese Workers at a Foxconn Factory Threaten Mass Suicide
This American Life retracts Apple episode, says Daisey fabricated parts | The Lookout
Mike Daisey Fights Back on Apple Story: 'I Will Not Go Silent'
Apple Hopes to Block First Android 4.0 Phone in U.S.