Projets à suivre
Ninja – Un outil révolutionnaire pour coder en HTML5 CSS3. Ninja – Un outil révolutionnaire pour coder en HTML5 CSS3 3 développeurs indépendants ont mis en ligne sur le Chrome App Store, une application encore en version alpha baptisée Ninja.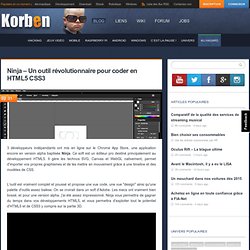 Ce soft est un éditeur pro destiné principalement au développement HTML5. Brackets. PhotoShow. Tonido - Run your own Personal Cloud. OwnCloud web services under your control. Avoir son propre serveur Cloud. Si vous voulez monter votre propre serveur cloud, un peu à la Dropbox mais sur votre propre serveur, histoire de conserver la propriété de vos données, il existe de plus en plus de solutions intéressantes.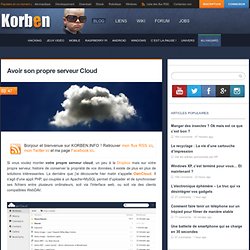 La dernière que j'ai découverte hier matin s'appelle OwnCloud. Il s'agit d'une appli PHP, qui couplée à un Apache+MySQL permet d'uploader et de synchroniser ses fichiers entre plusieurs ordinateurs, soit via l'interface web, ou soit via des clients compatibles WebDAV. HTTPS Everywhere. HTTPS Everywhere is produced as a collaboration between The Tor Project and the Electronic Frontier Foundation.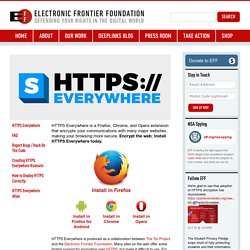 Many sites on the web offer some limited support for encryption over HTTPS, but make it difficult to use. For instance, they may default to unencrypted HTTP, or fill encrypted pages with links that go back to the unencrypted site. The HTTPS Everywhere extension fixes these problems by using a clever technology to rewrite requests to these sites to HTTPS. Information about how to access the project's Git repository and get involved in development is here.
Img to Css. Home | Sharp Mind Projects. Syncany - Open-source file synchronization and filesharing application. Wiki de l'internet libre. Bienvenue !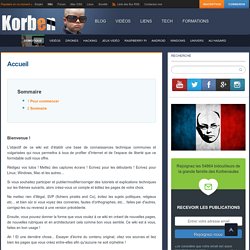 L'objectif de ce wiki est d'établir une base de connaissances technique communes et vulgarisées qui nous permettra à tous de profiter d'Internet et de l'espace de liberté que ce formidable outil nous offre. Rédigez vos tutos ! Mettez des captures écrans ! Ecrivez pour les débutants ! Ecrivez pour Linux, Windows, Mac et les autres... Mozilla Firefox. If your Internet Service Provider (ISP) censors access to certain Web sites or services, you can use the tools described in the other chapters of this book, or you can think about creative ways to access unfettered information.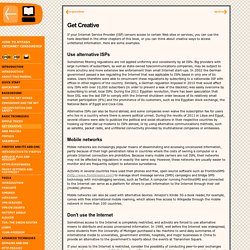 Here are some examples. Use alternative ISPs. Pearltrees - Chrome Web Store. OpenStack Open Source Cloud Computing Software. Dolibarr - ERP/CRM Open Source - Gestion Commerciale gratuite. ERP5 - TioLive Front Page | TioLive Master. UNG Project | Free Cloud Alliance. The information below concerns the UNG 1.0 project, for current efforts, see the UNG 2.0 project.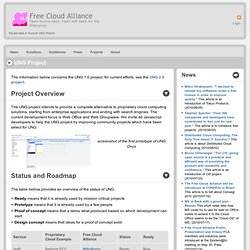 The UNG project intends to provide a complete alternative to proprietary cloud computing solutions, starting from enterprise applications and ending with search engines. The current development focus is Web Office and Web Groupware. We invite all Javascript developers to help the UNG project by improving community projects which have been select for UNG. screenshot of the first prototype of UNG Docs The table bellow provides an overview of the status of UNG.
---