Astronomy
Get flash to fully experience Pearltrees
Earth should have been an ice cube in the very early days of our solar system, when the sun was cooler than today. Yet the primordial Earth was a watery sphere. This "faint young sun" paradox has puzzled researchers for decades, but now a look at the atmosphere of one of Saturn's moons suggests a new solution. For the first two billion years of the Earth's existence, the sun was up to 25 per cent dimmer than it is today, making Earth's average temperature up to 25 °C colder. But the geological evidence is that Earth had liquid water at this time, even though the average surface temperature should have been around -10 °C.
We learned in our intro to science courses that information cannot be transmitted faster than the speed of light. Yet laboratory experiments done over the last 30 years clearly show that some things appear to break this speed limit without abrogating Einstein's special theory of relativity. But now, astrophysicists in the US have observed such superluminal speeds in space in the form of radio pulses from a pulsar. Superluminal speeds are associated with a phenomenon known as anomalous dispersion, whereby the refractive index of a medium (such as an atomic gas) increases with the wavelength of transmitted light. When a light pulse – which is comprised of a group of light waves at a number of different wavelengths – passes through such a medium, its group velocity can be boosted to beyond the velocity of its constituent waves.
Sol 1 "Lovin' Every Minute of It" Loverboy Sol 2 "Good Morning Good Morning" Beatles Sol 3 "Good Morning (from Singin' in the Rain)" Gene Kelly/Debbie Reynolds/Donald O'Connor
Discover the cosmos! Each day a different image or photograph of our fascinating universe is featured, along with a brief explanation written by a professional astronomer. 2012 March 12 The Scale of the Universe - Interactive Flash Animation Credit & Copyright: Cary & Michael Huang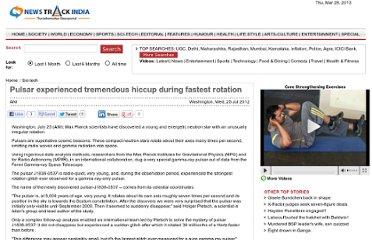 Washington, Wed, 25 Jul 2012 ANI Washington, July 25 (ANI): Max Planck scientists have discovered a young and energetic neutron star with an unusually irregular rotation. Pulsars are superlative cosmic beacons. These compact neutron stars rotate about their axes many times per second, emitting radio waves and gamma radiation into space. Using ingenious data analysis methods, researchers from the Max Planck Institutes for Gravitational Physics (MPG) and for Radio Astronomy (MPIfR), in an international collaboration, dug a very special gamma-ray pulsar out of data from the Fermi Gamma-ray Space Telescope.
A wormhole , also known as an Einstein-Rosen Bridge is a hypothetical topological feature of spacetime that would be, fundamentally, a "shortcut" through spacetime . For a simple visual explanation of a wormhole, consider spacetime visualized as a two-dimensional (2D) surface. If this surface is folded along a third dimension, it allows one to picture a wormhole "bridge".
Astrophile is our weekly column on curious cosmic objects, from the solar system to the far reaches of the multiverse Object: BX442, a sophisticated spiral at the dawn of time Characteristics: three arms, inner turmoil and a hidden companion Behold, the cosmic Stone Age. In this brutish era 11 billion years ago, galaxies are forming – primitive objects that appear as incoherent jumbles or featureless blobs. All except one. Among the rough-hewn masses sits a single sophisticated spiral with three shapely arms.