Recursos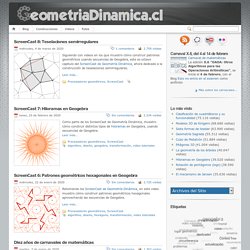 Geometría Dinámica
Plantas aleatorias Jueves, 30 de enero de 2014 El año pasado mostré algunas pautas sobre cómo se modelan los árboles usando los recursos típicos del arte generativo: la recursividad y aleatoriedad. Este tipo de construcciones permiten ilustrar muy claramente el sentido de estas ideas para entender la geometría el mundo real.
Mathalicious lessons teach standards-based math through real-world topics that students care about. In the United States, 61% of middle school students say they'd rather take out the garbage than do their math homework. If you ask students why they dislike math so much they'll often say, "I don't know what it means or when I'll ever use it."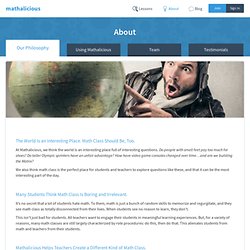 About | Mathalicious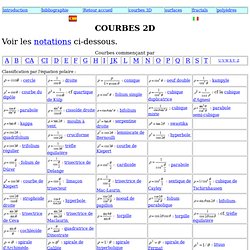 Voir les notations ci-dessous. Courbes commençant par Classification par l'équation polaire : Classification par la forme : Définitions géométriques à partir de deux pôles A et B.
MathCurve
Gráficos en EL PAÍS
Gráfico: ¿Te atreves a resolverlos? : Gráficos en ELPAÍS.com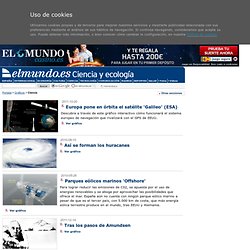 Parques eólicos marinos 'Offshore' Para lograr reducir las emisiones de C02, se apuesta por el uso de energías renovables y se aboga por aprovechar las posibilidades que ofrece el mar. España aún no cuenta con ningún parque eólico marino a pesar de que es el tercer país, con 5.000 km de costa, que más energía eólica terrestre produce en el mundo, tras EEUU y Alemania. Ver gráfico Breve historia de los premios Nobel
Gráficos | elmundo.es Ciencia
Calculadora
Geometría. Cabri Géomètre II La mitad del cuadrado SUMA. núm 8 1991 (413 k) Los recursos didácticos en el aprendizaje de la Geometría Revista Uno. núm 3. 1995 (99 K)