Tecidos
PAP Flor de Tecido sem Costura!!!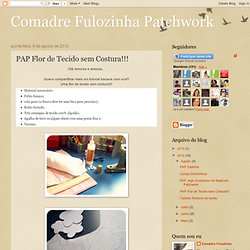 Olá Amores e amoras... Quero compartilhar mais um tutorial bacana com vcs!!!
Criar com Tecidos: Para pendurar as réguas de Patchwork.
These little bows are so simple and fun-- I make them all the time. They are so versatile-- you can wear them as shoe clips, hair clips, broaches, whatever you want! I've also attached them to headbands. (Photo from last year when I was obsessively watching Mad Men and attempting the bee hive hairdo. Looks a bit like Marge Simpson if you ask me. ;) )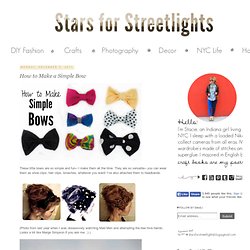 Bags, Totes, Purses, oh my!
PASSO A PASSO APRENDA A FAZER UMA LINDA BOLSINHA DA VOVÓ COM MARÍLIA SALOMÃO
Faça sua xícara porta chá de patchwork com este passo a passo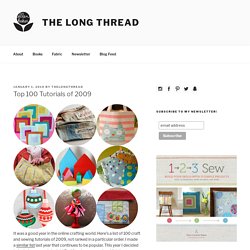 It was a good year in the online crafting world. Here's a list of 100 craft and sewing tutorials of 2009, not ranked in a particular order. I made a similar list last year that continues to be popular. This year I decided to include my own tutorials!
Aprenda a fazer o estojo em patchwork!
(2) Facebook
This bag is so easy ! This is the new bag I made to take back to work this term. It took less than an hour from choosing the fabric to dumping my junk in it. In fact this tutorial took waaaayyy longer than the bag !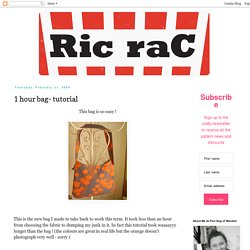 I had a few requests for instructions on how to make the gathered round basket that I made last week. This is an easy project and the baskets can be made in any size, are fully reversible, and are useful for so many things. Materials: (to make a basket measuring 4 1/2 inches diameter and 1 3/4 inches high) 2 pieces of cotton fabric cut into circles with a 8 inch diameter (I used a small side plate as a template)1 piece of fusible wadding (such as parlan or pellon) cut into a circle with an 8 inch diameter strip of fabric measuring 2 1/4 inch x 14 inch (for binding)
Tutorial: Gathered Round Basket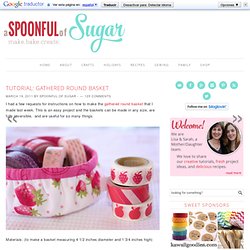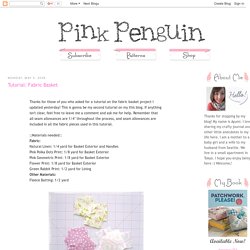 Thanks for those of you who asked for a tutorial on the fabric basket project I updated yesterday! This is gonna be my second tutorial on my this blog. If anything isn't clear, feel free to leave me a comment and ask me for help.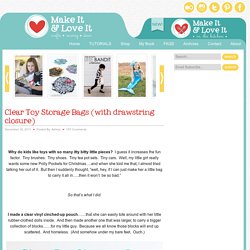 Why do kids like toys with so many itty bitty little pieces? I guess it increases the fun factor. Tiny brushes. Tiny shoes. Tiny tea pot sets. Tiny cars.
How To: Boxy Cosmetic Bag
Moldes para Artesanato em Tecido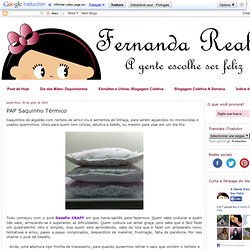 PAP Saquinho Térmico - Fernanda Reali
Saquinhos de algodão com recheio de arroz cru e sementes de linhaça, para serem aquecidos no microondas e usados quentinhos. Úteis para quem tem cólicas, adultos e bebês, ou mesmo para usar em um dia frio. Tudo começou com o post Desafio CRAFT em que havia sachês para fazermos. Quem sabe costurar e quem não sabe, arriscando-se e superando as dificuldades. Quem costura vai achar graça, pois sabe que é fácil fazer um quadradinho reto e simples, mas quem está aprendendo, sabe da luta que é fazer um artesanato novo, tentativas e erros, passo a passo complicados, desperdício de material, frustração, falta de paciência.
Criar com Tecidos: Bonequinhas na maçã
Criar com Tecidos: Mais uma Revista inspiradora de Patchwork
Criar com Tecidos: Sinos de Natal porta-chaves. Fofos!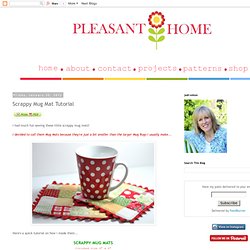 PLEASANT HOME: Scrappy Mug Mat Tutorial
I had much fun sewing these little scrappy mug mats! I decided to call them Mug Mats because they're just a bit smaller than the larger Mug Rugs I usually make... Here's a quick tutorial on how I made them...
Agulheiro!!! | Flickr – Compartilhamento de fotos!
Organizador de costura
Desde que bati o olho nesse organizador, baixei o PDF com as instruções (em inglês) e deixei aqui, na fila de projetos por fazer. Achei bem prático porque além do pin cushion, tem também essa cestinha pra colocar as sujeirinhas de fio e um lugar pra colocar tesoura, desmanchador etc. Tudo ali, pendurado na berinha da mesa ou no braço do sofá.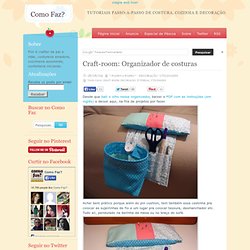 Quando eu vi pela primeira vez este saquinho na internet, não sabia exatamente pra que fim a pessoa tinha feito. Mas descobri que são muitos os usos. Desde grandões, mais simples, pra colocar a roupa pra lavanderia, até pequeninhos, delicados, pra guardar coisas preciosas. Achei muito gracioso e comecei a fazer para acompanhar, como um presentinho, as encomendas que recebia. Agora com a proximidade do Natal, são um bom presente - ou uma embalagem para.
Casa al mare Patchwork: Como fazer