Digital books
CERLALC · Centro Regional para el Fomento del Libro en América Latina y el Caribe. Inkling. Inkling has built a better way to learn.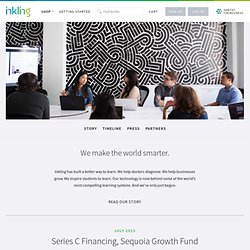 We help doctors diagnose. We help businesses grow. MagicBook. Digital Book World Conference 2012. DBW Breaking News Follow the action at Digital Book World Conference & Expo!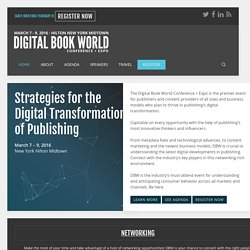 Click here to see images from the Conference as it unfolds . Just Announced: Digital Book World Survey Conducted by Independent Research Firm Reveals Publishing Executives Less Optimistic About Digital Future. WingedChariot - Digital Pictures and Words. Institute for the Future of the Book. Share Book Recommendations With Your Friends, Join Book Clubs, Answer Trivia. Kindle Fire - Full Color 7" Multi-Touch Display with Wi-Fi - More than a Tablet.
The Big List of Android eBook Reader Apps. The Great Big List of Android eBook Apps I first created this list in early 2010 when I was using my Android phone to keep up on books while waiting for my nook to arrive from Barnes & Noble.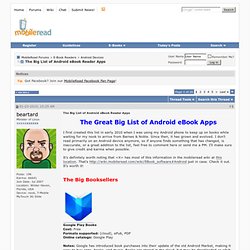 Since then, it has grown and evolved. I don't read primarily on an Android device anymore, so if anyone finds something that has changed, is inaccurate, or a great addition to the list, feel free to comment here or send me a PM. I'll make sure to give credit and karma when possible. It's definitely worth noting that =X= has most of this information in the mobileread wiki at this location. E-book software. This page contains eBook Reading software.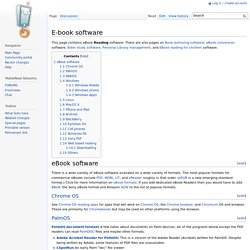 There are also pages on Book authoring software, eBook conversion software, Bible study software, Personal Library management, and EBook reading for children software. There is a wide variety of eBook software available on a wide variety of formats. EPUB. EPUB (short for electronic publication) is a free and open e-book standard by the International Digital Publishing Forum (IDPF).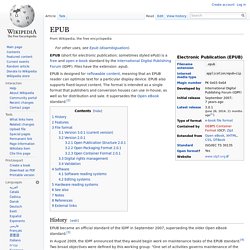 Files have the extension .epub. EPUB is designed for reflowable content, meaning that an EPUB reader can optimize text for a particular display device.
---