Management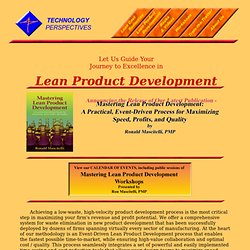 Summary of Products and Services - Workshops - Mastering Lean Product Development Workshops - We offer several versions of this hands-on interactive workshop, all of which focus on achieving dramatic reductions in time-to-market and product cost, while expanding project capacity and team productivity. Available in one, two, and three-day formats, and customizable to your firm's specific needs. Lean Product Development "Visioning Event" - A one-day overview of Lean Product Development (LPD) processes, tools, and methods, designed to help a firm understand the benefits of LPD, and to create a company-specific plan for implementation of the most beneficial concepts. This Event is a highly interactive "conversation" about your firm's specific problems, challenges, and opportunities, with the goal of creating a "vision" for your future-state new product development process.
Lean Product Development Resource Center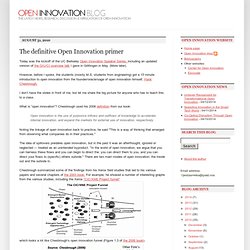 The definitive Open Innovation primer
Today was the kickoff of the UC Berkeley Open Innovation Speaker Series, including an updated version of the O/U/CI overview talk I gave in Göttingen in May. (More later). However, before I spoke, the students (mostly M.S. students from engineering) got a 15 minute introduction to open innovation from the founder/oracle/sage of open innovation himself, Hank Chesbrough. I don't have the slides in front of me, but let me share the big picture for anyone who has to teach this to a class.
Bon sang de bon sang, s'il y a un modèle universel que connaissent les innovateurs du monde entier, c'est bien le « Stage Gate process ». C'est un processus en étapes qui permet de passer de la génération d'idées au lancement du produit en traversant des phases de développement, de prototypage, de tests techniques et marketing. De manière un peu manipulatoire, on pourrait dire du « Stage Gate process », comme de l'alcool, que son abus est dangereux car il permet de faire échouer 70 à 90 % des tentatives d'innovation (Inspiré de Anthony Ulwick « What is outcome driven Innovation (ODI) ? »).
L'abus de Stage Gate process est dangereux pour la santé des innovations |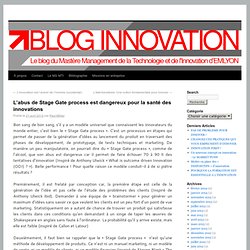 Management, qualité, ISO 9000, la page de Christian Dumortier, http://www.cdumortier.fr/
développement des individus, équipes, professionnels et organisations.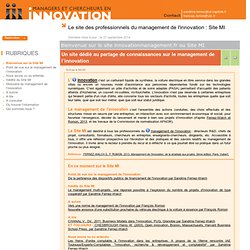 L'Austin "Mini" par François Romon A propos de BRETTE O., CHAPPOZ Y., DUSSUC B., POIVRET C. (2011), « Management de l'innovation et Business Models des PMI. Le cas de l'industrie plasturgiste », Management & Avenir, 2011, vol. 41, Janvier-Février, pp. 236-253. par Olivier Brette.
Bienvenue sur le site innovationmanagement.fr ou Site MI
Devenez une firme innovante
Gary Hamel on Leaders Everywhere Great conversation with Gary Hamel on how to increase the pool of leaders and reshap our organisations to push "expertise down to people close to the front lines" instead of "moving decisions up to where people have expertise". Watch the full video on the McKinsey website: http://bit.ly/McKLeadersEverywhere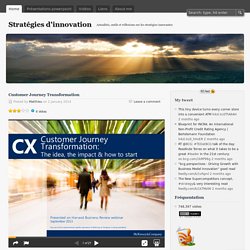 Un article de Wikipédia, l'encyclopédie libre. Le management agile peut être vu comme une organisation de type holistique et humaniste basée essentiellement sur la motivation rationnelle des ressources humaines. Son émergence, au début des années 1990, a été portée par la vague des nouvelles technologies (NTIC). Ses valeurs et principes combinent des aspects sociologiques et technologiques à une approche industrielle[1]. Le management Agile s'oppose aux fondements du taylorisme : parcellisation du travail, déresponsabilisation globale ainsi que d'autres principes de productivité individuelle dont la mise en œuvre devient difficilement défendable dans les pays industrialisés, compte tenu du coût des ressources humaines[2] .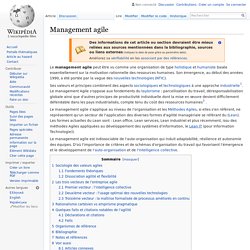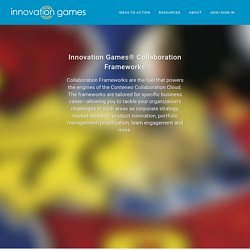 We know it sounds weird, at first: Playing games to do work. But traditional thinking is just plain wrong. Research shows that human beings have been hard-wired to express themselves and interact with each other through play. Engaging your customers, employees and stakeholders through Innovation Games delivers deeper, more actionable insight than is available through those stodgy brainstorming sessions, online surveys, focus groups or other tools.
ISPIM - The International Society for Professional Innovation Management
Un bien bel ouvrage que "The myths of innovation" de Scott Berkun. La beauté n'est pas dans la présentation - très sobre - mais dans la richesse et la pertinence du contenu. En avant pour un tour commenté des 10 mythes, chacun correspondant à un chapitre. La magie de l'épiphanieOn croit connaître l'histoire de l'innovationIl y a une méthode pour innoverLes gens adorent les nouvelles idéesL'innovateur solitairePas facile de trouver de bonnes idéesVotre boss en sait plus que vousLes idées qui triomphent sont les meilleuresProblèmes et solutionsL'innovation n'a que des avantages
10 mythes de l'innovation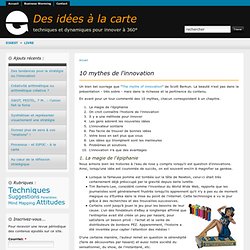 Scott Berkun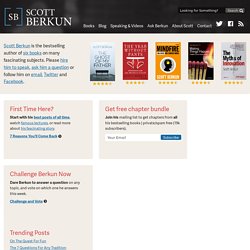 This is a brief excerpt from a draft of my next book, a memoir about my family. When I was 8 years old my parents separated. While cleaning out my father's car, My Mom discovered movie stubs for a… Keep Reading » Hi folks.