Social dining
Waffle - a Google Wave gadget. GroupMe.
Creating apps
Vattenfall: Neighbor Dining Social Initiative  This is genius and seriously weird all rolled up into one interesting social initiative from student Luong Lu and Vattenfall, one of Europe's leading energy providers.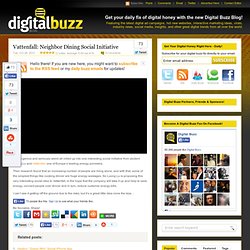 Their research found that an increasing number of people are living alone, and with that, some of the simplest things like cooking dinner are huge energy wastages. So Luong Lu is proposing this very interesting social idea to Vattenfall, in the hope that the company will take it up and help to save energy, connect people over dinner and in turn, reduce customer energy bills.
---