Miscellaneous
Apprendre les noeuds marins. Dans la tradition maritime, l'apprenti marin doit connaître l'art des nœuds appelé «matelotage».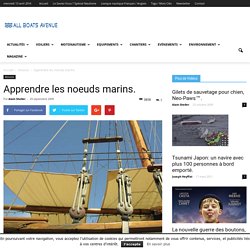 Historique : L'expérience nous enseigne qu'il n'est pas absolument nécessaire de connaître des centaines de combinaisons de nœuds pour faire face à toutes les situations où un cordage est mis en œuvre à bord d'un bateau. Voiture-balai. Free Oldies Music - Our Musical Heritage - Playa Cofi Jukebox. Mode emploi imprimante Samsung. Project Syndicate - the highest quality op-ed ( opinion-editorial ) articles and commentaries.
PDF Search... 8 Things Everybody Ought to Know About Concentrating - StumbleUpon. "Music helps me concentrate," Mike said to me glancing briefly over his shoulder.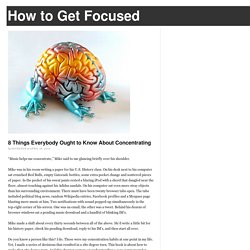 Mike was in his room writing a paper for his U.S. History class. On his desk next to his computer sat crunched Red Bulls, empty Gatorade bottles, some extra pocket change and scattered pieces of paper. In the pocket of his sweat pants rested a blaring iPod with a chord that dangled near the floor, almost touching against his Adidas sandals. PPT - Powerful Presentation Techniques. I've updated the PPT - Powerful Presentation Techniques Resource Guide listing to include several new books, blogs, web sites and article links that I've come across or that have been submitted to me.
The Resource Guide is now in its 11th version. You can download and share the Guide - Download PPT-PowerfulPresentationTechniquesResourceGuideRev11 If you have additions or changes that should be made to the listing, please send me an e-mail . If I can be of any help in assessing your team's current level of presentation or PowerPoint skills or assist you with your training needs, please let me know . Paul J Gibler, MBA the PPT Chef and the Web Chef ConnectingDots pgibler@connectingdots.com (608) 255 4092 Twitter: thePPTChef. 10 Places to Find Free Images Online and Make Your Content More Linkable. Attracting visitors to your website is a balancing act.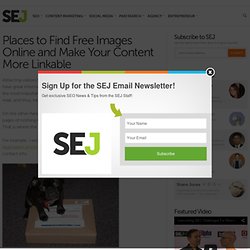 On one hand, you must have great information, since that is the core of your service. The text is also the most important part of your site's content that traditional search engines read, and thus, keywords, headings, originality, and links are so important. On the other hand, few people are going to sit around and read pages and pages of nothing but text – you have to make the page visually appealing.
Traduction
Study Guides and Strategies - StumbleUpon.
---