Musica
Histoire des nouvelles musiques. Farbrausch - fr-072: aeon 5. Farbrausch - fr-041: debris. Gnarls Barkley Crazy Theremin Jam. Zoralkia sur Myspace Music - Ecoute gratuite de MP3, Photos et clips vidéos. Klaus Schulze sur Myspace Music - Ecoute gratuite de MP3, Photos et clips vidéos. Aerozone - Fan-club Jean Michel Jarre. BERND KISTENMACHER. Blog musical d'Alpha Lyra. Ashra. First reviews of the E2-E4 concert with the Joshua Light Show on September 8, 2012 at the Copernicus Science Center in Warsaw as part of Sonic Fiction - przemiany festival 2012 - which he and his crew enjoyed a lot!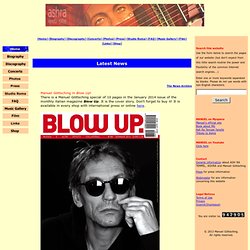 Damian Koczkodon's review in his music blog elmuzyka (scroll down for the English version), which is also dedicated to Manuel's music in general. Popupmusic.pl writes: "A pity for this special place, the good sound, nice visuals, an interesting idea for a program - but with the exception of Göttsching's concert, Sonic Fiction was a solid disappointment, not to say - a waste of time. " (Polish: Szkoda wyjatkowego miejsca, dobrego naglosnienia, ladnej oprawy wizualnej, ciekawego pomyslu na program - z wyjatkiem koncertu Göttschinga, Sonic Fiction okazalo sie solidnym rozczarowaniem, zeby nie powiedziec - strata czasu.) Musiques électroniques. Portraits de quelques figures de proue des musiques électroniques Bernard Parmegiani (1927-2013) Ses œuvres ont marqué l'histoire de la musique électroacoustique, certaines sont même inscrites dans l'inconscient collectif des Français.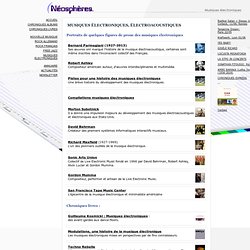 Robert Ashley Compositeur américain auteur, d'œuvres interdisciplinaires et multimédia Morton Subotnick Il a donné une impulsion majeure au développement des musiques électroacoustiques et électroniques aux Etats-Unis.
---