Musica
Mags - Electro - Alternatif
Histoire des nouvelles musiques
Farbrausch - fr-072: aeon 5
Farbrausch - fr-041: debris. [HD]
Gnarls Barkley Crazy Theremin Jam
zoralkia sur Myspace Music - Ecoute gratuite de MP3, Photos et clips vidéos
Klaus Schulze feat. Lisa Gerrard - Fast & Forward An Electronic Appetizer - Tour September 2009 filmed by James L. Frachon What would have become of the drummer Klaus Schulze, if not a certain Bob "Dr.
Klaus Schulze sur Myspace Music - Ecoute gratuite de MP3, Photos et clips vidéos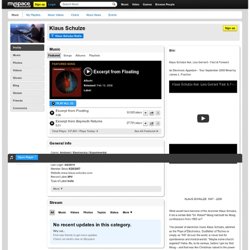 Aerozone - Fan-club Jean Michel Jarre
BERND KISTENMACHER
Dear friends, this was an exciting year full of turnabouts into unexpected directions sometimes, but allways with a magic effect. Finally the whole thing became a real "Utopia" and I can promise, that there will be more in 2014. Vana Verouti and I will prepare more songs soon and we will watch a video with Vana Verouti, performing Utopia soon.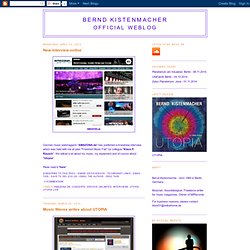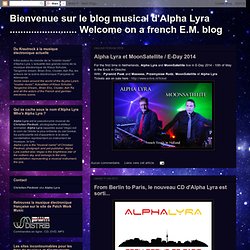 Les CD et DVD d'Alpha Lyra enregistrés lors de la soirée Space Fish le 21 août 2010, viennent de sortir chez MellowJet Records."Pendant 77 minutes, Alpha Lyra enchante l'auditeur avec ses mélodies contemplatives et spatiales, sur fond de lasers majestueux et de vidéos en rapport avec le monde aquatique.La set-list propose 4 pièces dont From Earth To Deep Sea, où nous reconnaissons la musiquede Betelgeuse (Music For The Stars). Space Fish développe des chœurs puissants pour uneambiance très schulzienne. Tropical Naoned est un labyrinthe sonore aventureux de plus de 30 minutes, où Christian ne cesse de faire évoluer sa musique aux mélodies parfaites. Les univers de Tangerine Dream et de Kraftwerk s'invitent quelques instants ici et là pour notre plus grand plaisir.
blog musical d'Alpha Lyra
Ashra
First reviews of the E2-E4 concert with the Joshua Light Show on September 8, 2012 at the Copernicus Science Center in Warsaw as part of Sonic Fiction - przemiany festival 2012 - which he and his crew enjoyed a lot! Damian Koczkodon's review in his music blog elmuzyka (scroll down for the English version), which is also dedicated to Manuel's music in general. Popupmusic.pl writes: "A pity for this special place, the good sound, nice visuals, an interesting idea for a program - but with the exception of Göttsching's concert, Sonic Fiction was a solid disappointment, not to say - a waste of time." (Polish: Szkoda wyjatkowego miejsca, dobrego naglosnienia, ladnej oprawy wizualnej, ciekawego pomyslu na program - z wyjatkiem koncertu Göttschinga, Sonic Fiction okazalo sie solidnym rozczarowaniem, zeby nie powiedziec - strata czasu.)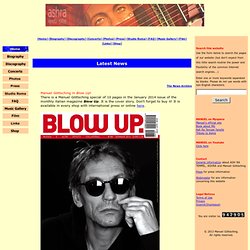 Musiques électroniques
Portraits de quelques figures de proue des musiques électroniques Bernard Parmegiani (1927-2013) Ses œuvres ont marqué l'histoire de la musique électroacoustique, certaines sont même inscrites dans l'inconscient collectif des Français. Robert Ashley Compositeur américain auteur, d'œuvres interdisciplinaires et multimédia Morton Subotnick Il a donné une impulsion majeure au développement des musiques électroacoustiques et électroniques aux Etats-Unis.