Videos
Le clip Dubstep 8 bits qui met la patate
A Beautiful Train Ride In Sri Lanka - Kandy To Ella 2012
Monique Morelli - Prière à la Charlotte
Luka Sulic - Schindler's List (Theme)
How to tetrisize the Eiffel Tower (Bravo Jean Dujardin !)
Cheick Tidiane Seck - Guerrier (EPK)
【中島卓偉(TAKUI)】BOOM BOOM BOOM【タオルブンブン】
Dangereux Vassiliu
Angelo Debarre - Thomas Dutronc Manoir de Mes Rêves
MARIANNE FAITHFULL A PARIS MARS 2011 AU THEATRE DU CHATELET
MARIANNE FAITHFULL w/ MARC RIBOT -- "LOSING"
David Tennant on The Catherine Tate Show
Sheep Roast Prank
東京ナイト・クラブ 五木ひろし ・木の実ナナ Itsuki Hiroshi・Kinomi Nana
13 La Mort Dulcinea La Quète L'Homme De La Mancha De Profondis Le Final
Man of La Mancha in French: Joan Diener sings "Un Animal" slowly
I LOVE PARIS - KIRI TE KANAWA
Branford Marsalis - In the Crease
RIDAN - Ah Les Salauds ! (LE CLIP QUI DÉRANGE)
Hit The Road Jack - Sungha Jung
Charlie Winston - Where Can I Buy Happiness? (Official Video)
A.R.Rahman Concert in Delhi 2008
Endrenrum  raja ~ என்றென்றும் ராஜா 1
Demotivateur.fr | Une guitare pour 5
Kiri Te Kanawa: "Hine e Hine"
Dame Kiri Te Kanawa - You'll never walk alone (Perth 2011)
2CELLOS - Human Nature LIVE
Vidéo 3D Dadyday - Le clip - En Exclusivité ! de airwingspublishing (Musique - airwingspublishing
川井憲次 - Prologue of Lasei
Freddie Mercury Google Logo (Doodle)
Smoke on the water - version zen - une vidéo Musique
Arielle Dombasle - Porque Te Vas
Ella fitzgerald - Mack The Knife High quality
osichi taichi
Yello - The Expert (Full High Definition Video) Najlepsza Jakość ! Czysty głos!
J.B. - Hallelujah (Live)
Dame Kiri Te Kanawa 'The World in Union'
Juliette en répet' / Rue Roger Salengro
New Pirates of the Caribbean Suite - Klaus Badelt - Hollywood in Vienna 2010
Smooth Criminal Cello Cover on Devour
Afrocubism - Para Los Pinares Se Va Montoro
AfroCubism making of - version francaise
Vidéos publiées par Composer Renouard Olivier : 23 novembre 2010 15:54
Kenji Kawai Live - Mezame no Hakobune - Hyakkin
Dame Kiri Te Kanawa Danny Boy
Dame Kiri Te Kanawa - Tarakihi (HQ)
Emir Kusturica and t.N.S.O. - Pitbull Terrier
Bubamara - Goran Bregovic
Iggy Pop/Goran Bregovic - In the Death Car
Dame Kiri Te Kanawa - Tribute 2010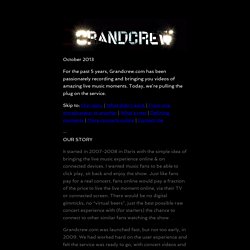 October 2013 For the past 5 years, Grandcrew.com has been passionately recording and bringing you videos of amazing live music moments. Today, we're pulling the plug on the service. Skip to: Our story | What didn't work | From one entrepreneur to another | What's next | Defining moments | More concerts online | Contact me It started in 2007-2008 in Paris with the simple idea of bringing the live music experience online & on connected devices.
Making of Kaun Hoon Main - Prince (Vivek Oberoi & Aruna Shields)
Dj Vinilo - My Diablo - Videoclip - 3D animation - Techno Trance
Time To Pretend and I Found A Whistle - MGMT (Live) - Mercury Lo
Dola Re Dola song - Devdas
ADNAN SAMI "bhigi bhigi rato mein..."
kabhi khushi kabhie gham
Saathiya Saathiya Ft. Rani Mukherjee & Vivek Oberoi (Saathiya)
IVANN - Verano 70