Vegan
Vegan Recipes, Diets, & Information. Paleo "Skittles" - Taste the (Real Food) Rainbow - Joyful Abode. I made these slightly-chewy rainbowy snack "drops" for my kiddos using nothing but fruits, veggies, coconut butter, my trusty vitamix 750 (have I mentioned it yet?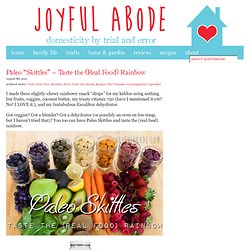 No? I LOVE it.), and my fantabulous Excalibur dehydrator. Got veggies? Vegan-pyramid-1024x768.jpg (JPEG Image, 1024 × 768 pixels) Vegan Recipes. Vanilla extract, shortening, soy milk, powdered sugar and margarine chopped cilantro, tomatoes, seasoning, extra virgin olive oil, lime juice and 3 MORE agave nectar, baking soda, shortening, sea salt, creamy peanut butter and 2 MORE sea salt, lime juice, hearts of palm, green onion, avocados and 1 MORE.
Soup | Finding Vegan | Page 2. No Bake Chocolate Oatmeal Cookies Recipe. Key Lime 'Cheesecake' The recipe below is for a tart and sweet vegan cheesecake that is extremely easy to make and has very few ingredients.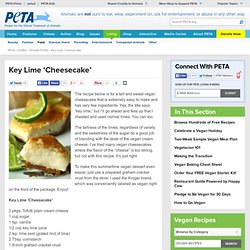 Yes, the title says "key lime," but I'll go ahead and fess up that I cheated and used normal limes. You can too. The tartness of the limes, regardless of variety, and the sweetness of the sugar do a good job of blending with the taste of the vegan cream cheese. I've tried many vegan cheesecakes where the flavor of the "cheese" is too strong, but not with this recipe. Black bean tacos with avocado corn salad - dinner party!,Potato and Kale Hash,Vegan Shamrock Shake,Spicy nacho sauce for your Superbowl celebration,Double Hummus Sandwich,Use what you have on hand to make this Chickpea Curry,Healthy "caramel"
Amazing Spiced Chai Concentrate. Wellness Tips, Healthy Living, Vegan Advice. Untitled. Welcome to Natto Land Go to Japanese page This English page has been opened 981009 revised 1st.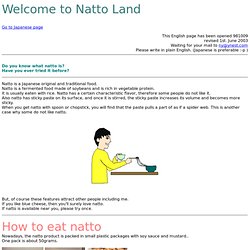 June 2003 Waiting for your mail to ny@ynest.com Please write in plain English. Disease Rates. By Jack Norris, RD | Last updated: December 2013 Below is a summary of the research done on mortality and disease rates of vegetarians.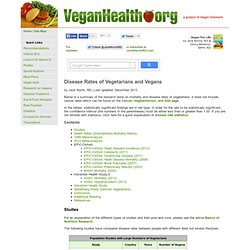 It does not include cancer rates which can be found on the Cancer, Vegetarianism, and Diet page. In the tables, statistically significant findings are in red type. In order for the rate to be statistically significant, the confidence interval (the numbers in the parentheses) must be either less than or greater than 1.00. Homemade Nutella. There's something so wonderfully addictive about Nutella.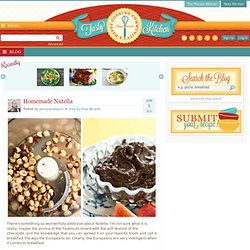 I'm not sure what it is, really, maybe the aroma of the hazelnuts mixed with the soft texture of the chocolate, and the knowledge that you can spread it on your favorite foods and call it breakfast the way the Europeans do. Clearly, the Europeans are very intelligent when it comes to breakfast. When I saw this recipe for homemade Nutella from Elana's Pantry, I loved the simplicity of the ingredients that she used. It also, quite honestly, looked good for you! Secret Detox Drink. Directions Blend all ingredients together Secret Recipe Detox Drink will help your body burn fat, lose weight, fight diabetes.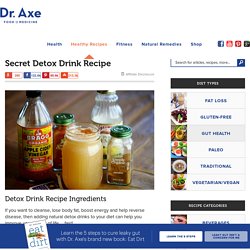 Apple Cider Vinegar is full of enzymes and good bacteria. 7 Replacement-Free Vegan Recipes. In the name of convenience and good old-fashioned vegan foods, we've put together our favorite recipes that contain easy-to-find ingredients.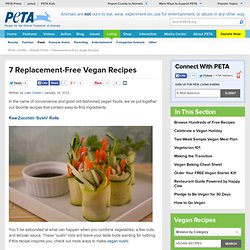 Raw Zucchini 'Sushi' Rolls You'll be astounded at what can happen when you combine vegetables, a few nuts, and teriyaki sauce. These "sushi" rolls will leave your taste buds wanting for nothing. If this recipe inspires you, check out more ways to make vegan sushi. Avocado, Corn, and Tomato Salad Over Mashed Beans. Almond Butter Kelp & Kale Noodles - YumUniverse™ I found some kelp noodles at a raw foods store in Chicago recently and thought I'd give them a go since I'm trying to eat more sea veggies these days.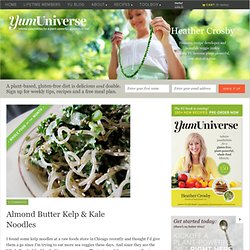 And since they are the Whole Food of the Month, I know you are too. The texture of these raw noodles is pretty interesting—they are soft yet wirey and have a bit of a snap to them when you bite them, kinda like cabbage. Mixed with the pad-thai-like sauce and soft, chewy kale "noodles", I think this could be a new favorite dish. Kelp noodles have an incredibly neutral taste and they are a fantastic source of trace minerals like iodine. Channa Palak Recipe | Indian Spinach and Chickpeas curry. Its funny when many people I know assume I have lots of time to burn, cos I sit and cook so much!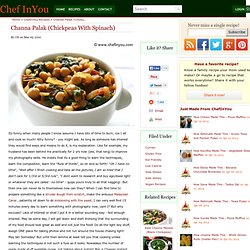 Why funny? - you might ask. As long as someone has interest they would find ways and means to do it, is my explanation. Chickpea meatballs. It looks like my smoothies yesterday did the trick. The day turned out to be a beautiful sunny one. Of course I was crazy stressed at work and couldn't enjoy my normal lunch walk.
By the time I got home all I wanted to do was walk my dog, eat some dinner and spend some time alone… with my husband by my side. If I were to give a young woman advice it would be to marry someone you want around when you just want to be alone. Vegan recipes - Oh My Veggies. Creamiest Tomato Soup With Cashews. The following is a guest article written by Alix Radford, of CuteandDelicious.com. When the weather gets cold, I love a rich, creamy bowl of soup. Who doesn't? Boyfriend-Approved Spicy Black Bean Burgers.
Seed and roughly chop the jalapeno. Add it and the garlic cloves to a food processor (or high speed blender) and mince finely. (Alternatively, you could chop them yourselves very finely but it's just easier at this point to throw them into a food processor.) Add one can of beans to the jalapeno/garlic mixture and pulse to combine. Add cumin and salt and pulse until mixture resembles chunky black bean dip. In a small bowl, mix together the ground flax and water. Thai Carrot Soup. Spring is here, which means that here in Atlanta, we are experiencing beautiful 60- and 70-degree weather but with nasty freezing cold mornings still thrown into the mix. Before the heat settles in for good, I decided to get my last fix of a thick, creamy, warm soup—because hot foods will only be making rare appearances on my menu over the next few months.
With a quick search, I found several recipes online that use carrots and coconut milk blended into a thick soup, and I decided to give a combination of the recipes a try. Some of them added additional flavor with curry and some with basil, but I decided to just use them both! Combined with the coconut milk, the soup was sort of a full-blown Thai ingredients extravaganza.
While researching recipes, I also came across an interesting site, ThaiTable.com, that is strictly dedicated to Thai cuisine—from ingredients info and recipes to travel and more. No Knead Bread: so easy a 4-yr old can make it! Monday, September 10, 2007 No Knead Bread: so easy a 4-yr old can make it! It's been almost a year since NY Times unveiled the secret to the revolutionary No-Knead Bread. And while fads come and go, this certainly is a recipe that has transcended the fickleness of foodies. Vegan and Gluten Free Pumpkin Pie,Persimmon Amaranth Cookies! Yum! ,Super Easy Snack Bites ,Pizza with Buckwheat/Flaxseed Crust & Basil Pesto,Gluten-free Raw Vegan Peach Tart,Easy Oat almond Chocolate Chunk Cookie in a jar. ,A gluten-free vegan Thanks. Oven Roasted Potatoes with Cajun Seasoning — Cooking & »Meals — Eatwell101. G Living | Dark Twisted Space Monkies Go Green. Vegan Peace - Vegan Recipes - Categories.
Confetti Quinoa. Coconut Curry Soup. Chinese Salt and Pepper Tofu Restaurant Style. Crispy sweet potato chipotle enchiladas,roasted sweet potato and asparagus pasta,spicy thai tacos,double fudge and fig truffles,sushi veggie sliders,sweet cream roasted peach bruschetta,edamame flatbreads - a high protein and fiber sandwich alternative!,g. Spicy Thai Coconut Curry. Vegan Lentil Dal Soup Recipe | vegansouprecipe.com. Meat-free Loaf Cupcakes with Butternut Squash Puree. 500 Vegan Recipes. Vegalicious Recipes - more than 600 delicious vegan and vegetarian recipes for compassionate people.
Recipes. The Magical Loaf Studio: Create Your Own Adventist-Style Vegan Dinner Loaf! 5 Magnificent Mexican Dishes. Vegan Recipes for Football Season (Photos) Where Delicious Meets Nutritious - Our Products. Appalachian Pierogi. Chocolate Banana Breakfast Quinoa. Lentil and barley soup with spinach - give as a gift!,A delicious creamy potage of zucchinis. secret ing.,Roasted Tomato Basil Soup,Roasted Tomato Gazpacho with Yellow Plum Salsa,2-Ingredient Melon Ball Soup!,Vegan Broccoli Soup - creamy, spicy and full o.
Fettle Vegan - In Fine Fettle. Wondering About a Vegan Diet? (Infographic) Vegan, Raw, and Low Calorie Recipe. Vegan Junk Food. Vegan Recipes at Epicurious. — Irreverent Vegan. Dreamin' It Vegan. Sea Salt and Cracked Pepper Vegetable Chips,Summer Fruit Tarts,Butterscotch cake with fudge frosting.,Protein waffles made with coconut flour and almond butter!,Almond Butter Banana Muffins,Vegan Philly Cheezsteak Sandwich,Lentil Salad with Egyptian Spice. Easy Sweet Potato Veggie Burgers! With Avocado. Spicy Buffalo Cauliflower 'Wings' 22 Ways To Get Your Vegan Snack Attack On. Vegetarian and Vegan Recipes Galore. Spinach Tofu Patties. Vegan Recipes - Vegan and Vegetarian Recipes - Vegetarian Cookbooks.
VeganMoFo | The Vegan Month Of Food. Vegans Eat Pencil Shavings | Gourmet Vegan Recipes, Products and Restaurant Reviews. Vegan Miso Soup Recipe - Made Just Right. 84th&3rd | Spicy Carrot, Tomato and Lentil Soup. Home. Vegan | foodgawker - page 4. Pumpkin Chai Spice Oatmeal Blueberry Muffins. Dynamite Tofu With Rice and Broccoli.
---