Réseaux sociaux
This is the second article in a 10-part content series on Unified Marketing, which will bring to light collaborative marketing principles and successful strategies in areas including marketing, branding, PR, social media, mobile and other digital practices. Unless you've been meditating with some monks in Tibet for the last few months, you've probably at least heard of Pinterest.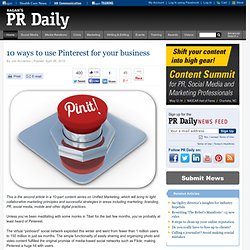 10 ways to use Pinterest for your business
Réseaux sociaux : Comment promouvoir sa page officielle ou son profil ?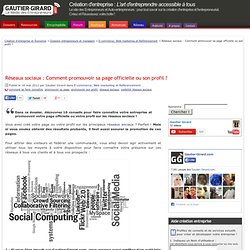 Vous avez créé votre page ou votre profil sur les principaux réseaux sociaux ? Parfait !
We all know social media is an important tool for brand awareness and customer acquisition — but how exactly are you supposed to convert random Twitter and Facebook users into real-life customers?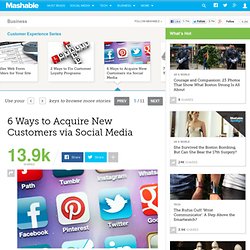 6 façons d'acquérir des clients grâce aux médias sociaux | Marketing Internet News
Réseaux sociaux, réseaux d'influence la grande kermesse du marketing | Marketing Internet News
Relation Client : ne négligez pas les réseaux sociaux ! | relationclient-infos | Marketing Internet News
10 conseils pour avoir davantage de followers sur Pinterest | Marketing Internet News
10 Conseils pour se Lancer sur les Réseaux Sociaux en BtoB | Marketing Internet News
Dossier Social Commerce | Marketing Internet News
L'idée d'un mariage Google et Twitter revient en force et fait son chemin - Le Figaro | Marketing Internet News
Si 74% des consommateurs déclarent préférer le téléphone pour le service clients, ils sont de plus en plus nombreux (40%) à se rendre sur les réseaux sociaux pour contacter directement les entreprises. Le tiers des internautes s'attendent à ce que les entreprises fournissent un support clients directement via les médias sociaux.
L'importance des réseaux sociaux pour les consommateurs
Réussir sur les réseaux sociaux, la recette idéale (Infographie)