Primers and Sequencing
BioMath - Tm Calculations for Oligos. There are a number of different ways to calculate the melting temperature (Tm) of an oligo.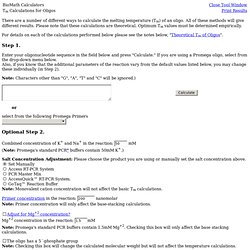 All of these methods will give different results. Please note that these calculations are theoretical. Optimum Tm values must be determined empirically. For details on each of the calculations performed below please see the notes below, "Theoretical Tm of Oligos". Family Tree DNA - Genetic testing to answer your genealogy questions.
Seamless Cloning & Genetic Assembly. Custom Oligos – Highest quality and fastest delivery of Bionucleics. Sigma® Life Science is recognized as the world's leading supplier of custom DNA & RNA oligonucleotides for the global life science research community.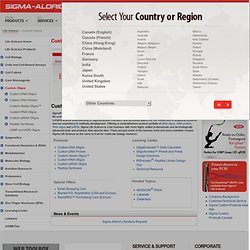 Our ability to guarantee oligo quality and performance is directly related to our comprehensive understanding of oligonucleotide chemistry and synthesis platforms, our investment in analytical systems and our experience in methods development. Offering a comprehensive product portfolio of DNA oligos, DNA probes, RNA oligos and siRNA, Sigma Life Science is a bio business with more highly skilled professionals and technologically advanced tools and products than anyone else. These are just some of the reasons more and more scientists choose Sigma Life Science as the name to trust for molecular biology research.
---