Mac
Citation: En fait, il utilise un outil de forme plate au bout pour atteindre le connecteur qui relier le clavier à la carte mère. Tu peux très bien utiliser n'importe quoi qui ait la bonne forme. Le câble ne donne pas assez de moue pour permettre de passer une grosse main, d'attendre le connecteur et de le manipuler pour le débrancher. C'est pour ça qu'il utilise un truc long, fin, et plat au bout.
un tutoriel en français pour ouvrir son macbook et nettoyer
There's a trackpad and keyboard ribbon connecting the upper case to the logic board, so don't pull the upper case off entirely just yet. Starting near the display and working around to the front of the computer, pry up on the upper case. A plastic opening tool or a medium hard guitar pick may help you to do this. The upper case is likely to stick at the connection above the optical drive. If this is the case, first free all other sides, then proceed to pull upward on the upper case from either side of the optical drive opening. If you stand the base on end to get a better look you may displace the total of 4 grey plastic bits that hold the keyboard in place.
Installing MacBook Core 2 Duo Upper Case - Page 2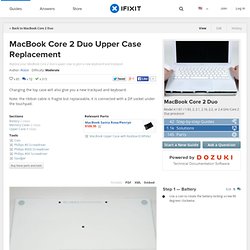 Installer Mac OS X Lion
Bonjour tous, Wawahouuuuuuu..... et bien, mon absence, en ces moments cruciaux de découverte, me laisse pantois, ébahi, époustouflé et...... déçu, de ne pas avoir vu ce post plus tôt ! CHAPEAU bas mon cher Francis ! quel travail, quelle patience ! j'espère que cette "bible" sera vue par le plus grand nombre ! en tout cas, comme mes p'tits camarades, je met le lien dans mes archives, ce n'est pas une nécessité, c'est un devoir et une obligation.
Infos générales aux débutants sur Mac [Résolu]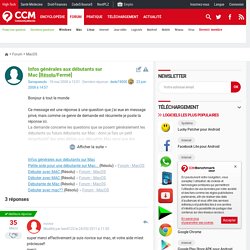 UsingMac.com - Mac Tricks and Tips, Wallpapers and Applications for Mac ...
Bodega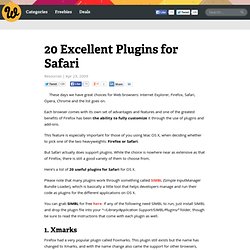 These days we have great choices for Web browsers: Internet Explorer, Firefox, Safari, Opera, Chrome and the list goes on. Each browser comes with its own set of advantages and features and one of the greatest benefits of Firefox has been the ability to fully customize it through the use of plugins and add-ons. This feature is especially important for those of you using Mac OS X, when deciding whether to pick one of the two heavyweights: Firefox or Safari . But Safari actually does support plugins.