Self Improvement
Marshmallow Experiment
Walter Mischel (* 22. Februar 1930 in Wien) ist ein österreichisch-US-amerikanischer, emeritierter Persönlichkeitspsychologe. Mithilfe seines Marshmallow-Test zeigte er die Wichtigkeit des Belohnungsaufschubs für den akademischen, emotionalen und sozialen Erfolg einer Person. Leben[Bearbeiten]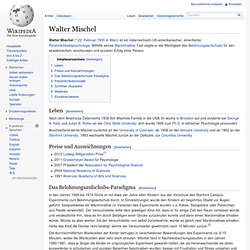 Walter Mischel – Marshmallow
Take this psychology test to find out about your personality! This test measures what many psychologists consider to be the five fundamental dimensions of personality. Learn more about the Big Five by reading answers to commonly asked questions.Read our consent form, which explains the benefits of this free, anonymous test and your rights.There are no "right" or "wrong" answers, but note that you will not obtain meaningful results unless you answer the questions seriously.These results are being used in scientific research, so please try to give accurate answers.Your results will be displayed as soon as you submit your answers.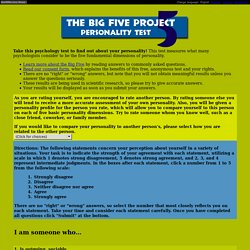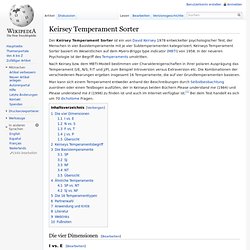 Keirsey Temperament Sorter
Der Keirsey Temperament Sorter ist ein von David Keirsey 1978 entwickelter psychologischer Test, der Menschen in vier Basistemperamente mit je vier Subtemperamenten kategorisiert. Keirseys Temperament Sorter basiert im Wesentlichen auf dem Myers-Briggs type indicator (MBTI) von 1958. In der neueren Psychologie ist der Begriff des Temperaments umstritten.
Welcome to Keirsey.com's personalityZone! Discover your personality type and learn how to take advantage of your natural strengths and talents. Start by taking the Keirsey Temperament Sorter-II, the world's most widely used personality assessment.
Temperament Website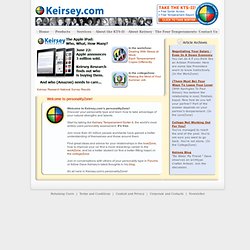 Test - Keirsey Temperament Website
Post written by Leo Babauta. Follow me on Twitter. While some of you have been following Zen Habits since its early days (beginning of 2007), many of you are fairly new readers. To help you through the fairly overwhelming archives, I've compiled a beginner's guide.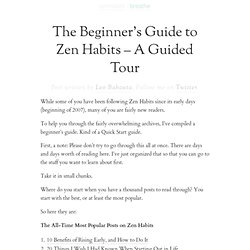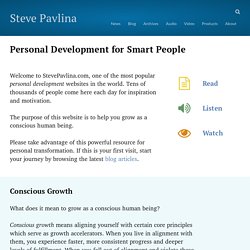 The purpose of this website is to help you grow as a conscious human being. This includes guiding you to discover and accept your life purpose; inspiring you to feel more motivated, energized, and passionate; helping you shed disempowering relationships and build a network of loving support; teaching you how to achieve stable financial abundance doing what you love; and encouraging you to make a genuine contribution to humanity -- so you can finally experience the kind of life that deep down, you always knew you were meant to live. You aren't here to struggle and suffer. You're here to express and share your creative gifts, to give and receive love, and to be happy. It will take time, but this site can certainly help you get there, and the vast majority of resources here are free. This site will help you make conscious decisions in your personal development journey and courageously follow through.
Mental Help Net - Psychological Self-Tool
Spezialambulanzen