house
Get flash to fully experience Pearltrees
Never let anyone tell you that organization can't be beautiful. Today's featured workspace, from Flickr user iBSSR , makes an entire wall of shelving its centerpiece. Filled with colorful books and decorative items, it makes for both a practical and attractive home office. The wall-based bookcase was designed by architect Huib van Wijk and looks like a somewhat large undertaking, but the results are beautiful. If you like this, you'll want to check out the other smaller wall bookcase as well.
At top is Simon Dale's DIY hobbit house in Wales' "first authorized 'low-impact' ecovillage." The home is their second foray into hobbit living. Several years prior, Simon Dale and his friends and family built the lovely green "Hobbit House" in Wales seen in the photo second from top. Some key points of the design and construction (of the original hobbit house): Dug into hillside for low visual impact and shelter Stone and mud from diggings used for retaining walls, foundations etc.
Nobody ever said treehouses were just for children, or if they did they were apparently wrong. Treehouse building-company Blue Forest created today's featured workspace, providing a roomy office with plenty of room to work and relax. This sort of thing is probably a very expensive undertaking, but it's a good reminder that your workspace doesn't have to be 1) in a space designed for an office, and 2) no fun.
Probably PSOBB; PSU was really lacking in the gameplay department. Part of it was that content was drip-fed by Sega so you got bored of the new stuff very quickly. It was an unpolished game made by a team that didn't care about the franchise. Since PSU, Phantasy Star games have switched producer to Satoshi Sakai (who was part of the team on the original PSO), and have improved drastically. PSP:2 and the JP-only PSP:2 Infinity are decent games (Infinity is extremely good), so I have high hopes for this game.
Today's featured workspace is simple and small, but shows how even tightly organized furniture can work well. But what really makes this bedroom office look so pleasant is the warm, natural light coming through the window. Not only does it make for a nice view while getting things done, but it provides a practical backlight to to the laptop and iPad to keep the levels more even. This workspace belongs to Ryan Nicholson, who accidentally submitted it to our featured desktop pool (sorry Ryan, had to tease you).
Luxury Villa Amanzi, Thailand by Original Vision Studio The Villa Amanzi by Architect firm Original Vision Studio is a stunning modern vacation residence located in the exclusive Cape Sol on the West coast of Phuket, Thailand. Villa Amanzi is a stunning six bedroom residence with a 15m infinity pool and breathtaking views over the Andaman Sea.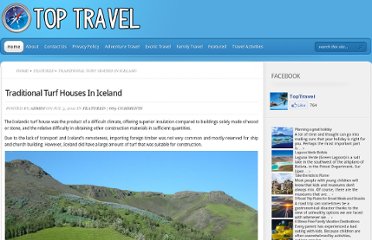 The Icelandic turf house was the product of a difficult climate, offering superior insulation compared to buildings solely made of wood or stone, and the relative difficulty in obtaining other construction materials in sufficient quantities. Due to the lack of transport and Iceland's remoteness, importing foreign timber was not very common and mostly reserved for ship and church building. However, Iceland did have a large amount of turf that was suitable for construction. photo source The turf houses are made of flat stones, and upon this was built a wooden frame which holds the load of turf. The turf would then be fitted around the frame in blocks often with a second layer, or in the more fashionable herringbone style.
No, really: would you want to design, build and live in an real fantasy tree house all year round? More and more people have decided to do just that and where treehouses were once novelty architecture for kids they are now (almost) mainstream structures, as attested to by the pictures above via Bella Seven . Many modern tree house designs and home designers and custom builders take a site-specific approach and construct their tree buildings around not only views and rooms but also have to account for access and structural support in unique and novel ways.
Kazuya Morita Architecture Studio designed this bookshelf-lined house in Osaka for a collector of books on Islamic history, designing a structure where books could line every surface. WANT. In order to satisfy this demand effectively, we designed a lattice structure made from 25mm thick laminated pine-board which serve as book-shelves. The dimensions of each shelf are as follows: 360mm height, 300mm width and 300mm depth. All of the architectural elements in this space (stairs, windows, desks, chairs, etc) have been designed on the basis of this shelf scale, with the aim of achieving geometrical harmony which is comparable to Islamic Architecture.
Brian "Ziggy" Liloia is a 26 year old member of Dancing Rabbit Ecovillage, where he lives in his own handbuilt cob house, tends large gardens with friends, builds with natural materials, keeps bees, makes cheese and butter, blogs, and strives to live the good life. He is the author of " The Year of Mud: Building a Cob House " Avi Solomon: Tell us a bit about yourself Brian Liloia I grew up in the hyper-suburbs of northern New Jersey, in the shadows of New York City. In college, I learned what a huge mess civilization was making of the planet, and I realized, over the course of several years and through reading lots and lots of stuff about environmental and social issues, that I wouldn't be satisfied with a conventional kind of lifestyle. I was never excited about a mainstream career, or living in the city or suburbs, and now I had a better explanation for my lack of enthusiasm.