Recipes
Grilled Spareribs with Pineapple Barbecue Sauce - Grilled Ribs Recipe. Spareribs are grilled with a sauce made of pineapple and dijon mustard, along with molasses and soy sauce.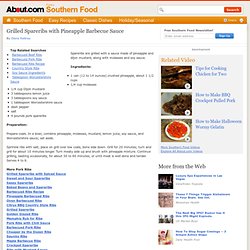 Ingredients: 1 can (12 to 14 ounces) crushed pineapple, about 1 1/2 cups1/4 cup molasses1/4 cup Dijon mustard3 tablespoons lemon juice3 tablespoons soy sauce1 tablespoon Worcestershire saucedash peppersalt4 pounds pork spareribs Preparation: Prepare coals. In a bowl, combine pineapple, molasses, mustard, lemon juice, soy sauce, and Worcestershire sauce; set aside. French Vanilla Banana Cream Pie Recipe - Food.com - 107641. A quick easy dessert that we all enjoyed.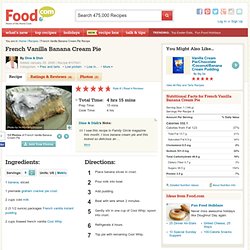 French vanilla pudding was easy to find, however, French vanilla Cool Whip seems to have disappeared from the stores. No matter...I bought regular Cool Whip and made the recipe as written. Newsletter Registration - ReadySetEat. Pasteles Recipe (Puerto Rican savory cakes in banana leaves) | Puerto Rico. (Puerto Rican savory cakes in banana leaves) Pasteles are Puerto Rican special occasion food.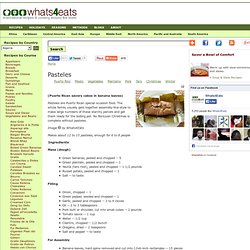 The whole family usually gets together assembly-line-style to make large numbers of these starchy parcels and get them ready for the boiling pot. El Boricua.com Recipes Recetas Puerto Rico. Learning to Make Masa for Puerto Rican Pasteles. FRENCH'S® CRUNCHY ONION CHICKEN Recipe | Great Recipes from FRENCH'S® Foods. Roasted Pumpkin Seeds. Roasting pumpkin seeds are fun to make with your kids and make a healthy snack!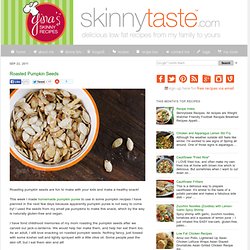 This week I made homemade pumpkin puree to use in some pumpkin recipes I have planned in the next few days because apparently pumpkin puree is not easy to come by! I used the seeds from my small pie pumpkins to make this snack, which by the way is naturally gluten-free and vegan. I have fond childhood memories of my mom roasting the pumpkin seeds after we carved our jack-o-lanterns. We would help her make them, and help her eat them too.
---