Outils web
The Social Media Marketer's SEO Checklist. As the lines of SEO and Social Media continue to be blurred, it's becoming very clear that getting a page to rank highly in the search engines takes a combination of the two disciplines.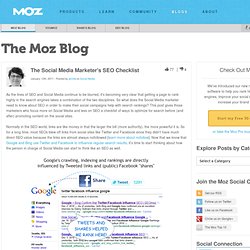 So what does the Social Media marketer need to know about SEO in order to make their social campaigns help with search rankings? This post gives those marketers who focus more on Social Media and less on SEO a checklist of ways to optimize for search before (and after) promoting content on the social sites. Normally in the SEO world, links are like money in that the larger the bill (more authority), the more powerful it is.
So for a long time, most SEOs blew off links from social sites like Twitter and Facebook since they didn't have much direct SEO value because the links are almost always nofollowed [learn more about nofollow]. Observatoire du web et monitoring gratuit - Homepage. Image gallery (pour sites internet) Support For support and instructions, visit the Support Home.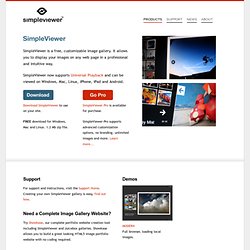 Creating your own SimpleViewer gallery is easy, find out how. Need a Complete Image Gallery Website? Try Showkase, our complete portfolio website creation tool including SimpleViewer and Juicebox galleries. Showkase allows you to build a great looking HTML5 image portfolio website with no coding required. Webslug - test your website performance - Home.
---