Curation et information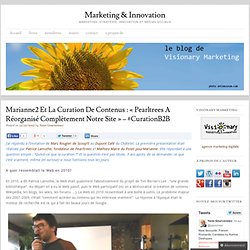 i 3 Votes J'ai répondu à l'invitation de Marc Rougier de Scoop'it au Dupont Café du Châtelet. La première présentation était réalisée par Patrice Lamothe, fondateur de Pearltrees et Mathieu Maire du Poset pourMarianne . Elle répondait à une question simple : "Qu'est-ce que la curation ?"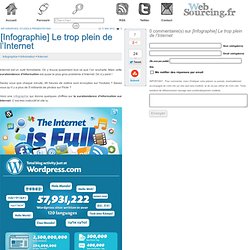 Internet est un outil formidable. On y trouve quasiment tout ce que l'on souhaite. Mais cette surabondance d'information est aussi le plus gros problème d'Internet.
Le trop plein de l'Internet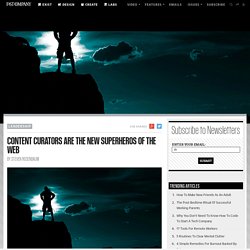 Yesterday, the ever-churning machine that is the Internet pumped out more unfiltered digital data. Yesterday, 250 million photos were uploaded to Facebook, 864,000 hours of video were uploaded to YouTube, and 294 BILLION emails were sent. And that's not counting all the check-ins, friend requests, Yelp reviews and Amazon posts, and pins on Pintrest. The volume of information being created is growing faster than your software is able to sort it out. As a result, you're often unable to determine the difference between a fake LinkedIn friend request, and a picture from your best friend in college of his new baby. Even with good metadata, it's still all "data"--whether raw unfiltered, or tagged and sourced, it's all treated like another input to your digital inbox.
Marketing: Garfield on Why We Will Live in Curation Nation | Bob Garfield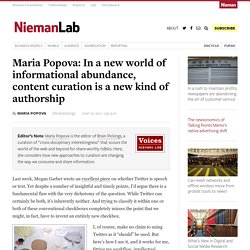 Editor's Note : Maria Popova is the editor of Brain Pickings , a curation of "cross-disciplinary interestingness" that scours the world of the web and beyond for share-worthy tidbits. Here, she considers how new approaches to curation are changing the way we consume and share information.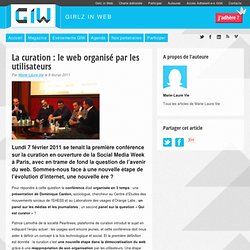 Lundi 7 février 2011 se tenait la première conférence sur la curation en ouverture de la Social Media Week à Paris, avec en trame de fond la question de l'avenir du web. Sommes-nous face à une nouvelle étape de l'évolution d'internet, une nouvelle ère ? Pour répondre à cette question la conférence était organisée en 3 temps : une présentation de Dominique Cardon, sociologue, chercheur au Centre d'Etudes des mouvements sociaux de l'EHESS et au Laboratoire des usages d'Orange Labs ; un panel sur les médias et les journalistes ; un second panel sur la question « Qui est curator » ?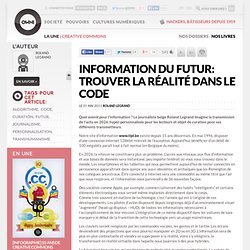 Quel avenir pour l'information ?
For some time now, the hot new buzzword for Web services has been "curation." Whether it's Pinterest or Tumblr or Flipboard or News.me, everyone wants to ride the curation wave . But what does it mean, and how do you do it properly? And what makes it different from aggregation? Those kinds of debates have been around in one form or another since the Internet was invented, but they have resurfaced lately thanks to two proposals. One is trying to come up with a "code of conduct" for curators and aggregators , and the other is promoting the use of special symbols to give credit to original sources.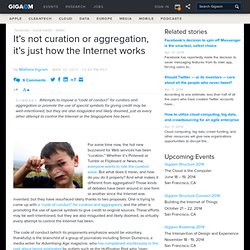 It's not curation or aggregation, it's just how the internet works
Cet été, peut-être avez vous entendu parler d'Eli Pariser. Activiste, ancien directeur de l'ONG MoveOn.org, il a tenté avec le livre The Filter Bubble : what Internet is hiding from you , d'attirer l'attention sur la question de l'importance des résultats donnés par google.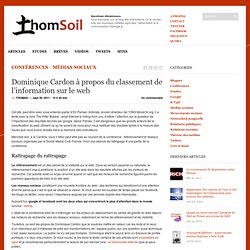 Posted by Tom Foremski - November 16, 2010 There is no doubt in my mind that the topic of curation and the Internet, is an important one and that it will be a dominant topic in 2011. Curation is important because we are reaching the limits of what can be achieved through algorithms and machines in organizing and navigating the Internet.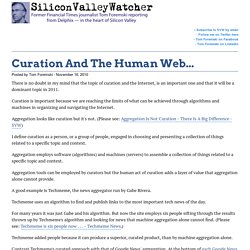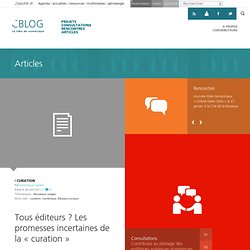 Tous éditeurs ? Les promesses incertaines de la « curation »
Les acteurs du monde numérique aiment les « buzzwords ».