Platforms
TheoremProving – GeoGebra. As of version 5.0, we officially support theorem proving for GeoGebra.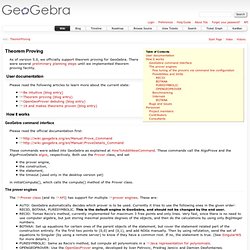 There were several preliminary planning steps until we implemented theorem proving facility. User documentation ¶ Secure Social Learning Network for Teachers and Students. Udutu | Create simulations online with ease. Elgg - Open Source Social Networking Engine.
Moodle.org: open-source community-based tools for learning.
---