Other
Jamie Drummond: Let's crowdsource the world's goals. Joshua Foer: Feats of memory anyone can do. How-to-mind-map. Le Secret des Ecoles Finlandaises. Cette semaine, je vous propose une courte vidéo sur une classe finlandaise qui utilise le mind map au quotidien.
Il faut espérer que des professeurs français suivent cet exemple et enseignent cette technique de prise de notes simple et efficace. Si vous ne savez pas ce que sont les mind maps (ou carte heuristique) vous pouvez lire cet article sur le livre de Tony Buzan Une Tête Bien Faite. Pensez-vous que ce système de prise de note peut être efficace dans une école française? L'avez-vous testé pour vous même? David Kelley: How to build your creative confidence. The Magical Child in Exile. Why does the Creative Well-being run dry? « ~ The Art Of Change ~ The Magical Child in Exile is a dramatised story written for people who have yet to reclaim their creative Magical Child in order to experience the mental, emotional and spiritual well being of the naturally free flowing creative state.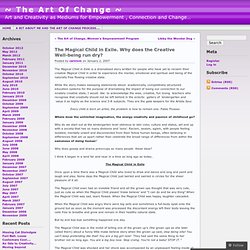 While the story makes sweeping statements about academically, competitively structured education systems for the purpose of dramatising the impact of losing our connection to our innately creative state, I would like to acknowledge the wise, creative, fun loving teachers who recognise that creativity should not be left behind in the eclectic gallery of kindergarten and value it as highly as the science and 3-R subjects.
They are the gate keepers for the Artists Soul. Every child is born an artist, the problem is how to remain one. Pablo Picasso Where does the unlimited imagination, the energy creativity and passion of childhood go? Lisa Harouni: A primer on 3D printing. Hans Rosling shows the best stats you've ever seen. Hans Rosling: Religions and babies. Hans Rosling: Asia's rise -- how and when.
Hans Rosling: The good news of the decade? Hans Rosling and the magic washing machine. Hans Rosling's new insights on poverty. Hans Rosling: Let my dataset change your mindset. Hans Rosling on HIV: New facts and stunning data visuals. Hans Rosling on global population growth. Gapminder: Unveiling the beauty of statistics for a fact based world view.
---