Sécurité
La Distribution Open Source orientée Sécurité pour Ethical Hackers et Pentesters
All good things arrive unto them that wait - and don't die in the meantime - Mark Twain Authentification Username: root Username: matriux Username: tiger Password: toor Downloads Details Matriux "Leandros" v3 RC1 (2013.09.27) :: [ md5=bbd7db97d4c78bf1e6d1824c68ddcf00 ] Mirrors: linuxfreedom.com Sourceforge.net Virtual Machine: Sourceforge.net Torrent: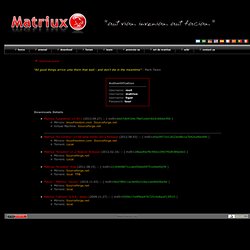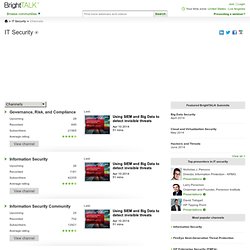 IT Security - BrightTALK Channels
Top presenters in IT security Nicholas J. Percoco Director, Information Protection - KPMG Presentations Larry Ponemon Chairman and Founder, Ponemon Institute Presentations David Tishgart HP Tipping Point Presentations The IT security community on BrightTALK is composed of more than 200,000 IT security professionals trading relevant information on software assurance, network security and mobile security.
vul.hackerjournals.com
EC-Council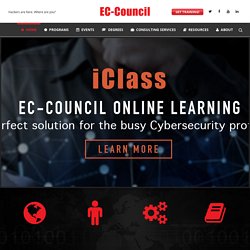 As the world leader in ethical hacking and Information Security training and certification, EC Council offers information security courses and certifications in all of the major information security disciplines including Ethical Hacking, Computer Security , Network Security , Application Security , Internet Security , Vulnerability Assessment , Penetration Testing, Computer Forensics, Intrusion Detection, Network Security Essentials and Security Fundamentals security courses . For those Information Security Professionals who are concerned with practical, hands on experience, EC Council's security courses are designed with an over 80% hands on element, so you will learn the latest tools that are deployed by professional vulnerability assessment/ pen testers.
First Look
EC-Council Security Channel
Introduction Le terme IPsec (IP Security Protocol) désigne un ensemble de mécanismes destinés à protéger le trafic au niveau d'IP (IPv4 ou IPv6). Les services de sécurité offerts sont l'intégrité en mode non connecté, l'authentification de l'origine des données, la protection contre le rejeu et la confidentialité (confidentialité des données et protection partielle contre l'analyse du trafic). Ces services sont fournis au niveau de la couche IP, offrant donc une protection pour IP et tous les protocoles de niveau supérieur. Optionnel dans IPv4, IPsec est obligatoire pour toute implémentation de IPv6.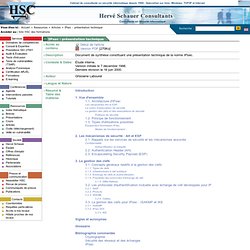 Articles - IPsec : présentation technique - Nightly (Build 20110805030744)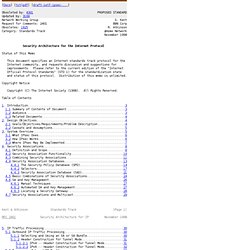 RFC 2401 - Security Architecture for the Internet Protocol - Nightly (Build 20110805030744)
[Docs] [txt|pdf] [draft-ietf-ipsec-...] Obsoleted by: 4301 PROPOSED STANDARDUpdated by: 3168 Network Working Group S. Kent Request for Comments: 2401 BBN Corp Obsoletes: 1825 R.
virtualabs.fr
HZV Mag - virtualabs.fr [Mirroir]
Security-Shell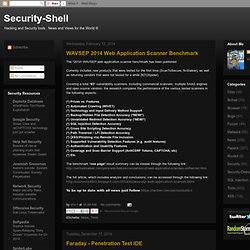 International hacking and information security conference in Romania The DefCamp 2013 call for papers is officially open. The fourth edition of the international information security conference hosted in Romania will take place on November 29-30 2013, in Bucharest, at the Crystal Palace Ballroom. Over 300 security experts, researchers, and enthusiasts from Romania and neighboring countries are expected to take part in the event. Between 29 - 30th of November the Crystal Palace Ballroom is hosting one of the most mesmerizing events of hacking & information security in Romania, Defcamp. Now in its fourth year, the event continues to impress its audience with knowledge sharing, competition with varying levels of difficulty, romanian and foreign speakers, surprises and fun.
.:Shell-Storm.org:. | Home |
Diary of a reverse-engineer Jonathan Salwan About me
SecurityFocus