Home
How to buy a house | Property & Mortgages | Times Online
Homebase - For Kitchens, Furniture, Garden, Decorating, DIY and
Shop online at Homebase.co.uk, the online shopping site of Homebase, for all your home enhancement, decorating and DIY needs. At Homebase, you have a large choice of products to cover all your kitchen, bathroom, furniture and homewares requirements across 13 categories. Whether you are looking for dining room furniture, a new sofa, or to install a new kitchen, Homebase can help you make your house a home. The Homebase website can also help you check all the latest prices, find out where your local store is, check your product is in stock at your local store, make a purchase and even view our latest Homebase TV adverts.
Home at Focus
Welcome To OnlyRecommended.com
9 out of 10 homeowners agree: it can be hard to find a good tradesman. The truth is, you don't always know what you're getting. At Rated People, you do. Our tradesmen are rated by homeowners just like you on quality, reliability and value for money. With over 30,000 tradesmen, and over 250,000 ratings, you're bound to find the right tradesman for the job.
Find local recommended tradesmen - ratedpeople.com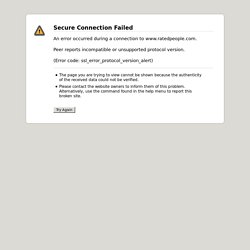 DIY is one of the UK's leading pastimes and can be entertaining and challenging, whilst being fulfilling and profitable at the same time. This site is dedicated to DIY and we hope that you find it useful. Whilst you are here please take this opportunity to join the DIY forum, in the DIY forum you can ask specific questions and hopefully someone will be able to answer your question quickly.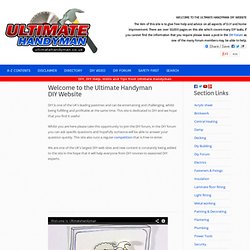 DIY | Home Improvement Advice | DIY Help, Tips, Information & Ad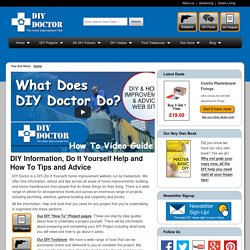 DIY Doctor is a DIY (Do It Yourself) home improvement website run by tradesman. We offer free information, advice and tips across all areas of home improvements, building and home maintenance from people that do these things for their living. There is a wide range of advice for all experience levels and across an enormous range of projects, including plumbing, electrics, general building and carpentry and joinery. All the information, help and tools that you need for any project that you're undertaking is organised into these sections: Our DIY Project pages: These are step by step guides about how to undertake a project yourself. There will be information about preparing and completing your DIY Project including what tools you will need and how to go about it safely.
DIY & Interiors - how to videos Painting & Decorating, Electrica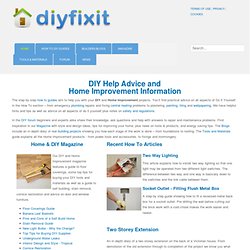 The step by step how to guides aim to help you with your DIY and Home Improvement projects. You'll find practical advice on all aspects of Do It Yourself in the How To section – from emergency plumbing repairs and fixing central heating problems to plastering, painting, tiling and wallpapering. We have helpful hints and tips as well as advice on all aspects of do it yourself plus notes on safety and regulations.
Diyfixit Home Page | Diy Fix It
B&Q Online: From Kitchens & Bathrooms to Sheds & Paving; plus pl
*Free delivery over £50 refers to home delivery orders placed on diy.com only. Charges refer to the value of goods being delivered and excludes delivery from stores or services. Excludes bulk delivery. †Excludes Next Day Delivered Bulky Goods.