DirtLiving
Living grounded, sustainable, sustaining, and innovative use of low- and high-technology. Thriving in balance on this ball of rock and dirt and water. Feb 5
High Priest of the Pasture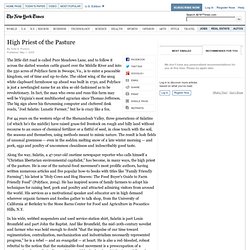 The little dirt road is called Pure Meadows Lane, and to follow it across the slatted wooden cattle guard over the Middle River and into the 550 acres of Polyface farm in Swoope, Va., is to enter a peaceable kingdom, out of time and up-to-date. The oldest wing of the snug white clapboard farmhouse up ahead was built in 1750, and Polyface is just a newfangled name for an idea so old-fashioned as to be revolutionary.
Rocket stoves and outdoor grills are great for cooking in a pot or skillet when the power is down or non-existent following a disaster or a worst case SHTF situation where fuel is either flat-out unavailable or intolerably expensive.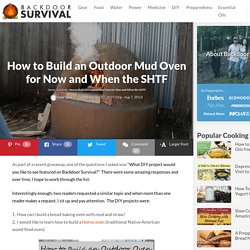 How to Build an Outdoor Mud Oven for Use Now and When the SHTF
Plans for Solar Cookers -- The Solar Cooking Archive
Resilient Communities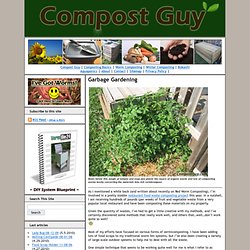 Down below this jungle of tomato and snap pea plants lies layers of organic waste and lots of composting worms busily converting the materials into rich vermicompost. As I mentioned a while back (and written about recently on Red Worm Composting), I'm involved in a pretty sizable restaurant food waste composting project this year. In a nutshell, I am receiving hundreds of pounds (per week) of fruit and vegetable waste from a very popular local restaurant and have been composting these materials on my property. Given the quantity of wastes, I've had to get a little creative with my methods, and I've certainly discovered some methods that really work well, and others that…well…don't work quite so well! Most of my efforts have focused on various forms of vermicomposting.
Garbage Gardening
12 in Share in Share 12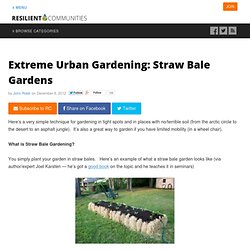 AlgaeLab
Be lazy for best results
I used to have a boss that said "if you ever wanted to find out the best way to get a job on a farm done, give it to a lazy person first." This seems counterintuitive, but it makes sense.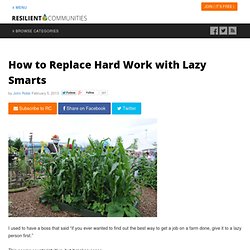 A Compendium of Useful Information
Compendium of Useful Information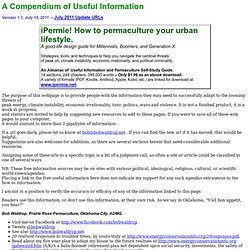 196 Neat Free Survival Downloads
Can Mushrooms Be The New Plastic?
Today, plastics are among the most toxic and polluting substances we use on a daily basis. Simply focusing on styrofoam alone, it is a $20+ billion industry who's products are found in anything from TV protective packaging to disposable coffee cups. The trouble with all of this styrofoam is that it cannot be recycled or disposed of.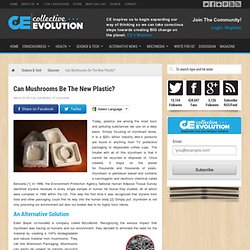 Farmer's Almanac Best Days
Make Your Own Homemade Washing Soda