Pangasius
21th November 2012 By Carolanne Wright Guest Writer for Wake Up World No need to bypass all the health perks of fresh superfoods this season — simply grow them inside on a sunny window ledge. As the weather turns colder in the north hemisphere, now more than ever it is important to fortify the body with nutrient dense foods.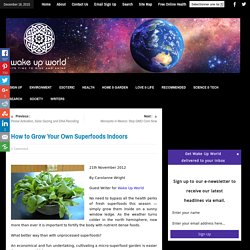 How to Grow Your Own Superfoods Indoors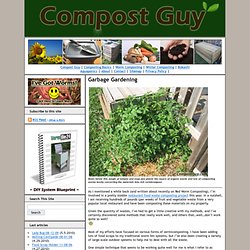 Down below this jungle of tomato and snap pea plants lies layers of organic waste and lots of composting worms busily converting the materials into rich vermicompost. As I mentioned a while back (and written about recently on Red Worm Composting), I'm involved in a pretty sizable restaurant food waste composting project this year. In a nutshell, I am receiving hundreds of pounds (per week) of fruit and vegetable waste from a very popular local restaurant and have been composting these materials on my property. Given the quantity of wastes, I've had to get a little creative with my methods, and I've certainly discovered some methods that really work well, and others that…well…don't work quite so well!
Garbage Gardening
Here's a very simple technique for gardening in tight spots and in places with no/terrible soil (from the arctic circle to the desert to an asphalt jungle). It's also a great way to garden if you have limited mobility (in a wheel chair). What is Straw Bale Gardening?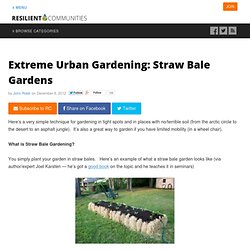 Moon planting calendar for fruit, vegetables and flowers In ancient times when man had not quite got round to inventing the wristwatch, the most reliable source of telling the time was the sun, moon, and stars. There seems to be several opinions of who came up with the moon planting calendar first. Was it the Egyptians or the Babylonians?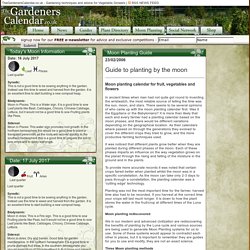 Home | Re-earthing the Cities | The RainbowWeb Story | Sustainable Solutions | You Can Save the Earth! Deep Ecology & Re-earthing FAQ | Inspirations & Resources | Rough Guide to Site | Site Map With acknowledgements to the contributors to the Permaculture Association of South Australia's 1988 Calendar. PLANTING BY THE MOON This is an ancient planting system known to every early culture throughout the world.
Planting by the Moon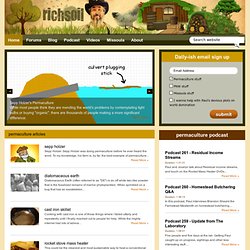 Sepp Holzer's Permaculture While most people think they are mending the world's problems by contemplating light bulbs or buying "organic", there are thousands of people making a more significant difference.Read More » Raising Chickens 2.0 After years and years of scraping/shoveling/scrubbing chicken poop I now have a system where I don't scrape/shovel/scrub any chicken poop. After years and years of selling meat/eggs for just a hair more than I paid for the feed, I've almost eliminated feed costs.Read More » Rocket Mass Heater This could be the cleanest and most sustainable way to heat a conventional home. Some people have reported that they heat their home with nothing more than the dead branches that fall off the trees in their yard.
High Priest of the Pasture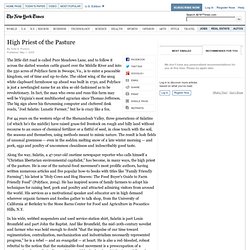 The little dirt road is called Pure Meadows Lane, and to follow it across the slatted wooden cattle guard over the Middle River and into the 550 acres of Polyface farm in Swoope, Va., is to enter a peaceable kingdom, out of time and up-to-date. The oldest wing of the snug white clapboard farmhouse up ahead was built in 1750, and Polyface is just a newfangled name for an idea so old-fashioned as to be revolutionary. In fact, the man who owns and runs this farm may well be Virginia's most multifaceted agrarian since Thomas Jefferson. The big sign above his thrumming computer and cluttered desk reads, ''Joel Salatin: Lunatic Farmer,'' but he is crazy like a fox.