CSS Things
Ultimate CSS Gradient Generator - ColorZilla.com. Background: #1e5799; /* Old browsers */ background: -moz-linear-gradient(top, #1e5799 0%, #2989d8 50%, #207cca 51%, #7db9e8 100%); /* FF3.6+ */ background: -webkit-gradient(linear, left top, left bottom, color-stop(0%,#1e5799), color-stop(50%,#2989d8), color-stop(51%,#207cca), color-stop(100%,#7db9e8)); /* Chrome,Safari4+ */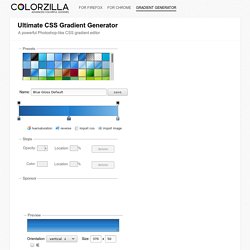 CSS Border Radius Generator. Clean CSS - A Resource for Web Designers - Optmize and Format your CSS. CSSTXT - Create a style to your text. Typetester – Compare fonts for the screen. CSS Layout Generator. Spiffy Corners - Purely CSS Rounded Corners. CSS3 Generator.
GRIDINATOR → All your grid are belong to us. CSS3.0 Maker | CSS3.0 Generator | CSS 3.0 Generator | css3 generator. CSS Layout Generator. About the CSS Layout Generator The CSS Layout Generator was first released by Tony Aslett in October 2003, since then over 871,000 layouts have been generated.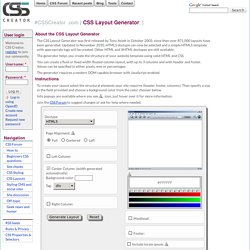 Updated in November 2010, HTML5 doctype can now be selected and a simple HTML5 template with appropriate tags will be created. Other HTML and XHTML doctypes are still available. The generator helps you create the structure of your website template using valid HTML and CSS. You can create a fluid or fixed width floated column layout, with up to 3 columns and with header and footer.
---