Women & Free Software -or just computer tech
Debian Women
It's often quite hard to convince a girl that she is skilled in programming, although she actually is. *true story* by pandark Nov 8
Ok ! I could have think that women's code was better ! by uglycharly Nov 8
What is rare is expensive. Women's work on free software projects is rare. So it's... valuable :oD by pandark Nov 6
Debian Women - The People Involved
LinuxChix - Be Polite. Be Helpful.
Womoz - Women & Mozilla
JDuchess - Java women community
PyLadies - Python women comunity
Systers - Institute for Women and Technology
It's important to know that you are not alone. Systers is a forum for all women involved in the technical aspects of computing. The list has over 4,000 members from at least 54 countries around the world. We welcome the participation of women technologists of all ages and at any stage of their studies or careers.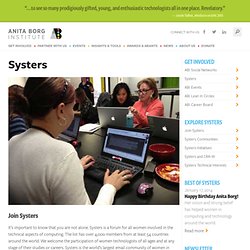 Systers Wiki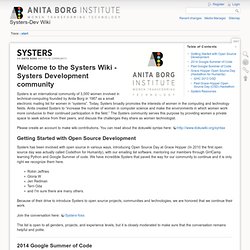 Systers is an international community of 3,000 women involved in technical-computing founded by Anita Borg in 1987 as a small electronic mailing list for women in "systems". Today, Systers broadly promotes the interests of women in the computing and technology fields. Anita created Systers to "increase the number of women in computer science and make the environments in which women work more conducive to their continued participation in the field." The Systers community serves this purpose by providing women a private space to seek advice from their peers, and discuss the challenges they share as women technologist. Please create an account to make wiki contributions.
CyberMentor
CyberMentor ist ein Mentoring-Programm für Mädchen und Frauen, die sich für MINT ( athematik, nformatik, aturwissenschaften und echnik) interessieren oder neugierig darauf sind, den MINT-Bereich auf eine spannende Art und Weise zu erleben.
ChicasLinux - Porque sí
TechNixen.net - Frauen in der Computertechnik
GNOME Women is a group dedicated to providing encouragement for women to contribute to GNOME, a free and open-source GNU/Linux and Unix desktop suite. IRC Channel Our IRC channel is #gnome-women on irc.gnome.org .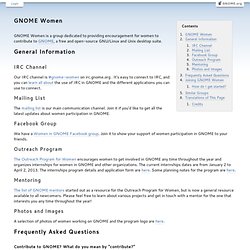 GNOME Women
Ubuntu Women - Home
Ubuntu Women at UDS-N - Vimeo
Ladies Learning Code
greenlight for girls - Home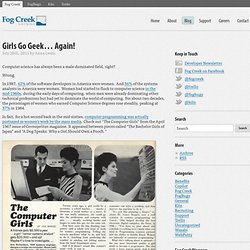 Computer science has always been a male-dominated field, right?
Girls Go Geek… Again!
The Computer Boys Take Over
2011-04-05_JHU
April, Groupe de travail « Diversité »
Contexte Ce groupe interne, créé en janvier 2008, travaille à la diversité des membres de l'April.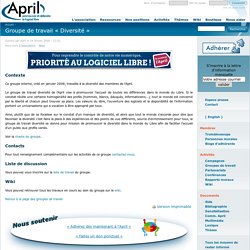 Girl Geek Dinners