Women & Free Software -or just computer tech
Debian Women
What can be found here This is the homepage of the Debian Women Project, a subproject of the Debian Project .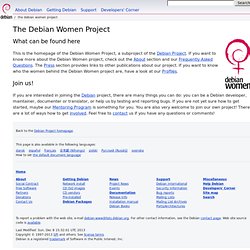 It's often quite hard to convince a girl that she is skilled in programming, although she actually is. *true story* by pandark Nov 8
Ok ! I could have think that women's code was better ! by uglycharly Nov 8
What is rare is expensive. Women's work on free software projects is rare. So it's... valuable :oD by pandark Nov 6
Debian Women - The People Involved
LinuxChix - Be Polite. Be Helpful.
Womoz - Women & Mozilla
JDuchess - Java women community
PyLadies - Python women comunity
Systers - Institute for Women and Technology
About | FAQ | 25th Anniversary | Best of Systers | Founding Systers Systers is the world's largest email community of technical women in computing.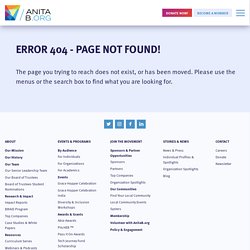 Systers Wiki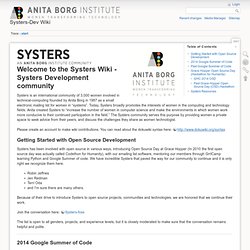 Welcome to the Systers Wiki - Systers Development community Systers is an international community of 3,000 women involved in technical-computing founded by Anita Borg in 1987 as a small electronic mailing list for women in "systems".
CyberMentor
CyberMentor ist ein Mentoring-Programm für Mädchen und Frauen, die sich für MINT ( athematik, nformatik, aturwissenschaften und echnik) interessieren oder neugierig darauf sind, den MINT-Bereich auf eine spannende Art und Weise zu erleben.
ChicasLinux - Porque sí
TechNixen.net - Frauen in der Computertechnik
GNOME Women is a group dedicated to providing encouragement for women to contribute to GNOME , a free and open-source GNU/Linux and Unix desktop suite. IRC Channel Our IRC channel is #gnome-women on irc.gnome.org .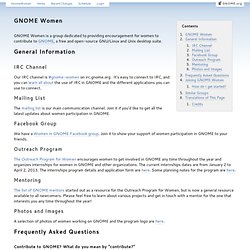 GNOME Women
Ubuntu Women - Home
Ubuntu Women at UDS-N - Vimeo
Ladies Learning Code
greenlight for girls - Home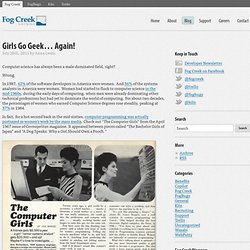 Computer science has always been a male-dominated field, right?
Girls Go Geek… Again!
The Computer Boys Take Over
2011-04-05_JHU
April, Groupe de travail « Diversité »
Contexte Ce groupe interne, créé en janvier 2008, travaille à la diversité des membres de l'April.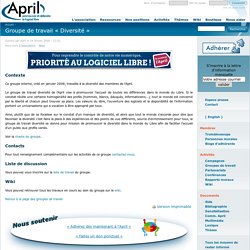 Girl Geek Dinners