Women & Free Software -or just computer tech
Debian Women
Debian Women - The People Involved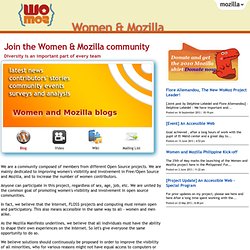 Womoz - Women & Mozilla
We are a community composed of members from different Open Source projects. We are mainly dedicated to improving women's visibility and involvement in Free/Open Source and Mozilla, and to increase the number of women contributors. Anyone can participate in this project, regardless of sex, age, job, etc. We are united by the common goal of promoting women's visibility and involvement in open source communities. In fact, we believe that the Internet, FLOSS projects and computing must remain open and participatory. This also means accessible in the same way to all - women and men alike.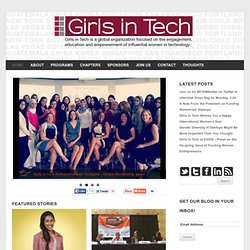 Tech Firms Now Hiring More Women Than Men A curious thing has happened in the tech world. In an industry that has long been considered a boys club, suddenly firms are hiring more women than men.
Girls in Tech organise en partenariat avec Le Bon Coin et OuiShare un événement dédié à L'économie collaborative le 15 avril à 19h. Pour vous inscrire, c'est ici.Nous aurons le plaisir d'accueillir Diana Filipova de OuiShare, Céline Lazorthes de Leetchi, Anaïs Bon de Sharewizz, Julie Pouliquen de la cordée et Marine Desbans de Schibsted Growth. Pourquoi ce thème ? Diana Filippova, qui fera partie des speakers de l'événement, nous livre sa vision de l'économie collaborative : "Solidement ancrée dans les esprits et les usages, la consommation collaborative et le crowdfunding n'ont plus besoin de présentations.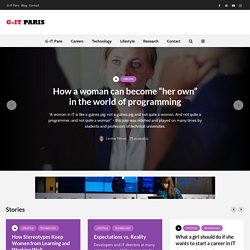 JDuchess - Java women community
We are an international mentorship group with a focus on helping more women become active participants and leaders in the Python open-source community. Our mission is to promote, educate and advance a diverse Python community through outreach, education, conferences, events and social gatherings. PyLadies also aims to provide a friendly support network for women and a bridge to the larger Python world. Anyone with an interest in Python is encouraged to participate!
PyLadies - Python women comunity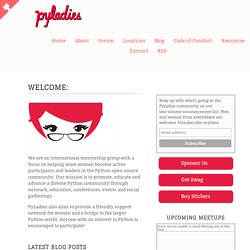 Systers - Institute for Women and Technology
It's important to know that you are not alone. Systers is a forum for all women involved in the technical aspects of computing. The list has over 4,000 members from at least 54 countries around the world. We welcome the participation of women technologists of all ages and at any stage of their studies or careers.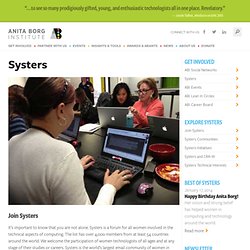 Systers Wiki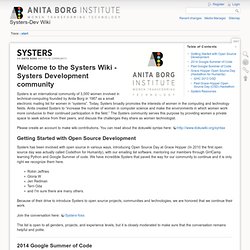 Systers is an international community of 3,000 women involved in technical-computing founded by Anita Borg in 1987 as a small electronic mailing list for women in "systems". Today, Systers broadly promotes the interests of women in the computing and technology fields. Anita created Systers to "increase the number of women in computer science and make the environments in which women work more conducive to their continued participation in the field." The Systers community serves this purpose by providing women a private space to seek advice from their peers, and discuss the challenges they share as women technologist. Please create an account to make wiki contributions.
CyberMentor
CyberMentor ist ein Mentoring-Programm für Mädchen und Frauen, die sich für MINT ( athematik, nformatik, aturwissenschaften und echnik) interessieren oder neugierig darauf sind, den MINT-Bereich auf eine spannende Art und Weise zu erleben. CyberMentor ist ein "Komm, mach MINT."-Projekt des Nationalen Pakts für Frauen in MINT-Berufen . Der Pakt ist Bestandteil der Qualifizierungsinitiative der Bundesregierung "Aufstieg durch Bildung" .
ChicasLinux - Porque sí
TechNixen.net - Frauen in der Computertechnik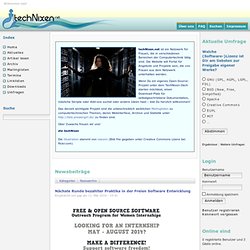 Die meccanica feminale ist die Frühjahrshochschule für Studentinnen und Fachfrauen aus dem Maschinenbau, der Elektrotechnik und Wirtschaftsingenieurwesen. Vom 18. bis 22. 2. 2014 findet sie an der Hochschule Furtwangen – Campus Schwenningen statt. Sie ist ein Ort des Lernens und Experimentierens, um neue Impulse in das Ingenieurstudium zu bringen und ermöglicht interessierten Frauen, sich nur unter Frauen weiter zu qualifizieren und zu vernetzen. Der Veranstaltungsort wechselt jährlich zwischen der Hochschule Furtwangen – Campus Schwenningen und der Universität Stuttgart.
GNOME Women is a group dedicated to providing encouragement for women to contribute to GNOME, a free and open-source GNU/Linux and Unix desktop suite. IRC Channel Our IRC channel is #gnome-women on irc.gnome.org .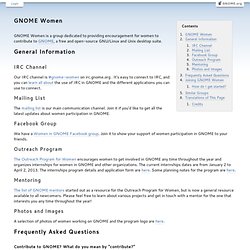 GNOME Women
About The Ubuntu Women Project was founded in 2006 and aims to foster Women contributors and community involvement through mentoring and inspiration. The Ubuntu Women Team has many projects with which we attempt to boost the visibility of women within all areas of Ubuntu, and we invite you to help out. Feel free to click around this wiki to discover what we do. We welcome anyone who seeks to encourage women to use and contribute to Ubuntu to participate in this project, regardless of gender.
Ubuntu Women - Home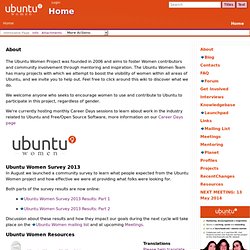 Ubuntu Women at UDS-N - Vimeo
greenlight for girls - Home
Computer science has always been a male-dominated field, right? Wrong. In 1987, 42% of the software developers in America were women. And 34% of the systems analysts in America were women.
Girls Go Geek… Again!
The Computer Boys Take Over
In my Information Society course this week we talked about the rise to dominance of IBM in the late 1950s and early 1960s, and in particular the role of the IBM System/360 system as a strategy for encouraging what we would today refer to as vendor lock-in. The rapid pace of development in computer hardware in this period meant that customers were frequently upgrading their equipment, and every such moment of decision was the opportunity (or risk, depending on your perspective) for a customer to consider an IBM competitor. By providing an entire line of software compatible System/360 computers, IBM leveraged the socio-technical complexity of a computer installation to its own advantage.
2011-04-05_JHU
April, Groupe de travail « Diversité »
Contexte Ce groupe interne, créé en janvier 2008, travaille à la diversité des membres de l'April. Le groupe de travail diversité de l'April vise à promouvoir l'accueil de toutes les différences dans le monde du Libre. Si le constat révèle une certaine homogénéité des profils (hommes, blancs, éduqués, informaticiens...), tout le monde est concerné par la liberté et chacun peut trouver sa place. Les valeurs du libre, l'ouverture des logiciels et la disponibilité de l'information portent un universalisme qui a vocation à être approprié par tous. Ainsi, plutôt que de se focaliser sur le constat d'un manque de diversité, et alors que tout le monde s'accorde pour dire que favoriser la diversité c'est faire la place à des expériences et des points de vue différents, source d'enrichissement pour tous, le groupe de travail diversité se donne pour mission de promouvoir la diversité dans le monde du Libre afin de faciliter l'accueil d'un public aux profils variés.
When you hit your 30s you go through something of a strange period of change. You realise you are no longer young, but you hanker after the simpler, more innocent days of your childhood…a time before things became really complicated! Saturday morning last week I woke up with a strange thought in my head.
Girl Geek Dinners