SQL
SQL (Structured Query Language) is a computer language aimed to store, manipulate, and query data stored in relational databases. The first incarnation of SQL appeared in 1974, when a group in IBM developed the first prototype of a relational database. The first commercial relational database was released by Relational Software (later becoming Oracle). Standards for SQL exist. However, the SQL that can be used on each one of the major RDBMS today is in different flavors.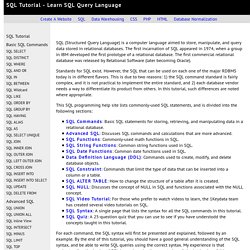 Cheat Sheet : All Cheat Sheets in one page
Cheat Sheet : All Cheat Sheets in one page
MySQLTuner is a script written in Perl that allows you to review a MySQL installation quickly and make adjustments to increase performance and stability. The current configuration variables and status data is retrieved and presented in a brief format along with some basic performance suggestions. Compatibility: MySQL 3.23, 4.0, 4.1, 5.0, 5.1 (full support)MySQL 5.4 (not fully tested, partially supported)MySQL 6.0 (partial support)MariaDB 10.x (partial support)Perl 5.6 or later (with perl-doc package)Unix/Linux based operating system (tested on Linux, BSD variants, and Solaris variants)Windows is not supported at this timeUnrestricted read access to the MySQL server (OS root access recommended for MySQL < 5.0) It is extremely important for you to fully understand each change you make to a MySQL database server.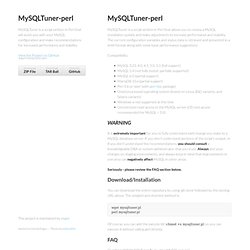 MySQLTuner